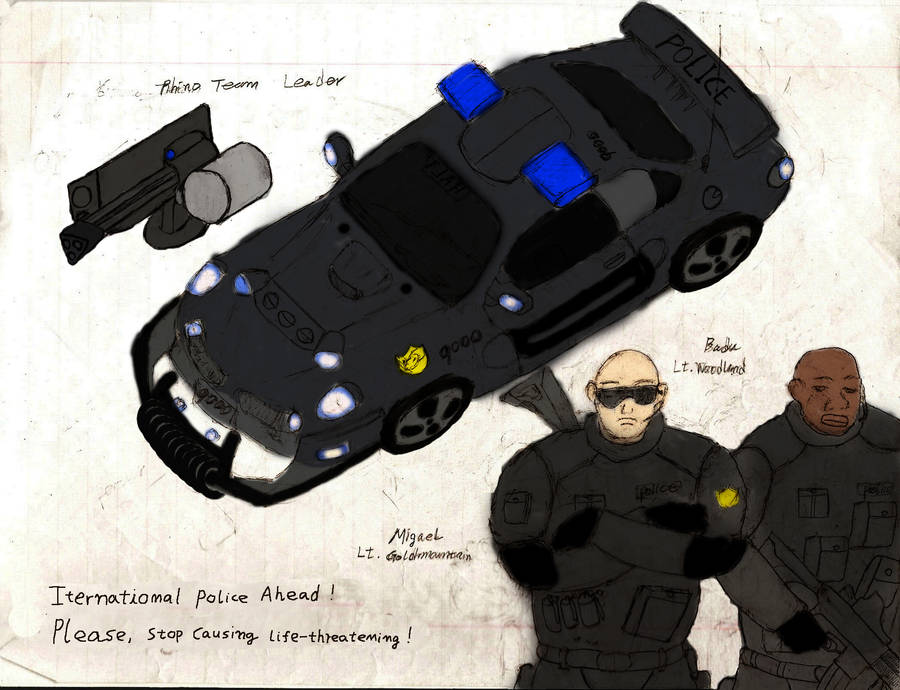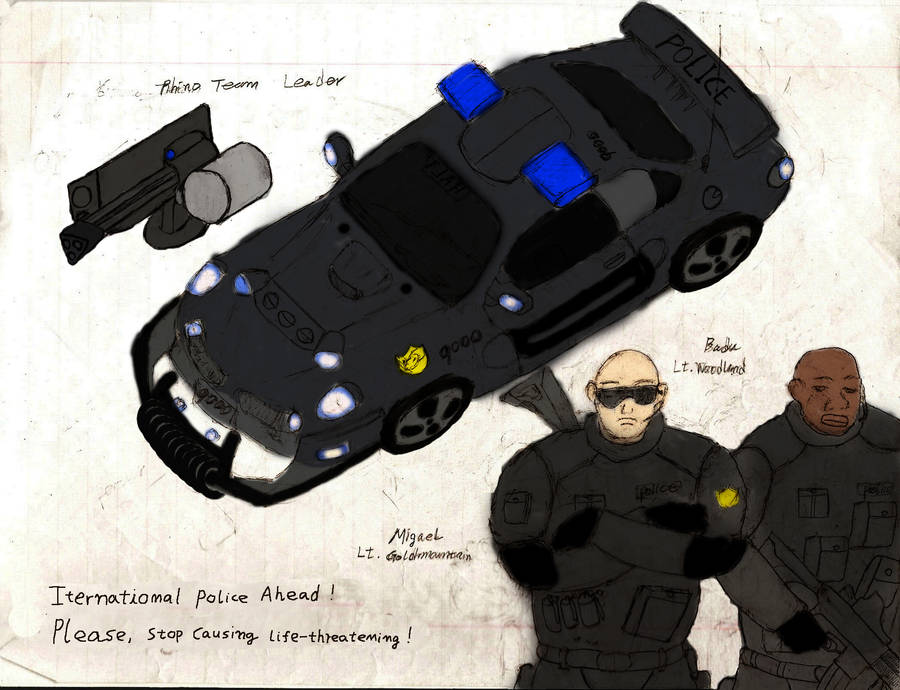 Teams: Rhino Teams, Thunder Teams, Lion Teams, and Savior Teams.
Name: Lieutenant Goldmountain, Migael (Left) (Pronunciation - Miga' el)
Gender: Male Human
Home Country: Crusder Hill
fav.me/d2tvav1
Age: 25 in 2049
Family: Professor Goldmountain, Jung (Father)
fav.me/d2wz8c7
Height: 236cm (7.74 ft.)
Occupation: International Police Officer
Average Income: 12500 ekels per month.
Talent: Since he trains as Sparta styles, he has quick agility. He is the best police driver in the international police officer and he has an excellent sharp shooting skill. He also instructs his students and his team with his experience.
Personality Trait: ESTJ
Characteristics: He is very kind, friendly, and polite among humans and elves. However, when he sees criminals who murder innocent people and elves, or someone affects someone's individual's safety, he becomes very heartless toward his criminals and suspects. In addition, if he sees that one of police officers did, he will give severe disciplines and punishment. He has very sensitive observation skills. He can figure out the ongoing situation and overall community. Goldmountain is mainly commanded by Captain Yohan and manage the partial Rhino Team members.
When he met the Rael Rivertree
fav.me/d33ey7i
, he falls in love with her. He resume that she does not relate to any motorcycling because he think that she looks cute and innocent. (Rael Rivertree armor suit)
fav.me/d33z7fs
.
In his story meeting his father
Place: Professor Goldmountain's office at Crusder Hill National University.
Date December 2044
Secretary Phone ring: Professor Goldmountain, your son is coming to your office.
Professor Goldmountain: Thanks for calling, Jane. Let him come to my office.
After few minutes, Lieutenant Goldmountain, Migael enters in the office as he is wearing Lieutenant official uniform, and he was carrying brief case. He bows to his father.
Migael Goldmountain: (As he bow) It's been long time no see, father.
Professor Goldmountain: oh, my son, come over here and sit down.
Professor Goldmountain: Just a moment, I will make a cup of barley tea for you.
Migael Goldmountain:I can help you to make the tea for you, father.
Professor Goldmountain: no, no, no, stay there, my son. Making barley tea is not easy for you especially young men.
Migael Goldmountain: I can help you to do that because son should offer what his father needs.
Professor Goldmountain: (with smile) No, I will offer you at this time because of your graduation, my son
Professor Goldmountain: I am glad that you come to my office after successfully graduate the international police academy in your age. But, drinking the tea between us is getting harder after all.
Name: Lieutenant Woodland, Badu
Age: 25 in 2049
Average Income: 12500 ekels per month
Height: 236cm (7.74 ft.)
Home Country: Vurous
Talent: His nickname is "aim-bot."
Characteristics: He is the best friend of Migael from young age. He always work with him, and directed by Captain Yohan. His girlfriend is Lieutenant Crata, Mania
fav.me/d2rhvcz
. He really loves her. He has smooth personality, romantic, and polite, yet his girlfriend is disgusted on him.
Weapon:
fav.me/d2t79ao
International Armor Suit (Right)
fav.me/d2rj8kj
(Rifle, Helmet, Shield)
fav.me/d35j4ls
(Rhino Fortress Units)
Lt. Goldmountain (Rhino 29 team leader), the greatest driver in the International Police Department, and he maintains (490km/h, 304miles/h) high speed as avoiding any obstacles. Comparing the shooting range any other officer, Lt. Goldmountain is good shooting but not better than Lt. Woodland. He signed to join the international police officer when he was 5 years old in 2029. Goldmoutain served as a police officer when he was 15 years old in 2039, and became a Lieutenant ranked officer in 2044 after he graduated International Police University in Vurous, a country.
Lt. Woodland (Rhino 29 Team leader) is the best gunner in the International Police Department in Vurous, many police officers call him "aim-bot." Woodland met Goldmountain when he was same age as Goldmountain joined the International Police Academy.
The International Police car is very unique because the out-layer of police armor metal plated composite of aluminum. Inner layer of the armor has multiple ceramic discs which is composite with titanium. Adding the silicon dust, plastic and fiber was designed to absorb the massive kinetic and heat energy. This police car is manufactured by great engineers, elves.
Even though a meteor strikes on the car, those two guys will survive. This engine consists of gasoline engine and has turbine jet engine for maximum speed (490km/h, 304miles/h). This car's door is sealing as jumbo airline door does. For example, when the Goldmountain goes into the a group of riot, he pulls out the tear gas grenade and throws through the small window, which is located on his left, and waits for the group of riot going away.
Underneath of police car has the geographic land detector which any international police officers can find the mine or improvised explosive device in 300m. And Lieutenant Woodland carefully look at the suspicious land pattern through the monitor's graph if there is any explosive device. And then, he uses bio-thermal binoculars and find any suspicious person who is laying on the ground.
On top of the front trunk, this police car also armed with dual 50 caliber guns, and grenade launcher. The grenade launcher can be used with shells or projectile tear gas.
The international police car is not only run on the ground but also run on the water.
The door on the top provides Lt. Woodland to shoot above the police car. When the Lt. Woodland cannot use the door because of enemy's suppressing fire on the top door, Lt. Goldmountain can use small window to provide supporting fire.
Since Heavy Armed Rebel Members (HARM) is heavily armed and well organized, all regular police officers should report to International Police Department as they see HARM members.
To become an high ranked international police officers as a Lieutenants in Vurous, the police students start to study and train in 5 years old age. They are studying math, driving, shooting range, multiple languages, close combat, civil communication, political science, history, economy, computer science, critical thinking, oral communication, psychology, police investigation, Christian bible test including ethnicity, geographical mine detection test, swimming and so on. Being high ranked international police officer is quite challenging, and not many police officers become the elite.
Normally, International police officers are 7 feet tall (210cm).