And so, Spatulons vs. Phlovomites is released to the world. Here's a list of things to search for! Have fun!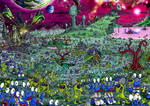 Characters:
Wally.
Frank.
Simon the Toparian Monster.
Chris.
Other things
A Spatulon with a massive helmet.
5 Spatulons being electrocuted by Phlovomites.
A naked Phlovomite.
A Spatulon with green pupils.
A Phlovomite with yellow lips.
A tongue-tied Phlovomite
A love story beginning to unfold.
A Phlovomite with 3 spatulas sticking out of him.
A Spatulon being poked in the eye.
A Phlovomite artist.
A Phlovomite getting his eye poked like a snail.
A warning sign.
Some underwear.
First one to find them all gets nothing!

EDIT: The first person to get them all was

Everyone should be jealous of the nothing she won!