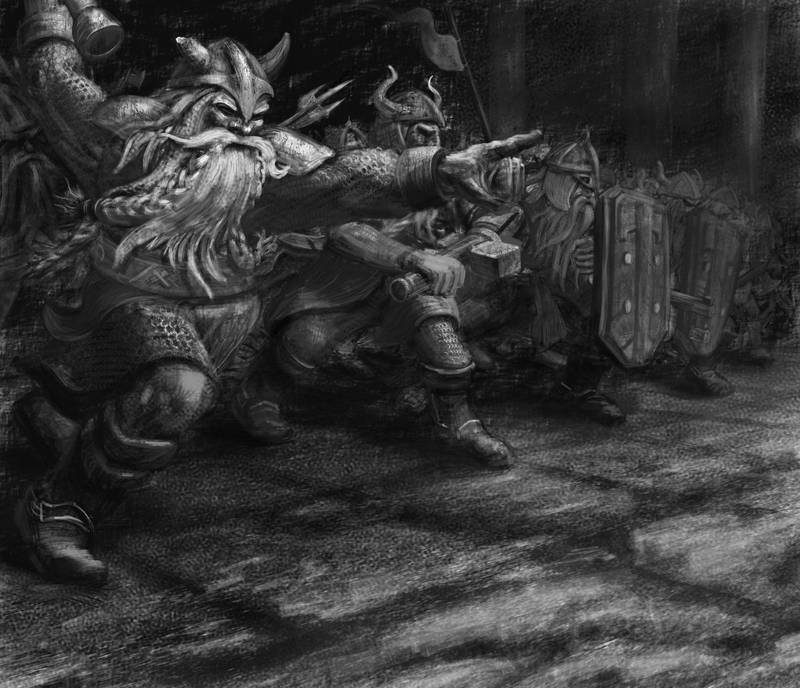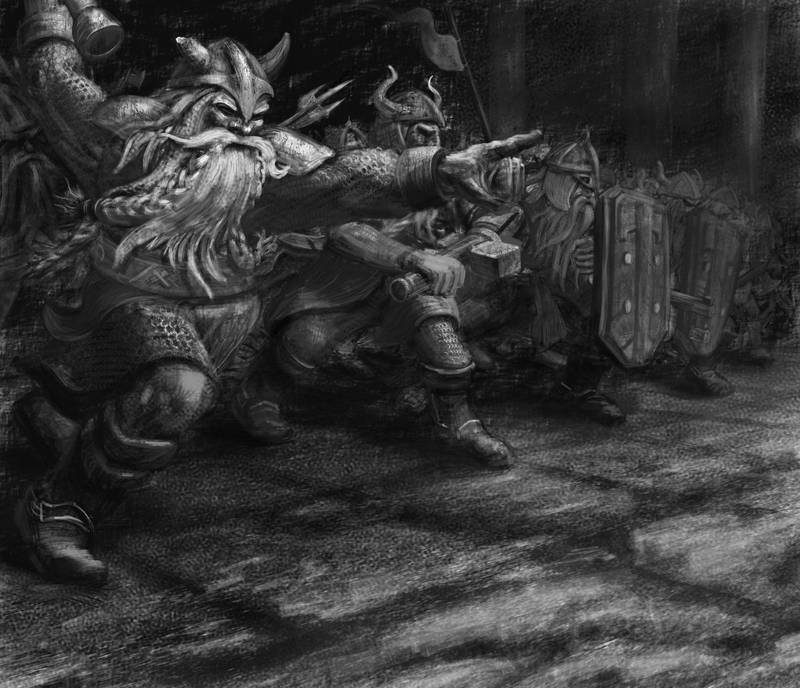 Watch
Doing illustrations for somone developing a tabletop game with a similar vibe to Warhammer. Trying to add my own flavor to it with more dynamic poses and grittier characters.

XD dwarves!! if this is what you meant by get a job - awesome!!
Reply

How will I ever be taken seriously as an artist now? I've committed a sin and drawn something out of a D&D manual.

Reply

being taken seriously is really overrated! XD i'm still jealous that you get to do stuff like this as work!

i really really want an internship/freelance for my last semester!!
Reply

So far its not real work in the sense that it pays peanuts. Its nice to be able to list it as experience though. I'll bet you could get freelance work this summer. Try Craigslist and different freelance websites. There is an IFreelance.com which has some different postings for artists/illustrators. Then you could list the freelance stuff as experience to get the internship. Internships are hard as hell to get now, and they are often unpaid. (the bastards!)
Reply

bah! these days who can be picky! and you never know where little stuff can lead... and at least you get exp working for people.

yeah the gigs listing for craigslist is where i get sent by the advisors and stuff. when i looked during my first semester, either it was a scam or people wanted a lot for free! XD i guess it never hurts to keep looking!

T3T everything will be ok when we graduate!!!!
Reply

Actually they still do want a lot for free. You'll often hear the phrase "The project involves no pay but you'll get a chance to improve your portfolio with professional work." The other one I see a lot is companies looking to hire people to do professional work, have superduper qualifications, but its an unpaid internship. I sometimes get the feeling this is a dead profession and all the illustrators are wandering a post apocalyptic landscape looking for work in shady towns, fighting over pennies. On a more positive note, unemployment is up.
Sorry, I had a crappy jog at the park today.

Your new Star Trek snippet is funny but I couldn't read some of the words as they are so small. It reminded me of a particular TNG episode I just can't remember which.
Reply

LOL if there's one thing i know its that unemployment is up! i have faith ^^ it's better than planning suicide!

that would make a good graphic novel tho! illustrators fighting for pennis in shady towns XD

what she's saying isn't so important because nithill is ignoring her XD; but she's just stating that on scalos (their planet) they exist in the wink of an eye - and that because of the radiation they cannot live without outside mates. then she asks what are you going to do with us now - wherein nithill calls his ship and has the planet raised B}

its based off the tos ep 'wink of an eye' and thr comment someone made about it on the youtube page XD
Reply

Great work friend

Reply