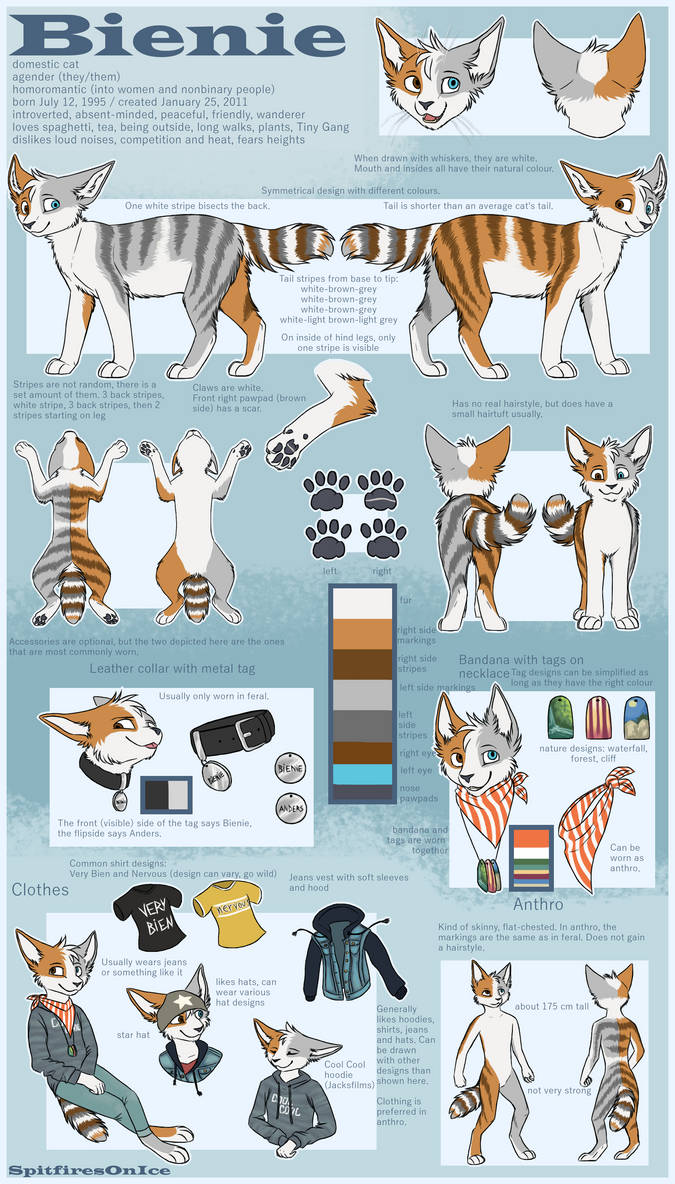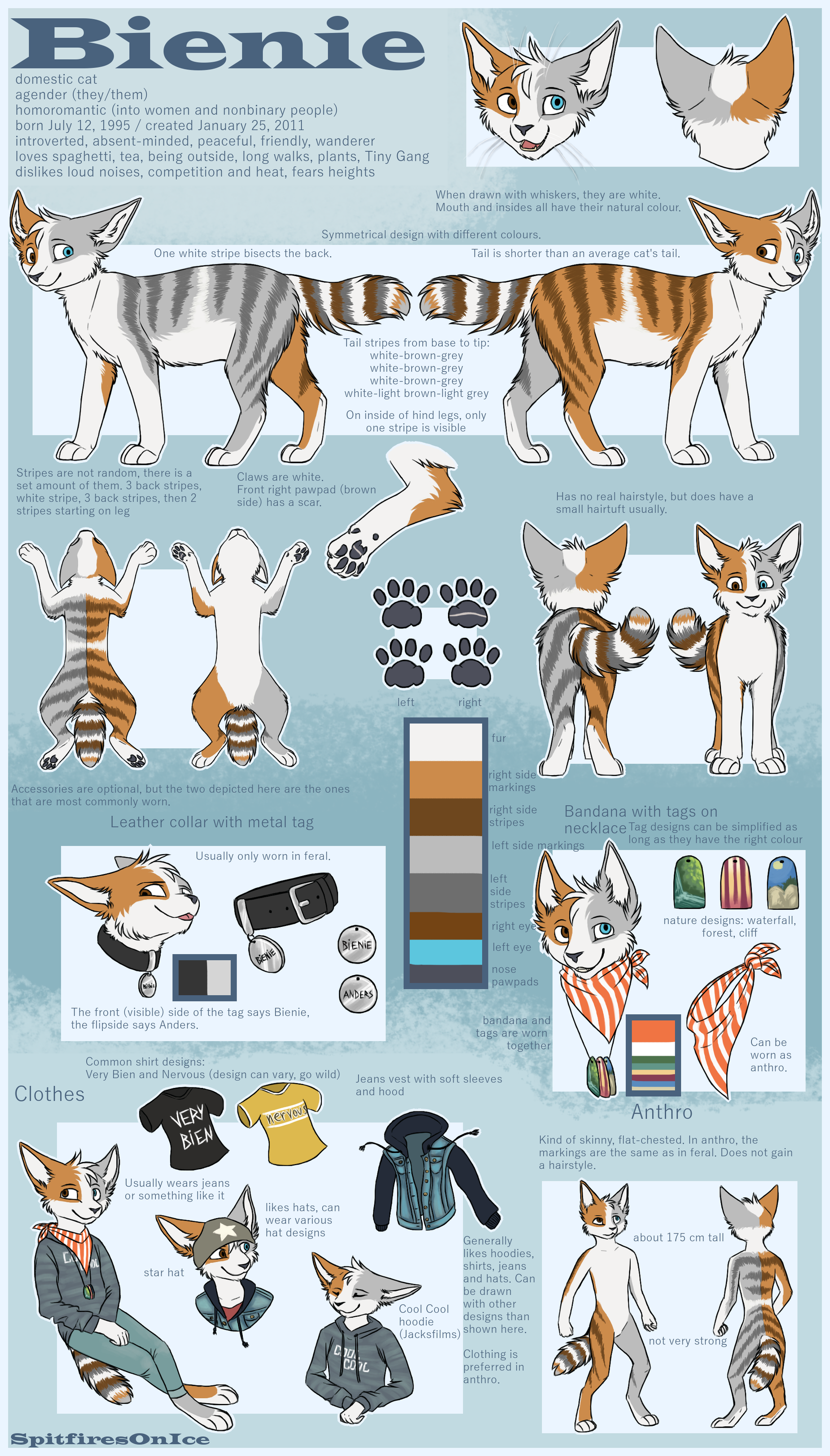 Watch
EDIT: Bienie has a new reference sheet now. Their newest one is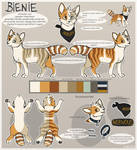 Information
Name:
Bienie (alternatively, Anders)
Nicknames:
Bien (and various bean puns)
Species:
Domestic cat (Felis catus)
Date of birth:
July 12th, 1995
Date of creation:
January 25, 2011
Gender:
Agender (they/them)
Orientation:
Homoromantic (into women and nonbinary people)
Tiny Gang: Oliver
& Kyo
Occupation:
University student (Linguistics)
Nationality:
Belgian (native language is Dutch)
Likes:
Spaghetti, tea, long walks, nature, all seasons and times of the day, cold sunny days, rivers, lighthouses, old towns and cities, Pokémon, Life is Strange, Animal Crossing, paperclips, hats, animals, plants, linguistics, Christmas, their friends and family, Dog, Tiny Gang
Dislikes:
Loud noises, competition, ball sports, board games, wet hair, raisins, alcohol, smoking, recreational drugs, most cheese unless it's molten, rough touch, ringtones/alarms, uncertainty, wasps, heights
Introverted, socially anxious and insecure. Bienie doesn't have a lot of confidence, but they feel more at ease around people they are familair with. It takes a lot from them to talk in a group, and it's often hard for them to use their voice if any kind of background noise is present. They tend to observe or daydream, not taking part in interactions unless they feel comfortable. When in a group they feel safe in, they love to be part of what is going on, and they love being around close friends. After social interaction, they often need some time alone to recharge. They are much better at expressing themselves in written language than in spoken. They hate being a leader in any position, and prefer to follow orders instead. They tend to be rather gentle. They like dry humour, but cannot handle sarcasm well when it's used too much. They hate guessing or uncertainty of any kind, and feel best in a stable, secure environment. They have autism, which mostly shows in how they handle their social interactions. Bienie usually appears calm, but can get rather anxious about things. They may find it hard to voice their discomfort, though.
Bienie is easily overwhelmed, and may get snappy when overstimulated. Especially noises or unwanted touch can be too much for them. They're physically weak and sensitive, not liking most touch and really disliking rough touch. They're not great at most games, and tend to dislike anything competitive. They find it hard to focus on things, their mind wandering. Bienie likes to walk around places, such as forests or cities, with no intended purpose other than to just be there. They enjoy observing the world and experiencing things that happen around them, without capturing it. An ideal day out for them is a trip to a place with some nice views, a good walk or bike ride, and a meal in a cosy food place. They love cosiness and warmth.
They usually only get close to a few people at a time if anyone, and they are bad at keeping in touch with many people. They love their friends, though, and try to be there for them when possible. They are closest to their qpps, who mean the world to them, and can usually be found around them if not alone.
---
Art
Art of Bienie by myself
Art of Bienie by others
Toyhou.se
---
Previous reference sheets
Number 1 (January 2011)
Number 2 (July 2011)
Number 3 (January 2012)
Number 4 (August 2012)
Number 5 (May 2013)
Number 6 (October 2014)
Number 7 (May 2016)
---
It is past 3:30 dear lord it's been ages since I was up this late but I NEEDED to have this finished and out of my system ffff
A new Bienie ref! Finally! I will edit links on other pages with the new ref tomorrow, and add any information to the description if needed, but I think this covers everything. Now I can finally draw other things again, whoo!
You may not copy this character, make characters related to them, or use them in your story (sorry)!
They're a personal character and they are used by me to express myself. I don't feel right with other people using them in those ways.
Made with
DeviantArt muro
and GIMP. Bienie and art belong to
SpitfiresOnIce
.