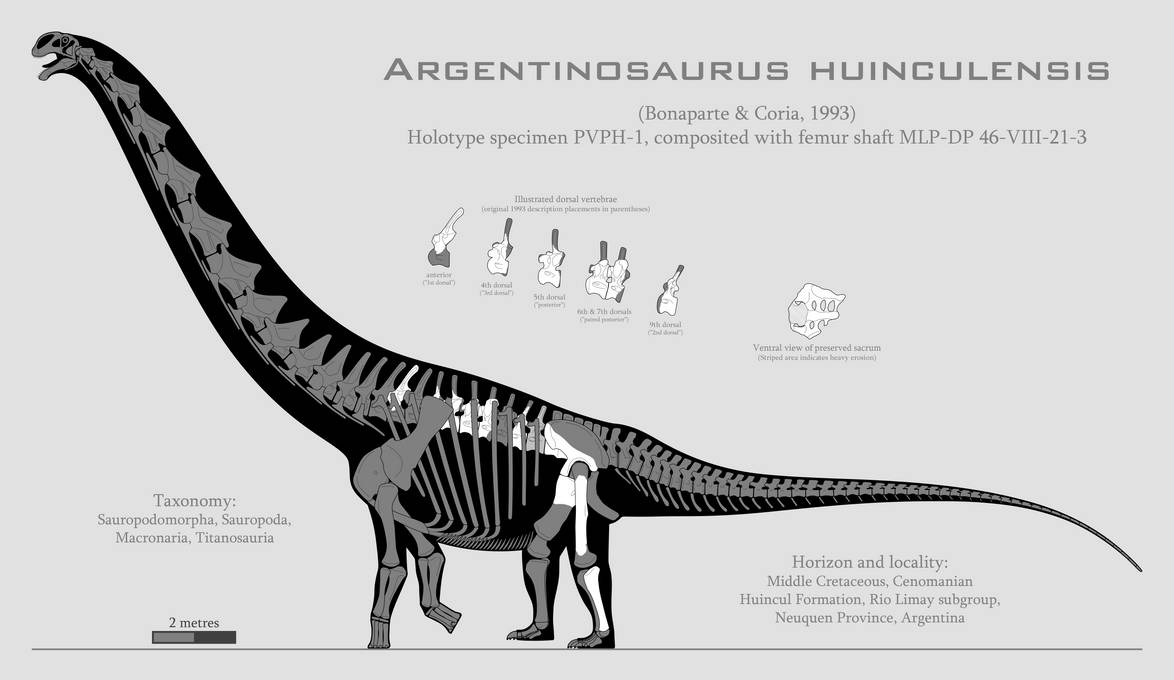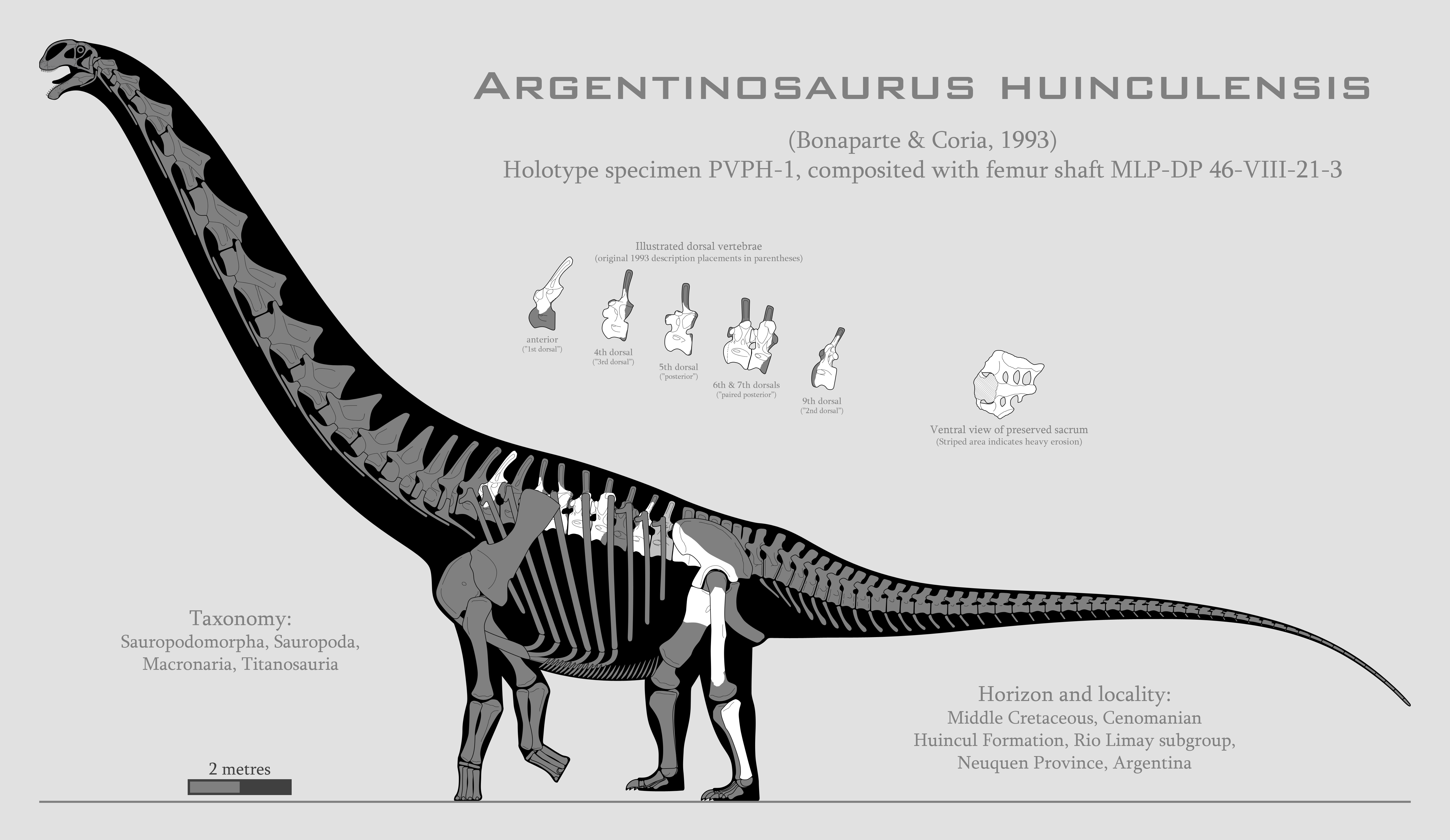 Argentinosaurus huinculensis
("Argentine reptile from Huincul") is a species of gigantic basal titanosaur that lived in what is now Argentina during the Middle Cretaceous. It's remains were found in the Huincul Formation. Popularly believed to be the largest dinosaur, this title is probably exaggerated. It was reconstructed as a giant saltasaur by Carpenter in 2006, which is very unlikely, in no small part due to it's basal position within Titanosauria. It also probably didn't battle groups of
Giganotosaurus
as they lived several million years apart.
The dorsals are based on the arrangement proposed by Powell & Salgado (2010), albeit with the anterior dorsal moved one position forward due to issues with neural spine articulation.
The neck, shoulders, and distal portion of the tail are based on
Patagotitan
. The forelimb proportions and much of the tail were based on
Epachthosaurus
, while the head, tibia, pes, and cervical ribs were based on
Malawisaurus
. The femur length as restored here is based on a complete femur assigned to
Argentinosaurus
by Bonaparte (1996), and mentioned by Mazzetta et al. (2004), which proposes that the complete femur, the femur shaft MLP-DP 46-VIII-21-3 (composited with the holotype here), and the holotype specimen PVPH-1 were similarly-sized animals.
The ilium and caudal neural spines were reconstructed based on
Rukwatitan
. The pubis and ischium were based on
Andesaurus
, and the dorsal ribs and sacrals were drawn as generic elements.
Left and right limbs were swapped to show off the preserved elements.
Thanks goes to

for his
Argentinosaurus
and
Andesaurus
reconstructions, which were used for references, and for his helpful advice, and to

for his helpful advice.
For an animal as popular as it is, and known from more material than more enigmatic giants like
Puertasaurus reuili
and
Maarapunisaurus fragillimus
, it sure was harder to reconstruct than they were.
_____________
Hip height: ~5.43 metres
Shoulder height: ~6 metres
Total height: ~14.66 metres
Standing length: ~26.38 metres
Axial length: ~31.42 metres
_____________
References/sources:
Bonaparte & Coria, 1993,
"Un nuevo y gigantesco sauropodo titanosaurio de la formacion Rio Limay (Albiano-Cenomaniano) de la provincia del Neuquen, Argentina"
Mazzetta et al., 2004,
"Giants and Bizarres: Body size of some southern South American Cretaceous dinosaurs"
Salgado & Powell, 2010,
"Reassessment of the vertebral laminae in some South American titanosaurian sauropods"
Mannion & Calvo, 2010,
"Anatomy of the basal titanosaur (Dinosauria: Sauropoda) Andesaurus delgadoi from the mid-Cretaceous (Albian-early Cenomanian) Rio Limay Formation, Neuquen Province, Argentina: implications for titanosaur systematics"
Carpenter, 2006,
"Biggest of the big: a critical re-evaluation of the mega-sauropod Amphicoelias fragillimus"
Gorscak et al., 2014,
"The basal titanosaurian Rukwatitan bisepultus (Dinosauria: Sauropoda) from the middle Cretaceous Galula Formation, Rukwa Rift Basin, southwestern Tanzania"
Martinez et al., 2004,
"An articulated specimen of the basal titanosaurian (Diosauria: Sauropoda) Epachthosaurus sciuttoi from the Early Cretaceous Bajo Barreal Formatiion of Chubut Province, Argentina"
Gomani, 2005,
"Sauropod dinosaurs from the Early Cretaceous of Malawi, Africa"
Filippi et al., 2010,
"A new titanosaur sauropod dinosaur from the Upper Cretaceous of North Patagonia, Argentina"
Poropat & Kear, 2013,
"Photographic atlas and three-dimensional reconstruction of the holotype skull of Euhelopus zdanskyi with description of additional cranial elements"
Wilson et al., 2016,
"The skull of the titanosaur Tapuiasaurus macedoi (Dinosauria: Sauropoda), a basal titanosaur from the Lower Cretaceous of Brazil"
Carballido et al., 2017,
"A new giant titanosaur sheds light on body mass evolution among sauropod dinosaurs"
Nima's Argentinosaurus
Nima's Andesaurus
Scott Hartman's Malawisaurus
______________
UPDATE(10/11/2017): Updated due to the publication of
Patagotitan
. The neck and tail have been overhauled, and the anterior dorsal rescaled, causing a slight dip in the anterior dorsal centra to allow it to smoothly articulate with the others. The
Phuwiangosaurus
-based 1st-4th sacral fusion has been dropped. See the
previous version
for comparison. Previously, it measured ~13.76 metres tall, ~24.2 metres in standing length, and ~28 metres long in axial length, with a neck scaled based on
Phuwiangosaurus
with allometry from Parrish & Michael (2006) applied as the isometrically-scaled version was too short to make sense ecologically on an animal of this size, an issue which plagues Carpenter's 2006 reconstruction, and a tail based on Andesaurus.
UPDATE(10/28/2017): Rescaled the neck, and overhauled the tail based on
Epachthosaurus
, which was placed close to
Argentinosaurus
consistently in most phylogenetic analyses that include both taxa. See the
previous version
for comparison. Previously, it measured ~14.47 metres tall, ~26.14 metres in standing length, and ~31.18 metres in axial length.
UPDATE(5/10/2018): Added detail, remade the skull, replaced the scapulacoracoid (
Malawisaurus
doesn't actually preserve the scapula), and scalebar updated to my new conventions. See the
previous version
here for comparison.