Info
I'm comfortable drawing/painting pretty much anything (thanks to art school), and even just written descriptions are sufficient!
I will not ask for payment until just before I am ready to start your commission. From there I will start the commission as soon as I can after the payment has been received.
If you are interested, please note me or email me at spikieamr@gmail.com with some details about what you'd like!

I'll do my best to complete what I get as I get it, in order of payment, although if you have a situation where there is a deadline we can talk about that as well, although I may charge a rush-fee.Some commissions may not get completed during my break depending on the volume/complexity of the ones before it, and I will communicate with you about this if it becomes an issue.
If you've thought about commissioning me in the past, I recommend talking to me now or in May (when I'm on my next break). Because I am a full-time student, when I am in term, I must focus on school work. I sometimes finish commissions in this time, but mostly not.
Other types of commissions can be negotiated, for example if you'd like a sketch or something similar to another piece in my gallery.
If you ever want a print or the original of a piece, I can do that for you as well, for a $5 (+ a little more if I'm making the print) extra change
My current Commission sheet:
<da:thumb id="420516111"/>
Please look through the Commissions etc. folder in my gallery for more examples!
Commission Prices
$15
for bust - Ink Sketch
$25
for full body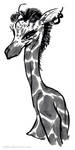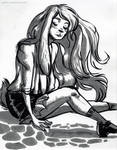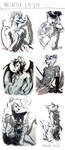 + $5 shipping
----------------------
$50+
for complex ink piece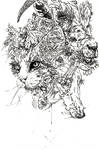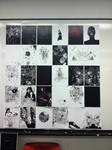 + $5 shipping
------------------------------
$35
for bust - Acrylic Ink Painting (4" x 6")
$55
for full body