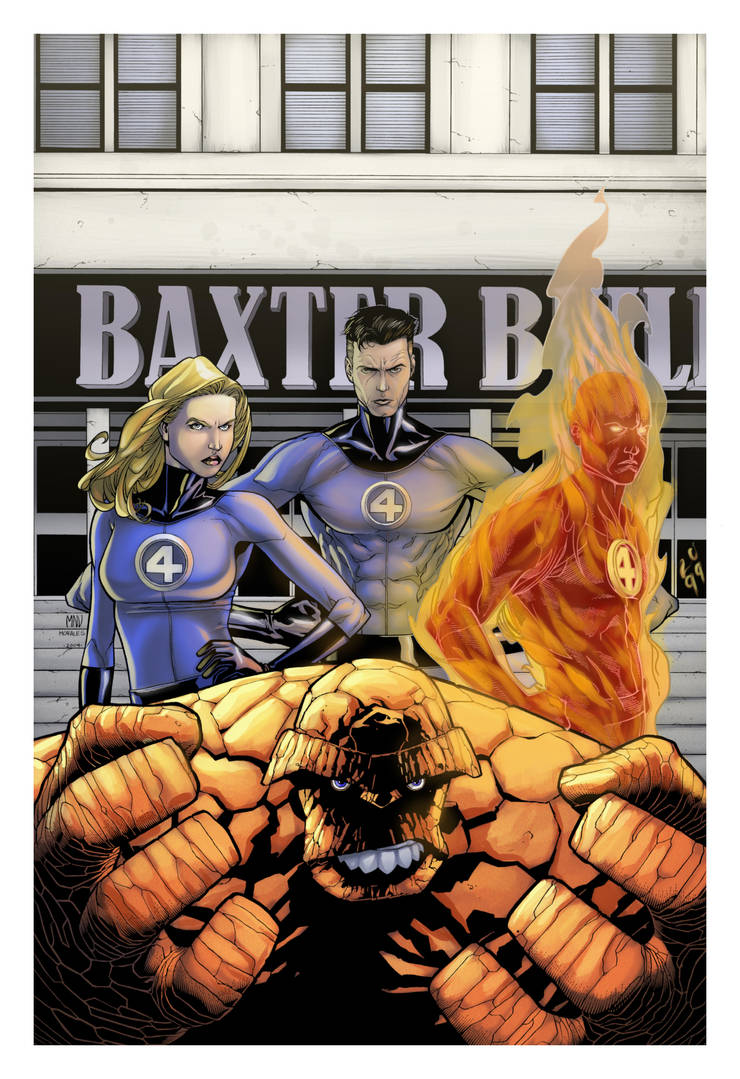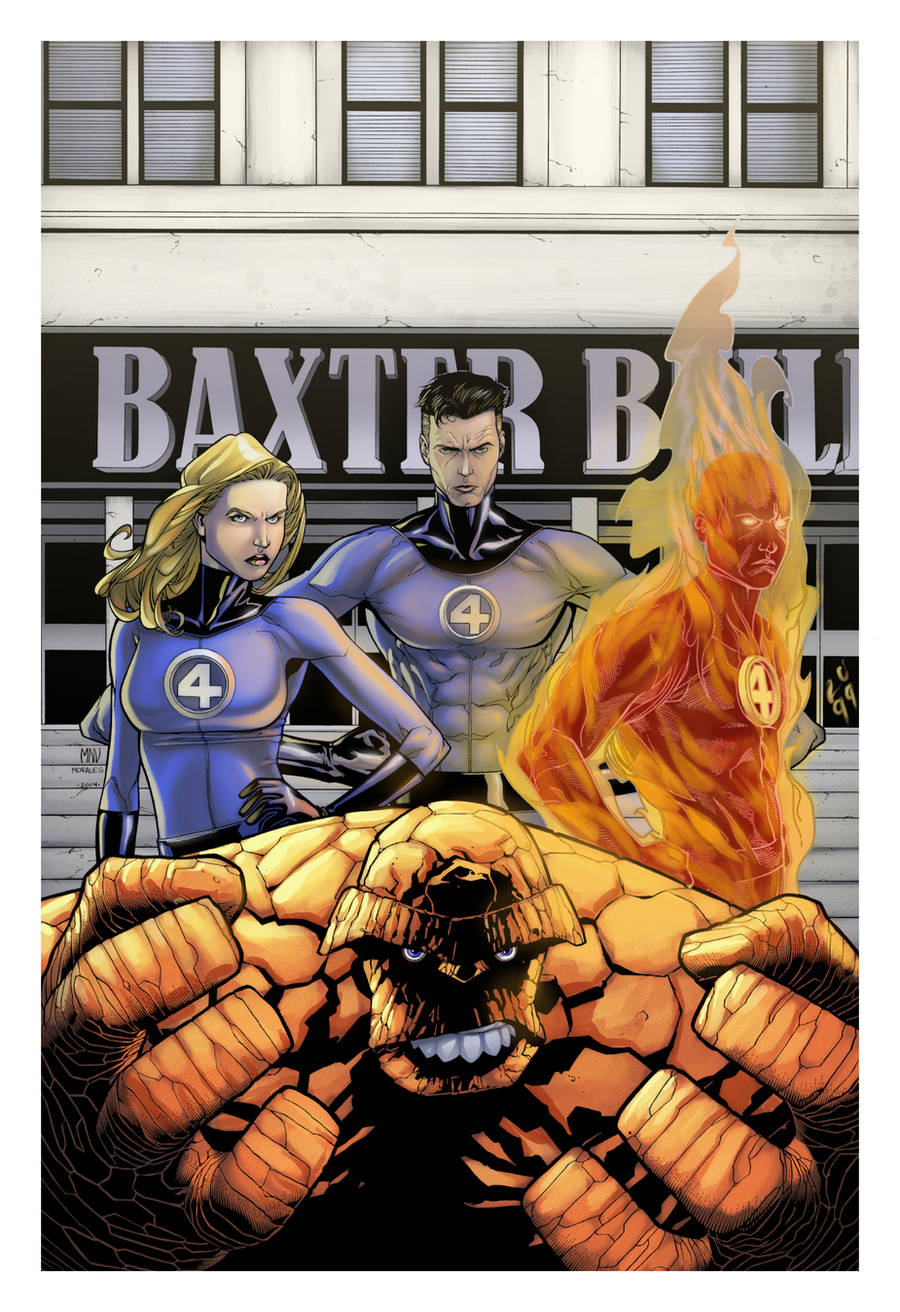 Watch
Pencils by Steve McNiven, Inks by Mark Morales... colours so far by me.

I'm struggling with the Torch here... I literally dont really know how to deal with that flame surrounding him....! I'm ok about Susan and Thing so far (details to go obviously!)

Any suggestions welcome, otherwise i'll just be cracking on with it and finishing it anyway... I just dont want to produce something below my par and then lose motivation, which is what always happens when I do something which I think is wack.

Not a great mood right now lol!

EDIT - Added some lighting contrasts and getting there with the torch... glows will be the last step and i'm sure they will pull it all together, but am at least a little happier now (phew, motivation remains!)

EDIT - FINISHED!!...? No it is. This was hard, I started with an idea and somehow it just kept evolving. I was looking at a lot of tutorials picking certain bit up and adding/redo-ing as I went along. I'm actually really pleased with it, quite light for usual colouring, has a subtle dramatic light from multiples and I was honestly thinking it wasn't going to work... but I think it has:/

Hope you all like.

Radical!

Look at this tutorial.
[link]
<object width="450" height="1060"><param name="movie" value="
[link]
" /><param name="flashvars" value="id=164359751&width=1337" /><param name="allowScriptAccess" value="always" /><embed src="
[link]
" type="application/x-shockwave-flash" width="450" flashvars="id=164359751&width=1337" height="1060" allowscriptaccess="always"></embed></object>
Draco + Harry Process
by *
Samurai-PET
on
deviant
ART
I hope this helps
Reply

Thanks for the Link dude. The FF piece is a real oldie for me, I reckon I can handle the flames a bit better now, not that I get many chances at fire (or want many chances either haha!)

Reply

the picture in the end turned out really well
Reply

Thanks. I know i'm gonna just end up redoing the Torch (aaaargh.... undecided!). I saw another version which was coloured on here, and you know what its like, you see a different version and your own just pales in comparison (damn those uber talented artists!).

Glad I got there in the end, and thanks again for all the input (I did check out some of those flame brushes, and some of them aren't too bad to be fair... i'll no doubt use them in the future).
Reply

Pretty cool so far. Urm... I have no idea as to how to deal with Torch's flames (I'm actually lame at coloring), but I think Mr. Fantastic needs more lighting. Loved the shading on Thing.
Reply

Just finished a new tutorial on colouring using the gradient maps... excellent stuff, really useful for softness. You will see it soon. Finish it bye tomorrow I reckon (fingers firmly crossed!)

Yeah Torch is still staring at me mockingly... the evil pyro!
Reply

You could blend a bunch of reds and yellow, set them at a 75% transparency and add an outer glow to it.
Reply

I tried blending a bunch of flame shapes (flicks basically, but wispy!) as a layer behind Torch, then adding a slight Gaussian blur,then just working over the top of the main base with some more flames... looked crap lol! I think that its the way really, but I just hated doing it (and it took ages for some reason, reason = me!) and was hoping someone knew of a special button that just rendered flames on Superheroes in PS haha! I gotta get back to it now actually, its late but its bugging me too much. I was gonna add the outer glow as a top layer over the inks to really heat it up, pardon the pun

Reply