Paprika is a silly, carefree Paralogos. He likes napping, joking around.. He's one of the smaller Paralogos, and he's proud of it.
He's also a bit of an attention hog and is fond of pranks- but don't worry, none of it is actually harmful.
Height:
0,42 m (or approx 16,5354")
Likes:

- Bell peppers, yum!
- Doing silly pranks!
- His best friend JB!
- Wandering around with Ginkgo!
- Sereri and Tamanion's capes!
Dislikes:

- Spicy food, too much capsaicin..
- Spooky pranks or jump scares..
- Being bored, boredom is the enemy..
- Being carried around, unless it's by piggyback..
- Not having a cape like Sereri and Tamanion..
As a Paralogos based on bell peppers, Paprika has eventually gained the ability to become much lighter than he should be, mimicking the hollowness of bell peppers.
This is, of course, just an illusion. The ability works both ways, of course- if the illusion is already active, he can become heavier by stopping the ability.

(NOTE: This has been added for the Tier 1 magic. The ability at the end is as-of-yet unconfirmed. This sentence will be removed if it gets confirmed.)
---

Paprika Paralogos

Type of Word:
Concrete
Designation:
Food
Level:
2 - Alive but without Intellect
Language:
Dutch
Logoslibrary Entry: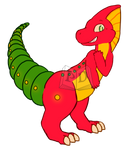 ---
Old description:
For
ParalogosDictionary
's
Make-Your-Own Event! Choose Your Words (CLOSED)
.. from 4 months ago. XD
Just like the last one, I took my damn time. This time, however... I decided to be a bit funky.

Used the
Splatoon Brush
by
TamarinFrog
as well as the
Splatoon Style Tutorial
.
Please note that the image was partially traced. The original image used was

mewhaku
's design and was done with permission.

Image details
Image size
5000x3650px 4.43 MB