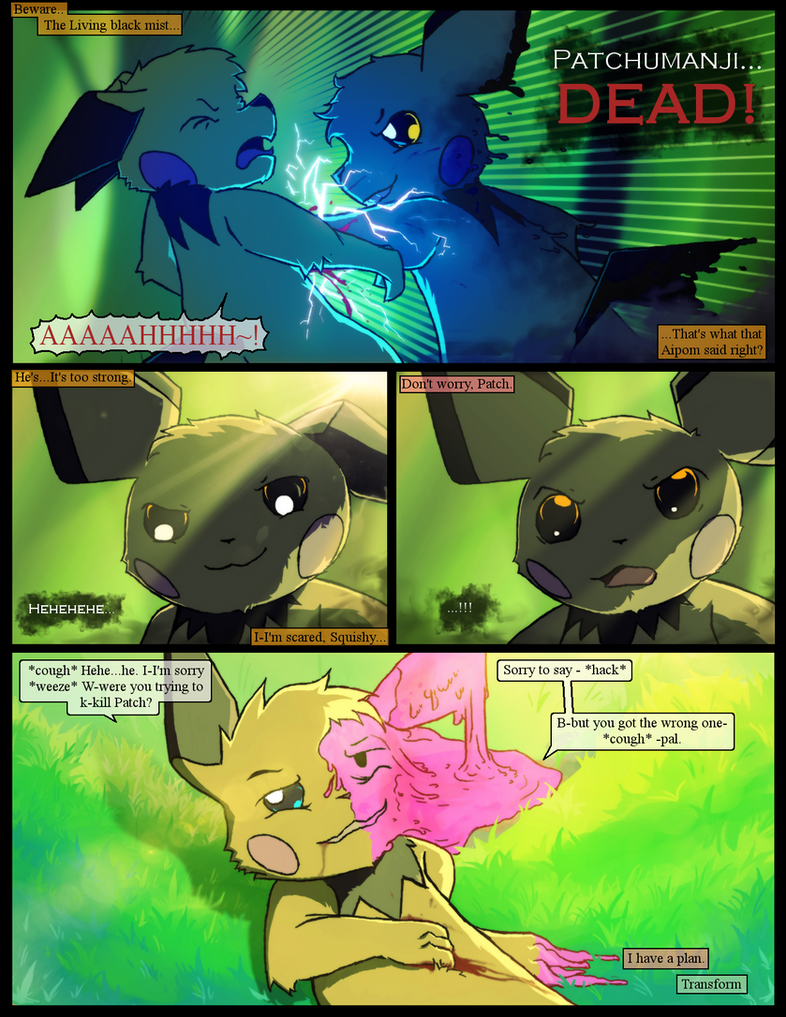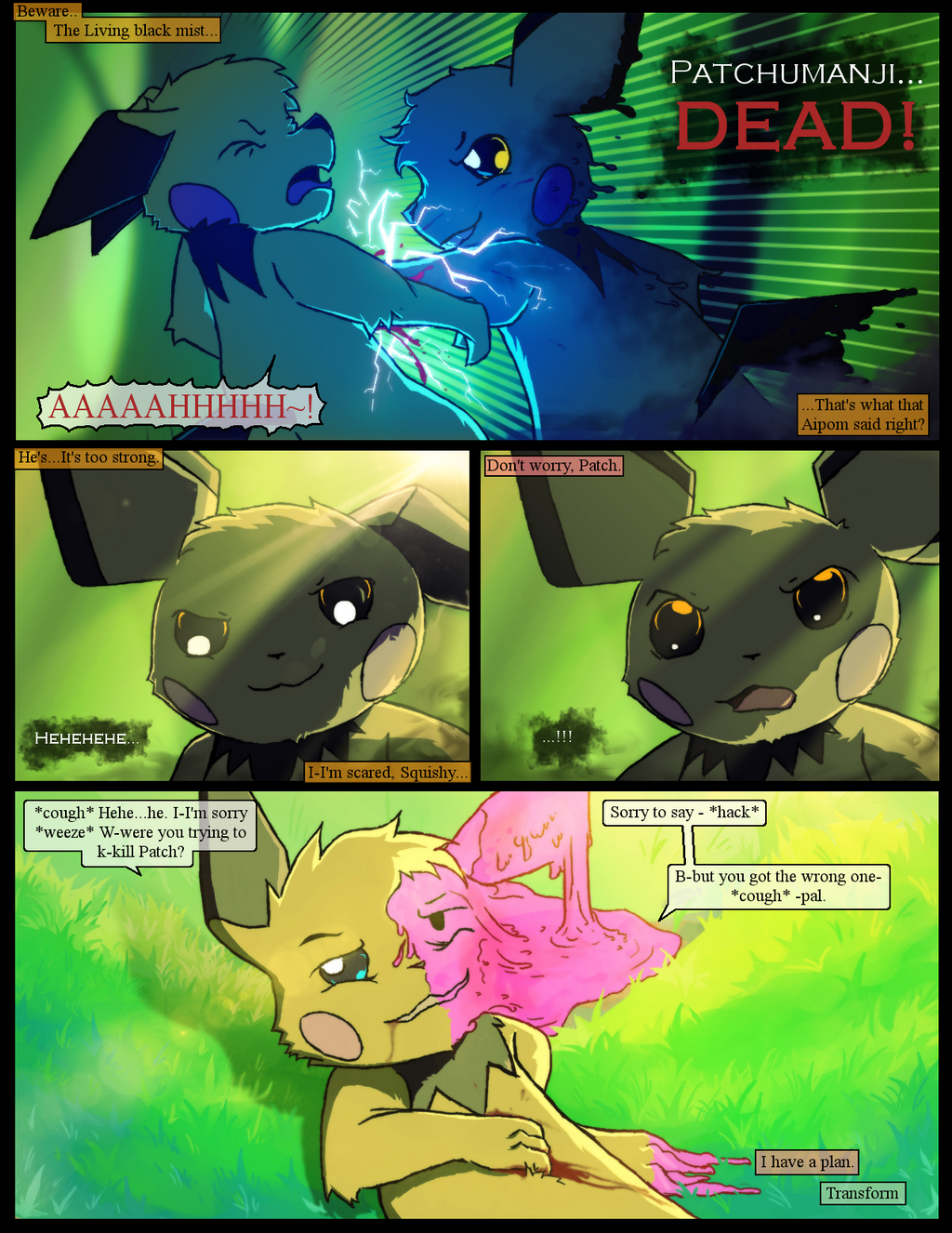 Watch
My contest entry for Pokemon: Break!, a comic by :iconbananokin
: which you can find here: www.smackjeeves.com/comicprofi…

The contest is pretty simple: draw what you think will/want to happen later in her comic. I originally wanted to do something linking Pokemon: Break! with her original
Rescue Team Ramen, but I couldn't go anywhere with that so I decided to do this instead.

The story here, in case you can't tell, is that the evil black mist version of Patchumanji sets out to kill Patch, who isn't nearly strong enough to defend himself yet. So,
Squishy the ditto goes disguises himself, and dies in his place.
-------------------------------------------------------------------------------------------
If you're interested in entering the contest yourself, the deadline is the 29th. If you're not entering, maybe consider voting for my entry when the polls open?


I would have entered, but I can't draw
Reply

*Squeals* Oh my LORD! I love this! It makes me super sad and super happy at the same time. Happy because this is amazing, I love how you had a past conversation going on here, it confused me at first, but by the end it was clear. Squishy melting at the end, oh man, looks so sad! Squishyyyy! Patch would never be okay with this outcome, but I could see him not realizing what would happen to Squishy. But, Squishy knew and that makes me even sadder. I might be overthinking this.
God I love this, it's so amazingly sad. I can't wait to see how everyone votes.

Reply

Overthinking? Nah, actually that was pretty much spot-on.

If there was a Fifth panel, it'd be Patch bursting into tears and lamenting how it
"wasn't supposed to be this way."
Anyway, glad to hear you like it so much~!

Let's hope the voters feel the same way...
Reply

Oh man, I'm glad you didn't have that extra panel. My heart would have broken! Squishy, why did you have to play the Hero??
Reply

you have such great timing. I thought this was your comic and that dark pichu was darkrai (he can transform using nightmares so...)
Reply

I seriously thought this was the next page of PMD(MD) and was really confused xD
Reply

Yeah, sorry.

Once in a while I just feel like drawing something that isn't my comic, y'know?
Reply

No need to be sorry, there's nothing wrong with drawing other things uvu
It was kinda funny reading this without realizing it's not that
Reply

Reply

lol, yeah, I'm trying out new fonts, seeing how they work for me.

Like it? Or do you have another suggestion?
Reply

Okay!
i think it looks better than I expected, but of course it's all your opinion. I think this is the first one you've tried so far so hopefully you find one you like!
Reply

At first I thought this was part of your PMD Prologue comic (and the result of Pichu's demise)! Looks great, but the conversation bubbles between Patch and Squishy were confusing to read at first (I re-read to figure out what was going on).
Reply

Really? How can I make the Patch/Squishy conversation less confusing?

(BTW, the intention was that it wasn't supposed to be immediately clear that it was Patch and Squishy talking, but the readers were supposed to figure it out by the end)
Reply

Not sure...not without a blank panel with that conversation. Anyway, it seems like your intentions worked!
Reply

I'm starting to think you have something against pichus.

Looks amazing none the less!
Reply

A Pichu ate my family I mean, "WHAT?"

That's ridiculous! Just ridiculous! I mean, how could I...EVER...having anything against those disgusting yellow rodents? Ridiculous! HahahahahaHAHAHAHA.
JK of course, Pichu is actually one of my favs. ;3
Reply

Pichus are awesome though.
Reply
Having read (and still reading) Pokemon: Break!, can I just say that this is so sad, and I hope it doesn't happen! Also this art is beautiful, and I'll vote for it!
Reply