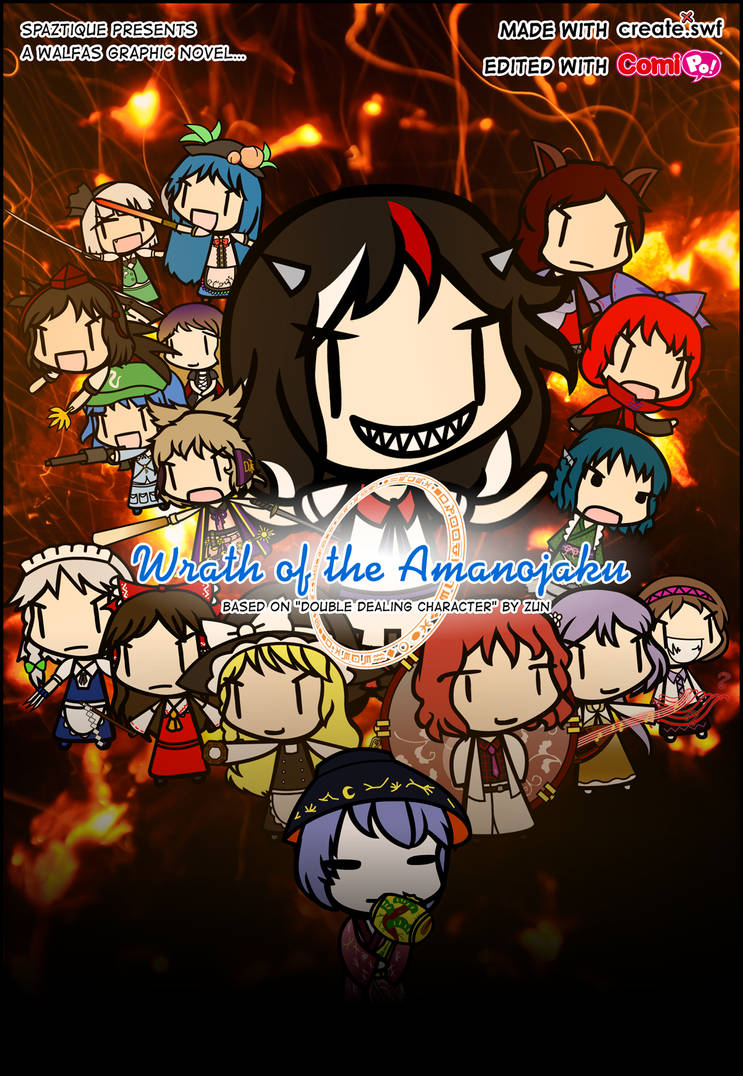 (Title Page not final.)
WRATH OF THE AMANOJAKU
Directed and Written by Spaztique
Adapted from Doubling Dealing Character, Symposium of Post-Mysticism, Hopeless Masquerade, Mountain of Faith, Scarlet Weather Rhapsody, and Impossible Spell Card by ZUN.
With critiques by the Walfas Station Wagon and /r/Touhou
Rated PG
for fantasy violence, crude humor, and mild language.
Synopsis:
Long ago, there was a great kingdom of inchlings, founded by the legendary inchling hero Issun-Boshi and forged by his Miracle Mallet. However, the kingdom fell into ruin when the inchlings forgot the price of the Miracle Mallet's power: that any large wish that benefits the user will equally hurt the user. In the modern fantasy land of Gensokyo, the legend has been long-forgotten by Sukuna Shinmyoumaru, one of the last remaining descendants of Issun-Boshi. One day, an amanojaku youkai, Seija Kijin, shows up with the Miracle Mallet, but tells her a completely different story about the inchlings: that they were oppressed by the youkai, and that Gensokyo has turned into a land of tyranny, ruled by corrupt "heroes" who crush anyone they disagree with. With Gensokyo soon to face an incident unlike anything they've ever faced before, it's up to Gensokyo's bravest humans, strongest religious leaders, and unorthodox non-humans to save the day and prove that Gensokyo really
is
a good place...
Notes:
This is the antithesis to
Diamond In The Rough
: whereas DitR was about showing the dark corners of Gensokyo and making viewers question if they knew everything about Touhou, this is a more optimistic adventure that explores the heroism of Gensokyo's residents, celebrates both canon and fanon, puts back together what DitR took apart, and gives the middle finger to those who say Gensokyo is a horrible place (and, subtextually, against "fans" who act like Seija and turn people against eachother for personal gain). This comic will be a celebration of all things Touhou and the Touhou community, as well as take Walfas comics to new heights with a bigger emphasis on camera angles and page layouts.
Production to be streamed on
my Youtube streaming page
.
PRODUCTION PROGRESS: 50% COMPLETED


PLANNING: 100%
Outline: Complete
DRAFTING:
100%
Chapter 1: Complete
Chapter 2: Complete
Chapter 3: CompleteChapter 4:
Complete
Chapter 5: CompleteChapter 6:
Complete
Chapter 7:
Complete
Chapter 8:
Complete
Chapter 9:
Complete
Link to the rewriting/art team chat will be posted somewhere in Quarter 1 of 2019. Until then, leave your comments on the Stash pages.

REWRITING PHASE: 0%
Rewrite Iteration 1: In Queue.
Rewrite Iteration 2: In Queue.
Rewrite Iteration 3: In Queue.

Final Beta Read Reaction: In Queue.

PHOTOGRAPHY: 0%
Custom Prop Acquisition:
In Queue.
Chapter 1:
In Queue
Chapter 2:
In Queue
Chapter 3:
In Queue
Chapter 4:
In Queue.
Chapter 5:
In Queue.
Chapter 6:
In Queue.
Chapter 7:
In Queue.
Chapter 8:
In Queue.
Chapter 9:
In Queue.
Chapter 10:
In Queue.
Premiere Reaction: In Queue.