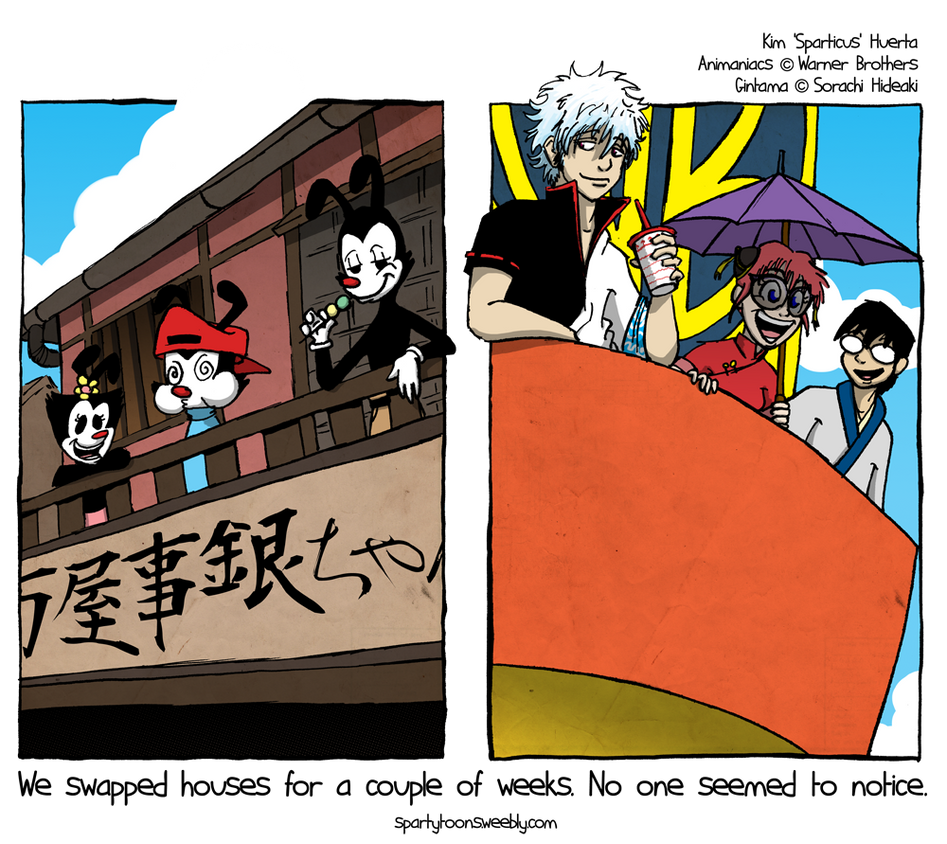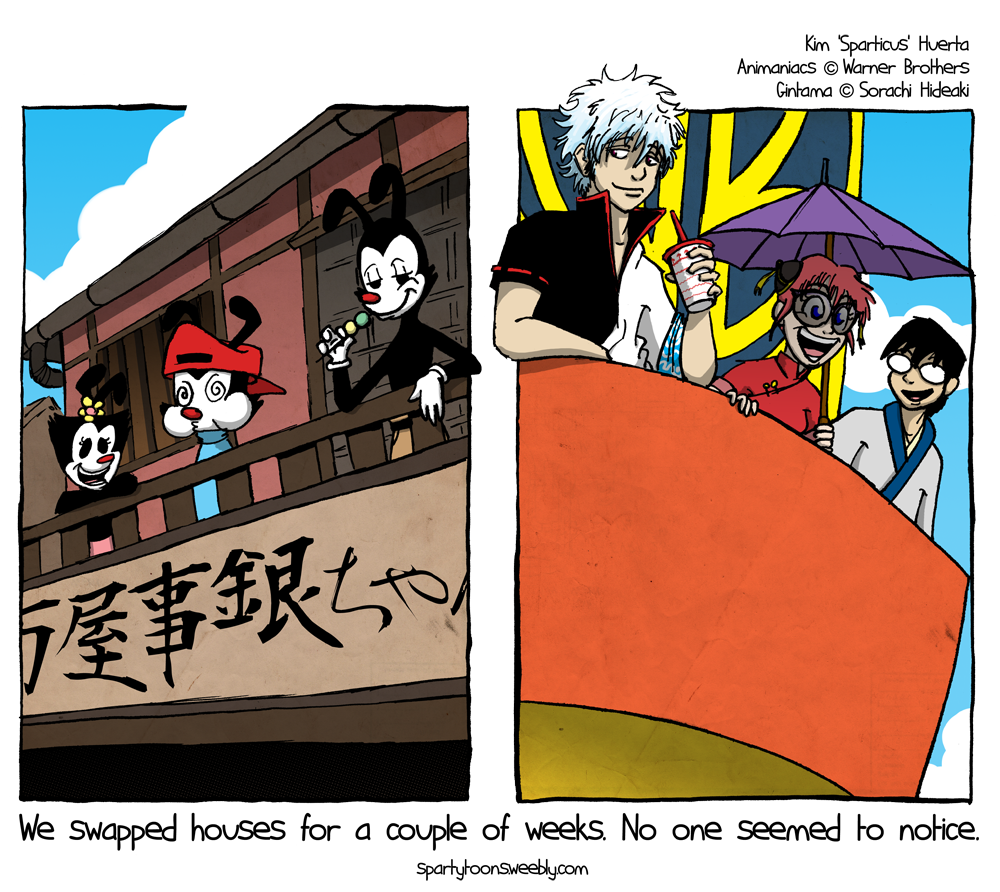 Watch
Just a weird idea I had. Ho boy this looked so much better as a sketch! I killed it with ink. T____T But the color salvaged it a little.

Yep, Gintoki has an In-N-Out cup there. Can't go to SoCal without goin' to In-N-Out! Also, I gave Kagura some sunglasses because California is VERY BRIGHT. I didn't realize how bright it is until I moved away then went back for a visit. I hardly took my sunglasses off the entire time. XD

Anyway, finally! Something finished! Yaaaaaaaaaaaay! I shall continue chipping away at the pile of Things I Need to Draw, yes I will. Consider this a warm up piece that went on far too long.

ink on cardstock, photoshop for ze color
Animaniacs © Warner Brothers
Gintama © Sorachi Hideaki

Funny idea.

Reply

I loved the Animaniacs when I was a kid. The nineties were a great time for western animation. Why can't things be like that any more? *cries in a corner*
Reply

It's okay, it'll come back around. We've got Adventure Time and My Little Pony! And there was Fosters Home for Imaginary Friends, and Samurai Jack (although that's a bit older).

Reply

Yeah, I know there better periods always interchange with worse ones. I've not completely lost hope yet xD
I've seen bits of My Little Pony and it looks fun. I haven't heard about Adventure Time. I'll have to check that out, thanks

Somehow I couldn't get into Fosters Home for Imaginary Friends... but I admit I wasn't trying too hard xD Might try again someday

I loved Samurai Jack

That's why this is my favourite thing ever:
[link]
Reply


"No one seemed to notice" that's wonderful
Reply

It's really funny seeing stuff that compares the two!

But I must admit Shinpachi, being the straight man, doesn't strike me as very Warner trio-ish. I'd file him more under the Dr. Scratchandsniff type. XD
Reply

Reply

Reply

Gintoki is probably sipping a chocolate milk shake from In N Out

Reply

Yeah, that works TOO well...
Reply

Scary ain't it?

Reply

The good news is that the Warners can bypass the Anti-Sword law.

Why?

They use tennis rackets and hammers...heck, anything they can find.

The Amanto are in danger...
Reply

No more than usual, I'd assume. Tama, Otae and Tsukuyo are gonna be hearing "Helloooooo Nurse!" A lot though. XD
Reply

Then again, when the Amanto Prince is an idiot and resembles Majin Buu...something bad would happen.
Reply