Hi there, and thanks for visiting my profile! My CORE was given to me by a sweet user named
minhri
, who has sadly deactivated. It just ran out, but I'll still be grateful forever and ever for that. Here you'll find bobs, bells, art by me, and lots of cheer, all around! My name's Luna, but you can call me what you'd please - Sparkle, Lila, Lilac, Luna, or just Pikachu from my old username. Please, take a look around, sit down and wrap up, and I'll get you some cocoa. I'm so glad you're here to visit my profile! Some links ~
To-Dos/Waiting Ons
and
more about me
, as well as my code account,
CocoKinzCodes
(created with
drocoyeen
's help). Interested in
Commissions
? They're open! Thanks for stopping by!
I'll go nuts if I don't like my profile or art, which is why I try to make it nice for you guys. I'm here to improve - Critiques are always requested! As long as you aren't being rude, rip my work apart - I want to see how I can improve.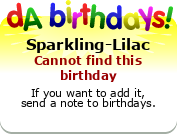 ---










---
---