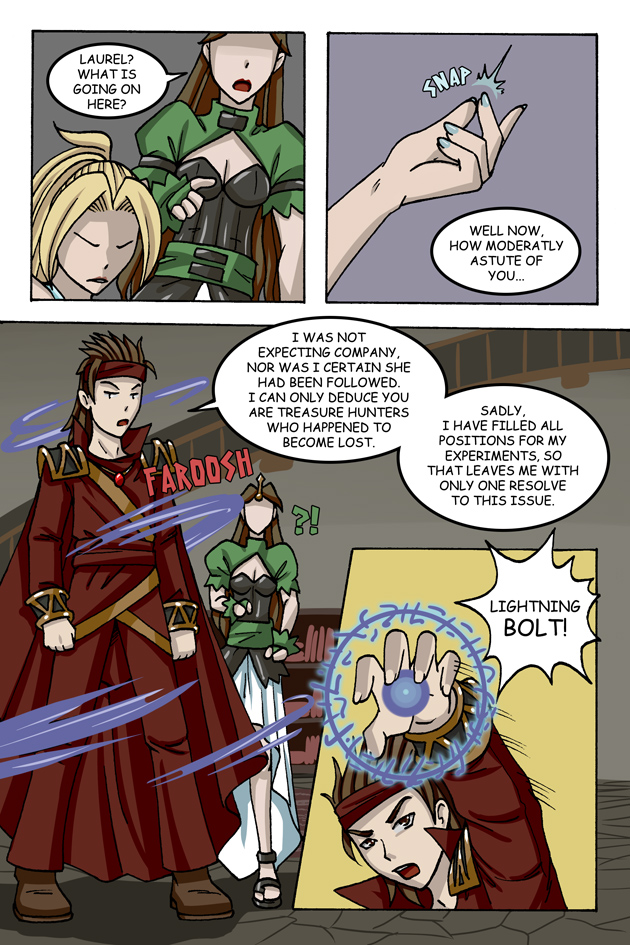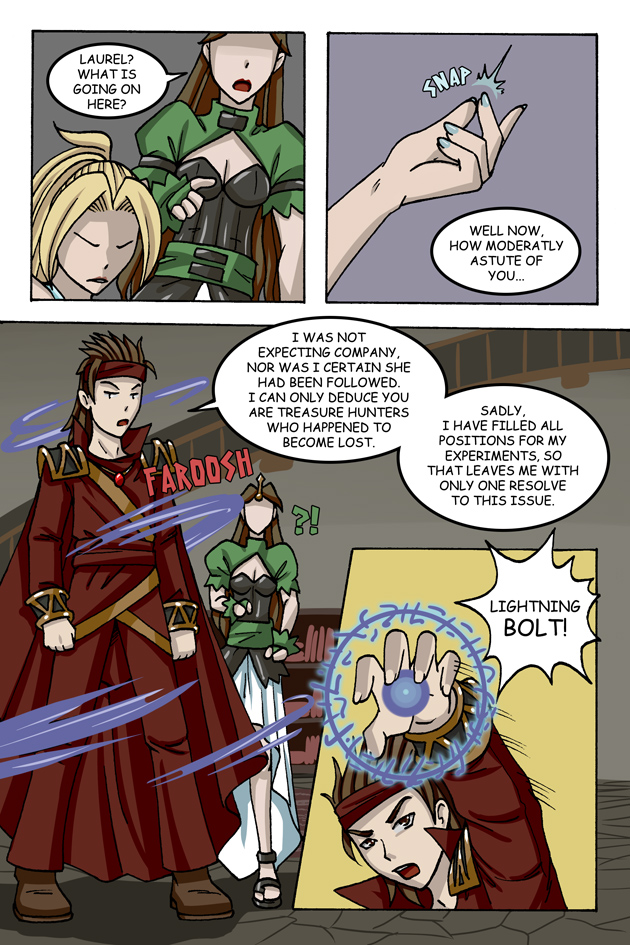 Watch
Countdown till the commercial break, 4 more pages to go!
Leaving off on a nice cliffhanger on page 19 so I dont get burnt out too fast, stay tuned!

Damn! YOu started this thing with a bang and already about to leave us hanging eh? Super great so far!
Reply

Reply

Ah, this is the kind of magic that requires you to yell out what you cast. Great…
Reply

Yes, lost treasure hunters. That's the only possible explanation for why two overdressed people showed up at your doorstep. Also, if casting spells makes you older, and you're a wizard, why do you look like you're still twenty-something?
Reply

I love those kinds of spells and totally got the idea WAY before those Harry Potter books did
Well Gale knows from scrying that Reed and Sam werent with Raya and Laurel before, and she most likely didnt have time to recruit help before she raced to save her sister.
As far as the spells go, basic ones will take seconds off your life while the more advanced ones may take days or weeks, so maybe since he still looks young he is sparing with his spells, its nice to have a limiter so people dont go crazy in my world, and also makes you wish you were and elf or a dragon!
Reply

Are dragons immortal (from old age) or just live a really, really long time?
Reply

Dragons can become weak and die of old age, but we are talking 10,000 years. They can take human form to eat, or use Rings to keep their hunger in check so they don't need to eat massive amounts of cattle or humans for their size
Reply

He underestimates the reflex save side of the force

the expressions on this one are good
Reply

Omg he's a shaman....!!!!!!!! I..am not drinking..no sir...thats an empty bottle its not possible to drink from an empty bottle..
Reply

Shaman?? You've been playing too much WoW lol, this is a powerful wizard, with an affinity for lightning
Reply

What's an "Expetiment"?

Kidding, but you might want to fix that typo.
Reply

Good catch, I guess I am not as smart as the wizard I am speaking for ;_;
Reply

Huh, I was wondering why my brain kept trying to fix that... I guess I've been fiddling with spell names so much I missed it... D:
Reply

Lighting bolt? I will counter with Fire spell!! Fire spell, fire spell, fire spell!!
Reply

Does that work? Well they arent too much of spell casters really, I guess Raya is, but shes too shocked this time around!!
Reply

I'm just goofing around. If it were me in Raya's place then Mister Wizard there just got hit with a red beanbag and my dumb ass went running in the other direction.
Reply