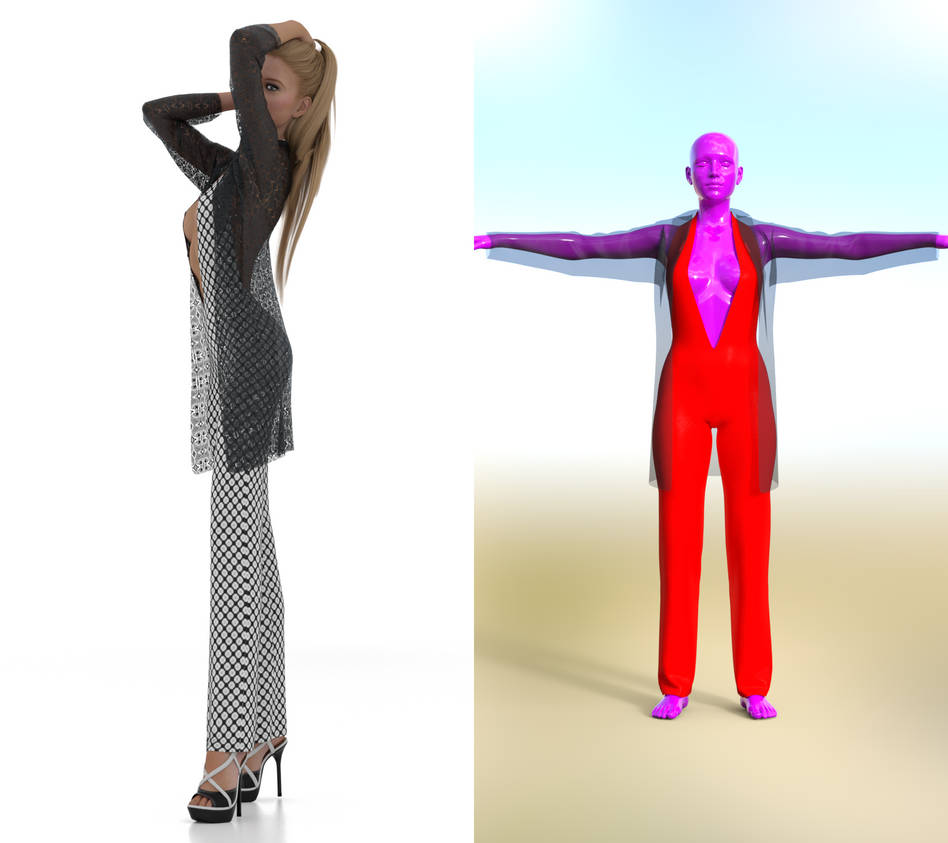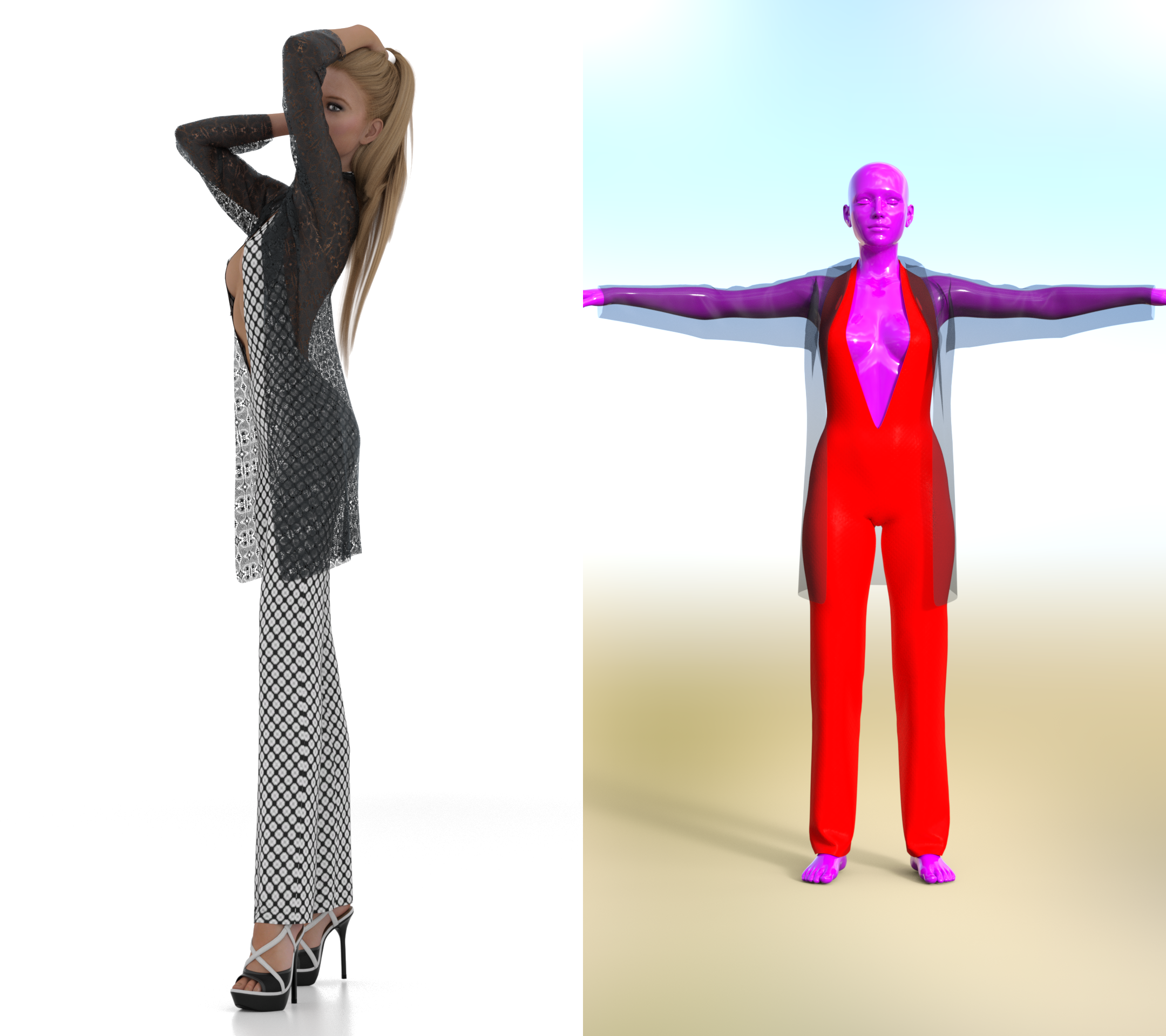 Watch
Hey look! More free dynamic clothing! This is a two part outfit, a sexy jumper and a ...well, I wasn't really sure what to call the other part, so I went with Sleeved Shawl. One thing I noticed during my testing (outside of the usual explosions when the figure clips the cloth into her body) was that the jumper has a tendency for wardrobe malfunctions. Probably pretty much like the real version this is loosely based on. You might be able to increase the friction in the dforce material settings to reduce the probability of a wardrobe malfunction, though... (I didn't think to test that prior to now, and I'm too drunk/lazy at the moment to abandon this upload for more hours of testing) ...Any way, enjoy!

This package includes Wearables presets which will load the Jumper and Sleeved Shawl onto your selected Genesis 3 Female, textures, and solid (and patterned) materials for the Jumper and solid (transparent) materials for the Sleeved Shawl.
The Sleeved Shawl is pre-scaled to avoid clipping into the jumper. If you'd like to use it independently from the Jumper, feel free to scale it back to 100% unless you'd like it to be a little larger. All testing on the Sleeved Shawl was performed at the larger scale.
And, as always, if there's any issues please let me know and I really do love to see what you do with my creations, so please tag me in any renders where this one is used!


Thanks for this wonderful piece !
And the wrap as well, i used the texture from this for on the wrap !
Love them both thank you !
Reply

hmm still trying to get the jumper to work ...
Reply

To work in general, or on G8F?
Reply

In general, runtime errors, missing texture files, which could well be me putting them in the wrong place. I have done that more than once !
Reply

So, I removed all of my references to the Jumper/Shawl from my library, downloaded and reinstalled (hurray copy/paste!

), and I had no issues loading it to G3F. Admittedly I didn't try to simulate it, but the model and all of my materials loaded/parented just fine. Perhaps you did put the textures in the wrong place?
Just to be sure, the contents of the:
'data' folder should go to (Your Drive Letter Here):\Users\Public\Documents\My Daz 3D Library\data
'People' folder should go to (Your Drive Letter Here):\Users\Public\Documents\My Daz 3D Library\People
'textures' folder should go to (Your Drive Letter Here):\Users\Public\Documents\My Daz 3D Library\Runtime\textures
I hope this resolves your issue, because I have no idea where to start otherwise...

Reply

Oh thanks so much for doing all of that !
I am away from my computer this week but i will try as soon as i am home.
And you know your thank you render will be my first project !
Reply

Interesting... I'll have to give it a test to see if there's anything wrong with the download...
Reply

Reply

The data and people folders I copied over directly to my library folder. There wasn't a textures folder, but I found one in the Runtime folder. I copied your textures folder into the Runtime folder, and that worked.
Reply

Yeah, about the Textures folder, I've gotten feedback before that people don't know where to put it... So I added the Runtime folder so that, in theory, it'd help people figure out where the Textures folder is on their machine... Sorry for the confusion.
Reply

Um, seriously, I like the outfits that are prone to wardrobe malfunctions. I've spent hours trying to get some of your other outfits to malfunction on purpose.
Reply

If wardrobe malfunctions are your goal, might I recommend my Pure Elegance dress. I've had a couple people say that the right breast is almost always exposed in their drapes...

Also, there was a trick I used to do with Daz's old dynamic cloth simulations. I need to test it to see if it works with dforce, though. Basically you use basic shapes (cylinders, cones, and spheres) to move the cloth away from the figure. It could be a very "tweak" intensive process in the old days, but almost always ended up with a wardrobe malfunction. I'll do a tutorial on it soon if my testing is successful!

Reply

I think women who wear a real dress like this also use two-sided tape to avoid wardrobe malfunctions, so without that tape, wardrobe malfunctions are the "correct" outcome.
Reply

Oh, that's a cool trick. I put a plane on the floor, so it would deflect off of that (because she is lying on the floor), but a strategic sphere could do all sorts of things to move the clothing around. And then there is:
www.youtube.com/watch?v=16bFau…
I'm making a render right now with this dress. Probably another hour or so to cook. I'll have to play with "Pure Elegance" next.
I didn't go with your texture. I figured that was a sort of a "proof of concept" rather than for fashion. Although, it does give an outline of the UV map, so one could make their own hand crafted texture.
Reply

So, I didn't want to comment until I'd watched the video... That. Was. HYSTERICAL!

And the texture wasn't really proof of concept, it was me trying to figure out how to do more with my clothing. My texturing definitely needs work, and I'm certainly not offended you went with your own texturing. I do it all the time on other people's items. I'm almost never satisfied with the textures included with clothing items...
Reply

Thank you

Reply