Oiiiiiiiiiii ~ i'm a piece of shit. but i love y'all. can't believe my nickname is still Soundwavefucking45 after all these years
I wish i could change my fucking nickname omg.
I still love Transformers and i'm redrawing my ocs so.
I love Beast wars,Transformers Animated & the Rescue Bots but no one cares about these Universes HAHA.
As you can see in my gallery i can't color fo' shit.
So it's always lineart or sketches because i don't have time or too lazy to color.
I'm not a real artist i know.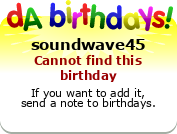 For some live : www.twitch.tv/doomhusk/