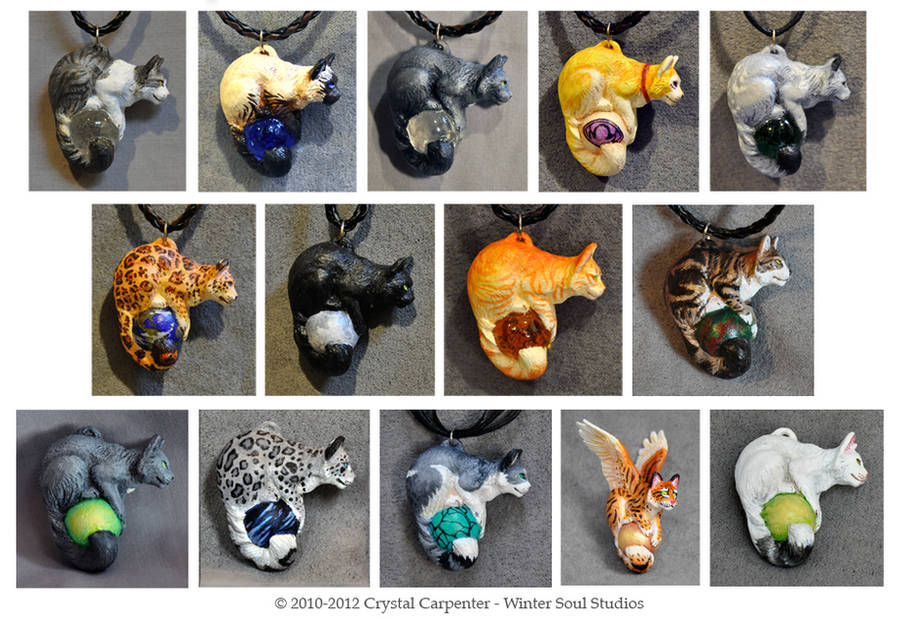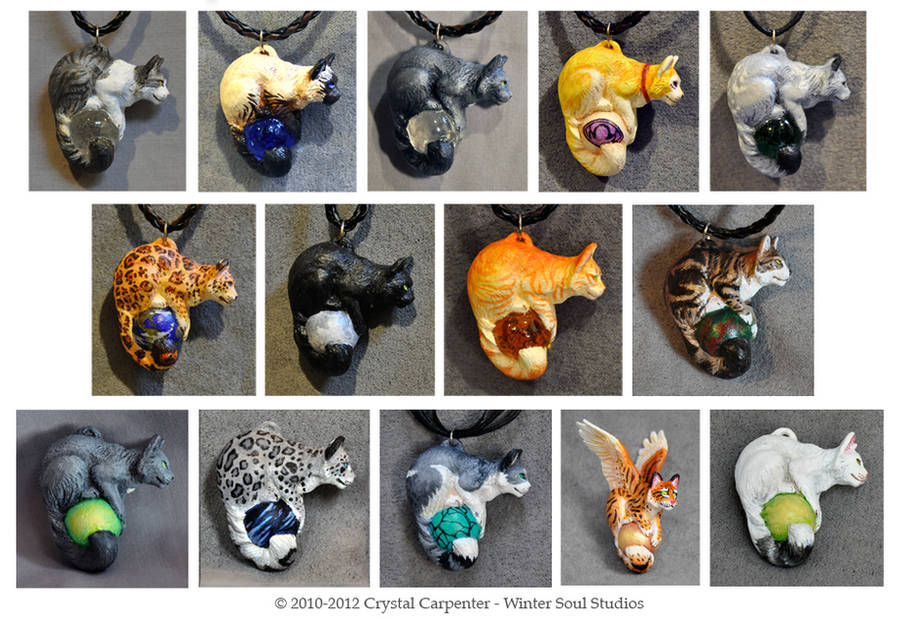 Watch
Here are some of the custom cat pendants that I've been busy working on! A mix of pets and characters are featured here. The bottom left and middle pendants were commissions from RMFC where the orb was to be painted as Earth and Moon. I couldn't resist continuing the celestial theme by adding a Sun cat!
Commission slots for solid orb custom cats and owls are still available in my online shop:
[link]
(The bottom left, bottom middle, and yellow cat on the top right are examples of solid orb customs). Also, Sun Cat is for up for sale right now along with some new autumn themed cats:
[link]
Pendant FAQ:
[link]

you think you could do a custom of my African serval with a tiger eye orb? than u
Reply

Yep, I'd love to do a Serval custom! It would likely be under "modified" since the ears and tail are a bit different. For the orb, I don't have actual tiger's eye, but might be able to paint the orb with a similar pattern. Were you thinking of this one as a base, or the newer feline pendant (
wintersoulstudios.bigcartel.co…
)?
Reply

Reply

My favorite cats are the two leopards and my favorite orbs are the snow leopard's and the winged tiger's.
Reply

Would you be willing to do a custom pendant with an orb like the siamese cat's orb and any coloring cat you'd like?
Reply

I'd love to do a custom like that! Were you thinking clear blue orb or a solid colored orb with a similar blue coloring? I can definitely do solid colors right now, but clear orbs will have to wait until I re-design the mold in early summer.
Reply

Probably waiting to do clear orb, unless what you'd rather do is solid c: Or if you wanted, you could do a full out sun themed cat with a clear green orb, since I am a leo haha
Reply

A sun themed leo cat would be amazing to work on! Actually, I even have a marble that's super close to Peridot green, it would work out so well... I'll be sure to keep you posted on when the clear marbles become available

Reply

I'd like to get one done depicting my OC. She's a cougar with a horse like mane, curled ram like horns, and feathered Turkey vulture like wings. Would you consider such a project?
Reply

Sure! I'd be up for that, (from the sounds of it, one similar to your character would fall under the "custom - added accessories" option).
Reply

Wow! I use sculpy but whenever i do it breaks ! any tips?
Reply

Sculpey tends to be fragile for me too, but I've noticed having a wire armature underneath and baking at a lower temperature for a long time helps quite a bit.
Reply

amazing!!! what are thoses made of? do you paint them yourself? they're perfect! I so with my mom would allow me to get one ♥
Reply