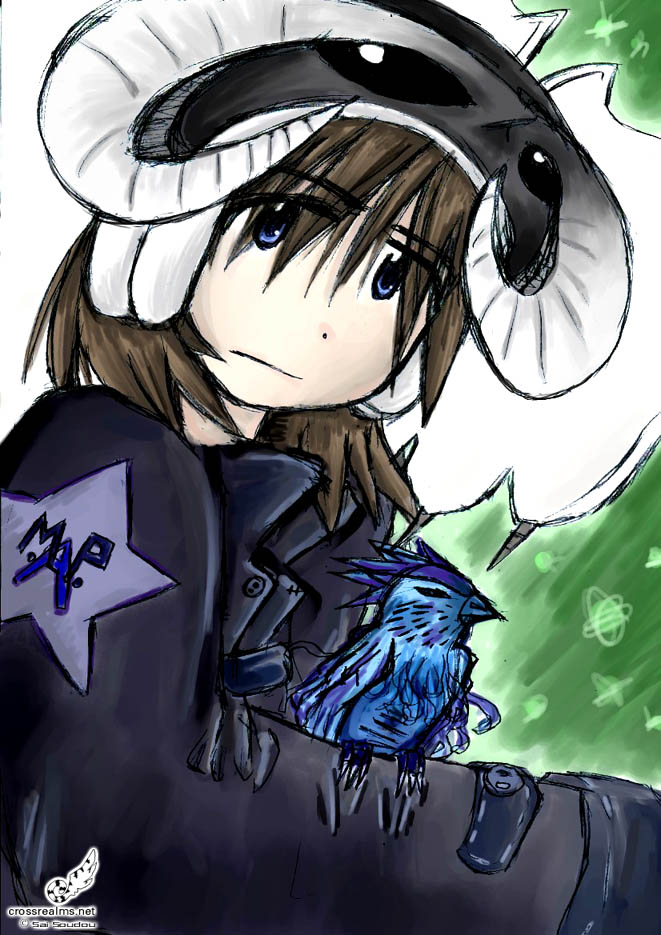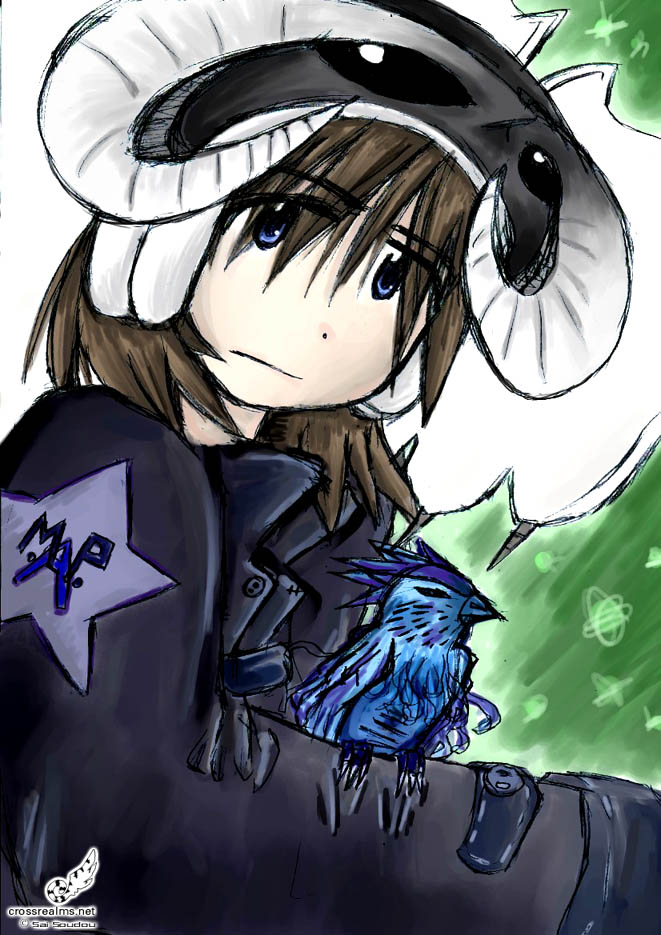 Watch
I was debating whether to put this under Fanart or just Anime >_< Couldn't decide!
Anyway this is based on the concepts in the anime series Alien 9 (aka Alien Nine), where they wear winged aliens on their heads (called Borgs). More info at:
[link]
But this is sort of like my own original character for the universe... so that's why I couldn't decide

Oh well.
The background is ambiguous I know

If I was better at backgrounds I'd do a weird looking forest or something.
Anyway I was just sort of playing around and the borg came out like ram's horns

This character is male (sorry if it looks like a girl -_- ), there aren't any male Alien Party fighters in the anime so it's fun to think up some male character for the show.
He isn't just an Alien Party member though, as the logo on his coat shows, M.A.P. stands for Mobile Alien Party (and it just so happened to spell out the word "map"... nice coincidence). The Mobile version of the Alien Party actually goes to the planets of the alien's themselves to attack the source. They're a rebel party however, organised by humans, they manipulate aliens to help them with their cause but they are actually looking for a way to stop ALL aliens invading earth so that they can live separately from them... It's an even more dangerous task than the Alien Party members have to do back on earth of course, so even less people are a part of the venture, most think it's a pointless and suicidal mission and have given in to the aliens. This character, I thought maybe someone he loves has been abducted by the aliens to another planet and so he volunteers to be in M.A.P. to find them.
The bird sitting on his arm is a pet alien he found and keeps, it can sometimes help him see further by flying above ground and guiding him a little, or it may serve as a distraction for volatile aliens by buzzing around them, although sometimes it can be unpredictable

I just like making things up, I doubt I'll have the patience/time to write/draw a story though

Drawn with a pencil on plain printing paper and then coloured in Open Canvas and I also tweaked the Levels in Photoshop slightly to brighten the colour.
This song is nice: Hirahira Ayaka - Jupiter (sort of like a remix of the Jupiter song from The Planets soundtrack)

I love Alien Nine and I love your picture!!! The coloring is really good...I'm jealous.
Reply

Reply

Oooh! Looks like the Bougu from the A9 doujinshi on a site called NamNamBat. Alien 9 is my ultimate favorite anime and manga.
Reply

I'll have to check out that site

Nice to see another Alien 9 fan.

And a gerbil fan *looks at sig*

Thanks for commenting!
Reply

Never heard of the show, but sounds interresting and I will check it out sometime.
Awsome job with the coloring, the arm is so awsomely blended o_o
P.S: That hat rocks

Reply

Thanks, I'm glad you like it, especially the colouring, I'm still practising with colouring heh.
If you'd like to learn more about the series you may find my fansite for it helpful (*gasp* shameless plug XD )
[link]
My rambling about the M.A.P. stuff etc. though isn't in the show that's just my overactive imagination heh.
Yeah the winged hats are one of the most fun things in the show I think. That and the funky rollerblading

Reply

If your still practicing then I can't wait to see when your 'good' o__o

And I checked out the site, if I had money I'd be buying some DVDs xD;
Reply

Heh, well, to be honest I am not that fond of working on the colouring stage... I seem to be happier sketching something and leaving it at that but colour adds so much to an image it's a vital part so yeah, a must, eventually!

Just gotta stop being lazy XD
Thanks again.
Nice to hear you're interested in the anime

Hope you enjoy it sometime.
Reply