Although there are other news articles on this subject, it is still unclear to a lot of people how and what to suggest for a DD.
i will guide you through the process step-by-step
What kind of images should i suggest?
no absolute answer here, but you should suggest something that stands out from the crowd. Something with either an unique concept, quality or beauty.
Browsing the DD section for a while could give you an idea, though art and taste is subjective.
It is ok to suggest a friends piece, but don`t do it just because its a friend, do it if the piece is excellent.
Who am i gonna suggest it to and what should i write?
help.deviantart.com/18/ has the list of all the gallery directors and what category they are "attached" to, all you need to do is check the category the image is in, and take it from there.

Under the image you want to suggest is a thumb code ( under page views )
copy that.

Lets say you want to suggest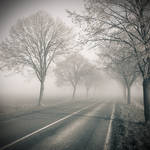 for a daily deviation, you copy the thumb code, see that it is in the Animals & plants - landscape, and that the right person to suggest it to would in this case be

kkart.

Now you send a note to kkart with the subject title ` DD suggestion`.
In the note you paste the thumb code and write why you think this piece deserves a DD.

Example of a photo i suggested that got featured: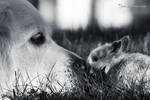 `There is something magical about the relationship between animals, and this is the first time I've seen one between a dog and bunny. Not only is the capture magical, but the highlights and black and white combined with the shallow focus makes it very artistic.`

As you can see, i gave a good explanation as to why i think it should get featured. If you only write ` AMAZING ` it does not tell much, it should be more in-depth.
What story it tells, how the light and contrast is, the composition e.t.c
There is no gallery director for the category the image is in?
On the list, you can see that some have All areas or Ringmaster next to them, that means that you can suggest any piece to them, but first check if there is any other director thats main of the category the piece is in.
Why should i suggest an image for a DD?
Being an artist is not just about creating art, it is also about seeing the beauty and appreciate other peoples artworks.
As one of the biggest art community in the world, this place would stop if people did not support each other, and DD suggestions is one way of doing that.
Other Facts:
- Some directors have special rules on suggestions, so it is wise to read over their journal before suggesting.

- Both known and unknown pieces can be suggested

- it only takes a couple of minutes

- Doing journal features and news article features are both great ways to feature other peoples work

- Don`t stop suggesting even if it takes a while before one of your suggestions get featured

- where are the DD features? today.deviantart.com/dds/
Right next to the browse

- Any other questions, just ask