Description
UPDATE: They're dating now.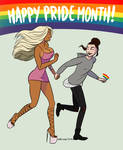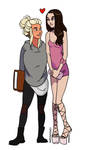 I've also been retweeting remixes of the original image on
Twitter
.
Anonymous commission.
Haven't drawn the opposite process before...!
DISCLAIMER: Many people are understandably upset about this image. It was never my intention to make a sexist proclamation but it seems that, inadvertently, I have done just that.

I firmly believe women should be free to look and act any way they want. I've maintained this position in the image's comments from the moment it was posted. This image is not a statement, it's meant to satisfy a client's kink. I honestly did not expect an audience outside the transformation porn community. If I have offended you, I apologize.

Image details
Image size
6101x2480px 2.35 MB

I find the fetish stranger than whatever these fools are triggered about and i also think if women would have more respect for the content of their minds, they wouldn't feel the need to show all the goods to Joe public. Supposedly your mind is the bait, not your ass.
Comments have been disabled for this deviation