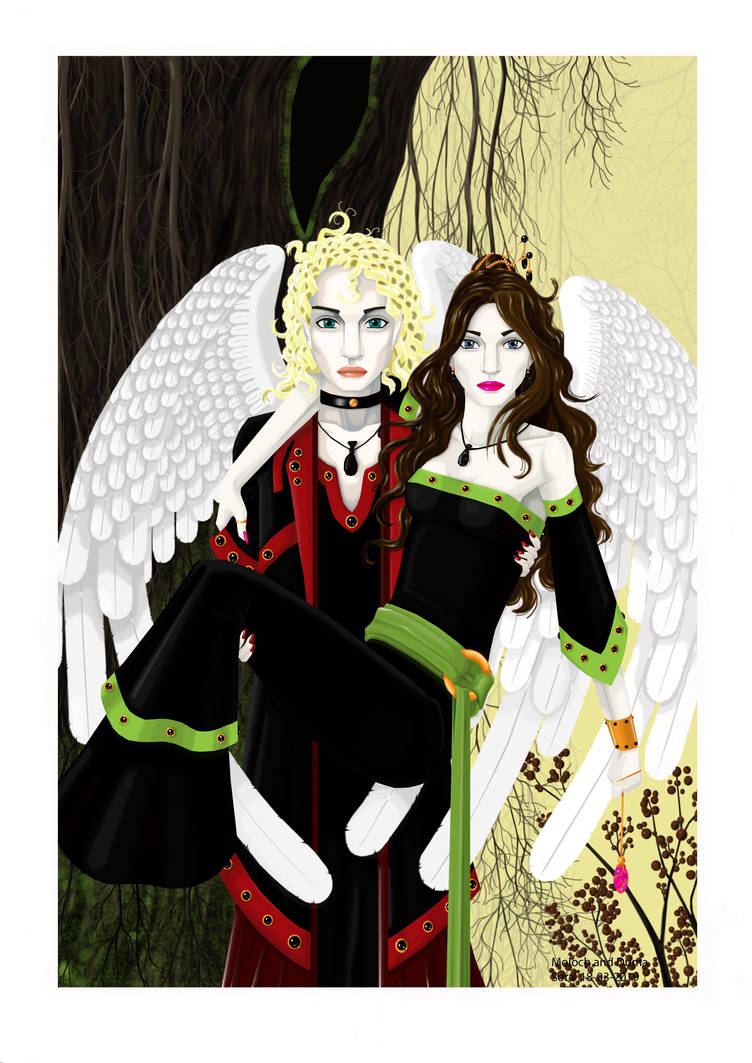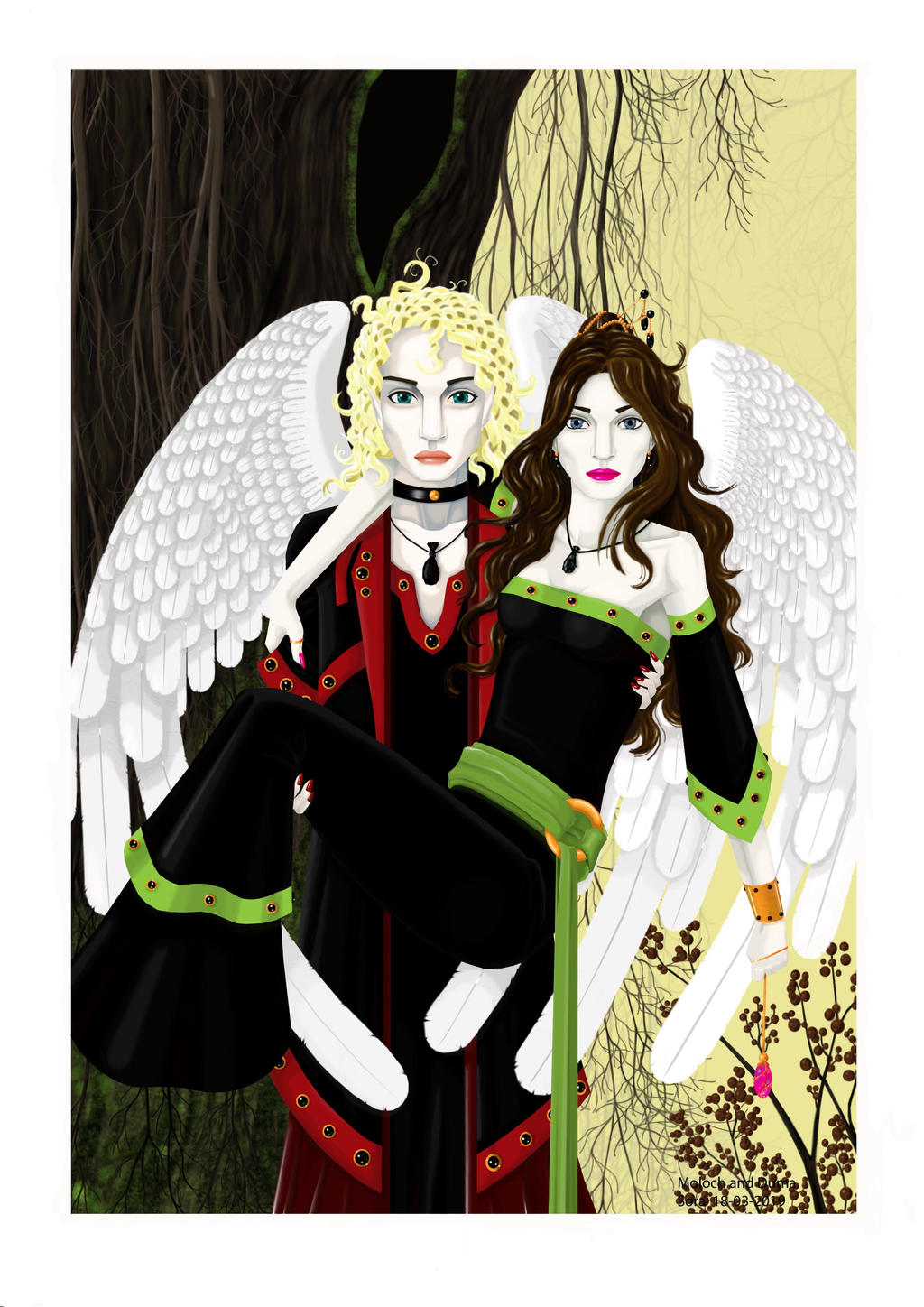 Watch
Ah, finally done! These two gave me a lot of work... I hope you enjoy it!

Reply

Hello, I'm from ProjectComment!
My first reaction to this pic is that it has a neat fairy-tale feel. It combines some tenderness and heroism with the whole bridal-style carrying.
As for the characters' designs, I like design and shapes of their faces. They have finally chiselled features that are a joy to behold, though it would have been nice to see them facing each other's gaze. The wings are nicely done, especially with the sheer detail on shading the individual feathers.
The guy's curls' tight shape makes them look a little too solid for hair, but the girl's hair is better.


I really like the many neat details on their outfits. The combination and black and red and black and green are nice, and I like the gemstones (onyxes or black opals?), the girl's belt-ring, and the pouches they have around the necks are an interesting detail that brings the little containers that Japanese used to carry herbal medicines in the old days.
The guy's collar brings service to mind, like he is a knight or servant of a sort who serves a greater cause (or at least used to, depending on how things have gone for him, since he is a fallen angel).
The jewel in the girl's hand is nice, and the vegetation in the background, while perhaps not too detailed, does add to the pic as a whole.
Reply
Hi, there! I'm from
!
First of all, beautiful piece! The pose is intense, the colour scheme is mainly cohesive (I'll get to that in a second), and the background fits the mood and colouring style. You did a wonderful job with the brown hair, and the wings are really detailed. The body anatomy is solid, as well, and the nails are superb. Great job!
There are just a few things I'd suggest working on: To start, the hot pink of the lady's lips and pendant in her hand clashes a bit with the rest of the piece. It's very difficult to get a working colour scheme with 4 colours, and you already have a good deal of green, red, and pale yellow.
This ref
shows the basic colour schemes - there are square and tetrad colour schemes, but those are very advanced, and your work doesn't really fit either of those.
As for anatomy, the main thing I'd point out is that noses are generally not quite so rectangular. Just look up some good old "nose drawings" in Google, and you'll see that noses generally look something more like a triangle or even a bottom-heavy diamond with wider nostrils.
This ref
is quite good for that purpose. Or if you really want a boxy nose, then give it wider nostrils like
here
.
The blonde hair gets a little confusing at points - I'm not sure if it's supposed to look more like a weave or like ringlets. I'm assuming ringlets, so again, I'd suggest referring to Google, or look at
this
and
this
to start. Yes, drawing the ringlets will probably take a million years - they're complicated! - so kudos to you for trying in the first place.
The lady's arms a bit too straight to be realistic -
this ref
shows you that there's at least a little bit of a curve to it, otherwise she looks a bit skeletal (idk if she's supposed to, though). Otherwise, very solid proportions!
Overall, great job! Your work is incredibly detailed! All the best in your future art endeavors!
Reply

Thank you so much for the usefull comment you gave me. And the refs, too! I just didn't know what was wrong with the noses, I worked with refs, too but somehow I just couldn't figure out what was wrong! You helped me a lot! Thanks for your kind words!
Reply

Nice details. I like this one.
I like how it gives off a 3D-style effect.

I'm sorry I couldn't say more. I find this thing DOWNRIGHT AWESOOOOOOOOOOOOOOOOOOOOOOOOOOOOOOOOOOOME, and I'm kind of at a lost for words. That, and I don't really want to point out flaws on this one
Reply