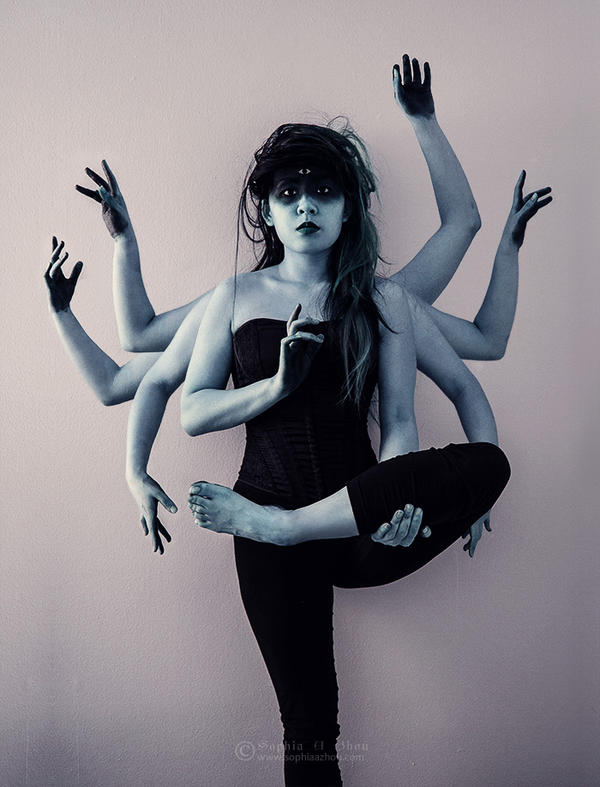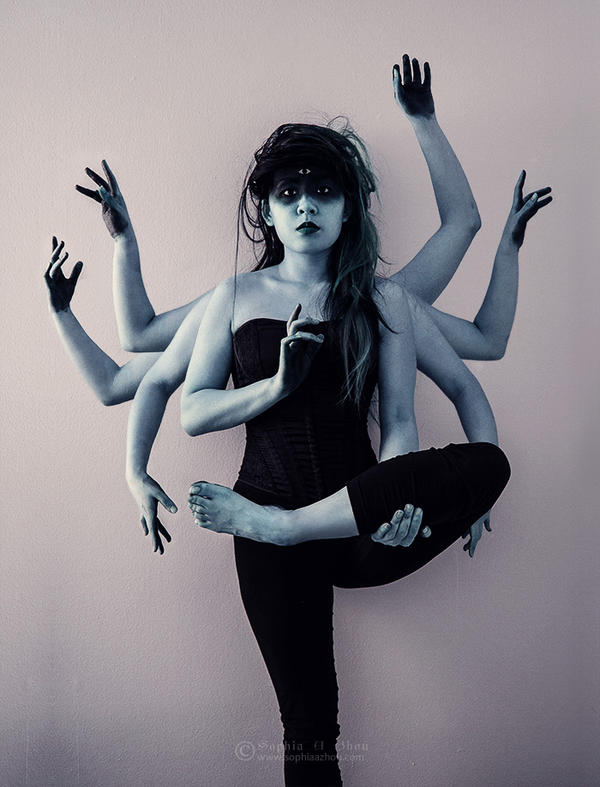 Watch
March 2014
assistant: Mike
Kali
is the Hindu goddess of time, associated with doomsday and death, and is known as the black goddess due to the Sanskrit translation of her name to mean "she who is black" or "she who is death." Iconography and mythology commonly correspond her with death, sexuality, and violence, and she is often portrayed as dark and violent. However, her earliest incarnation was as one who would annihilate evil forces. In fact, a few Hindu cosmologies and Tantric beliefs worship her as the "ultimate reality" or Brahman —"the unchanging reality amidst and beyond the world that cannot be exactly defined"— and she is revered as "redeemer of the universe" —Bhavatarini.

Regarding
last week's photo
in the series, I wanted to try applying the multiple exposure method again, though in a different way, so I thought it would be interested to try it with a Hindu deity, because they are known for having many arms. However, I had difficulty deciding which deity I wanted to portray. As I was reading through articles describing Kali, I thought it was interesting that her dominant representation was of something violent and dark when her rule is in darkness and doom, but also in time. I thought it was interesting that her third association with time is often glossed over, and that those who do recognize it are the few that revere her as the "ultimate reality." They also recall her earliest incarnation, which also seems forgotten by most, and thus worship her as "redeemer of the universe." I thought these were interesting to observe, especially regarding my previous photo, which speculated on the peculiar relationship people have with time and the past.

Perhaps as the goddess of time and change, people's fears of change and the passage of time have led to Kali's dark and ferocious portrayal. As a result of this, she has sometimes also become a symbol of change and time for 20th century feminist scholars and writers, and Kali has come to be associated with with Empowerment or shakti, which is a concept or personification of divine feminine creative power that is most actively manifested through female embodiment. To reflect this in my photo, because Kali is typically portrayed with her foot resting on a prostrate Shiva to subdue her anger, in my photo she holds her own foot to herself to represent her own empowerment to control her own power.
previous in the series:
for the latest updates to my Tangential Topics Series, please join me at
Tumblr
--
website | tumblr | etsy | redbubble | society6 | facebook | behance
all gallery content © sophia a zhou with respective attributions as proper.

This image is not granted to the public domain, and is protected under the Creative Commons Attribution-Noncommercial-No Derivative Works 3.0 License.
Licenses for commercial and derivative use of this image may be available for purchase. Please contact me if interested.
Under the Creative Commons license, this piece may be displayed on other websites as long as:
- Credit is given to Sophia A Zhou, in writing
- A link is provided linking back to the original piece
- All other conditions under the Creative Commons License are met
Any use of this piece other than as authorized under this Creative Commons License or Copyright Law is prohibited.