The * NEW * Database Registration Journal
Hello Sushi Rolls!
As you can see, I've been busy working on updating the Database and I feel it's time for a new registration journal!
Registering your Sushi Dogs is very important as it:

Ensures your Soosh has a visible entry with its traits

Keeps track of ownership changes

Keeps confusion down regarding design changes
Not to mention that you need to have your Soosh registered in order to:

Trade, sell, or list them in the
Trade Center

Participate in the
SooshARPG

Enter contests over at
SushiDogs
Pretty big deal, amirite? So, please make sure you read the following information before you comment!
- Clover
---
In order to have your Sushi Dog posted in the Database, the following criteria needs to be met:

It must either be a
spikedpeach
made, accepted Guest Artist made, or an approved make-your-own.

Its image must be clear (no ref sheets), watermarked, and the most recent (approved) design.

If the Sushi Dog has been through the Salon, you need to use the provided image from the Salon artist.

For make-your-owns, you can use your own art or another's providing you have received permission to use it for the Database.

Please use the provided
Watermark
for the images and remember that it needs to largely cover the Sushi Dog. Examples below.

For triptychs, please stretch the watermark to cover all three rather than applying it over each individual.

Small, personal watermarks or signatures on personal art art fine. Examples below.

You will be asked to edit the image if the watermark is too small or out of sight.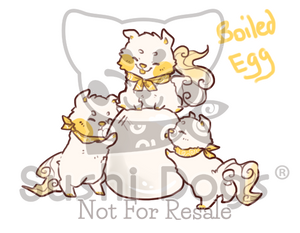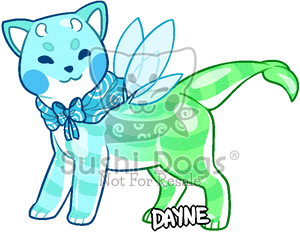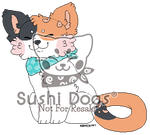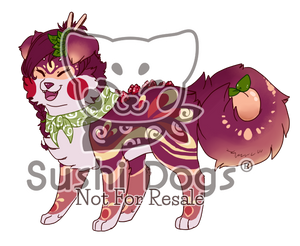 When commenting, please provide the following:
1. Your watermarked Sushi Dog image.
2. Proof you have permission to use the artwork (ignore if using your own art or Salon art).
3. Link to your MYO Slot entry, if you are using one!
4. Proof that the Sushi Dog is approved by
SushiDogs
or that they are official.
5. The following form, filled out.
Watermarked Design:Food/Drink Base:Link to your MYO Slot:Designer of the Soosh:Proof of Approval:List of traits:

common trait

gourmet trait
<da:thumb id="2951725006568246"/> exclusive trait
Here is an example for you to follow:
[watermarked image]
- proof of art permission / proof of ownership
Food/Drink Base:
Swag Cookies
Current Owner:
SooshDatabase
Link to your MYO Slot:
LINK
Designer of the Soosh:
SooshDatabase
Traits:

Standard Ears

Standard Cheeks

Standard Bandana

Standard Knot

Standard Tail
If you need help with the traits, refer to the
Sushi Dog Website
.
Click About > Anatomy > Select a category from the dropdown menu and it will show you the traits that are available.
If you are unsure about a trait, don't hesitate to ask!
Once you comment, your application will be reviewed and a Mod will comment regarding any corrections if necessary.
If everything is in order, your Sushi Dog will be uploaded to the Database!