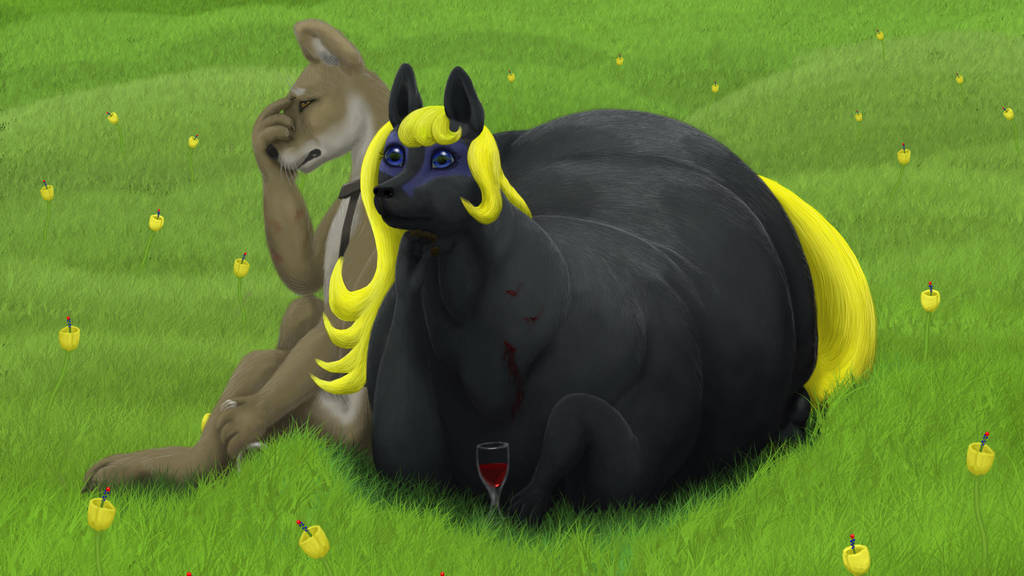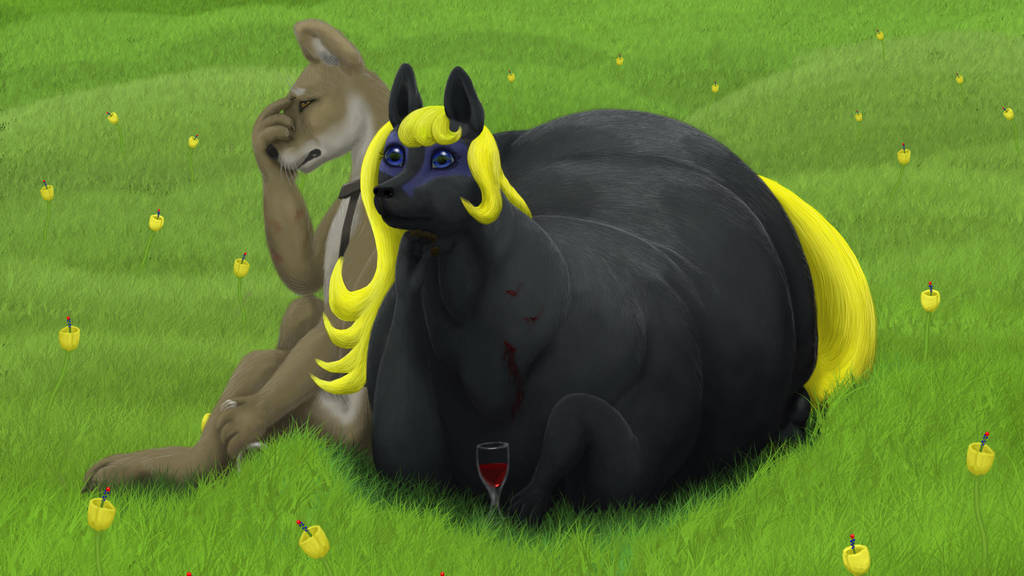 Gi the giant marten and Gine the maje after hard journey through wilderness after spaceship crash. Illustration for my story in Estonian local SF fanzine "Reaktor:"
www.ulmeajakiri.ee/?jutt-korip…

Was she fattened or did she fatten herself into a massive beauty?
Reply

Herd of majes was captured by hostile martens for science and study and some of them was survived and saved. They feed the majes with same food what they used for their horses and deers what they fatten up for meat. Most ofthe captured majes got fat, Gine was fatten up for slaughter and got metabolic disease what causes morbidly obesity and she cant lose weight. She walks and moves a lot and stay healty at least.
Reply

Did you mean "Mares" and "Martians"?
Reply

idk...

A big community of giant martens lives on Pluto and very likely they are active on Mars too, for resources. Equines are rather good fat and meat resources for them and big amount of their cattle animals may be mares indeed.
Reply

I dont know what meant that carnivorous fatness. Lot of people asks me to draw huge immobile obese things, but its not my cup of tea, my creatures must can walk at least. Equestrian ponies are vital and joyful creatures and cant be obese, not so much thicker than my Cloudie Brilliant or that round Luna. If some of them are huge like Gine, i feel like she are sad and diseased because she cant play around with other ponies and take part their joys and games.
Reply

Looks wonderful. I'm hoping those 'wounds' are very minor. I know I need to get back to my writing. just been hard.
Reply

They meet a cheetah, Gi get injured worster, his right arms muscles are knead and turgid, Gine got some holes on the lard and nothing more than some bleeding. Cheetah's easy prey may cost his life: his neck was hardly wounded by maje's razor-sharp lower fangs and and Gi chewed badly one of his ankles, he was forced to leave his prey and retreat.
Reply