9 April 2013
Okay this is going to be a challenge. Hopefully I'll compose sumthin' that resembles this.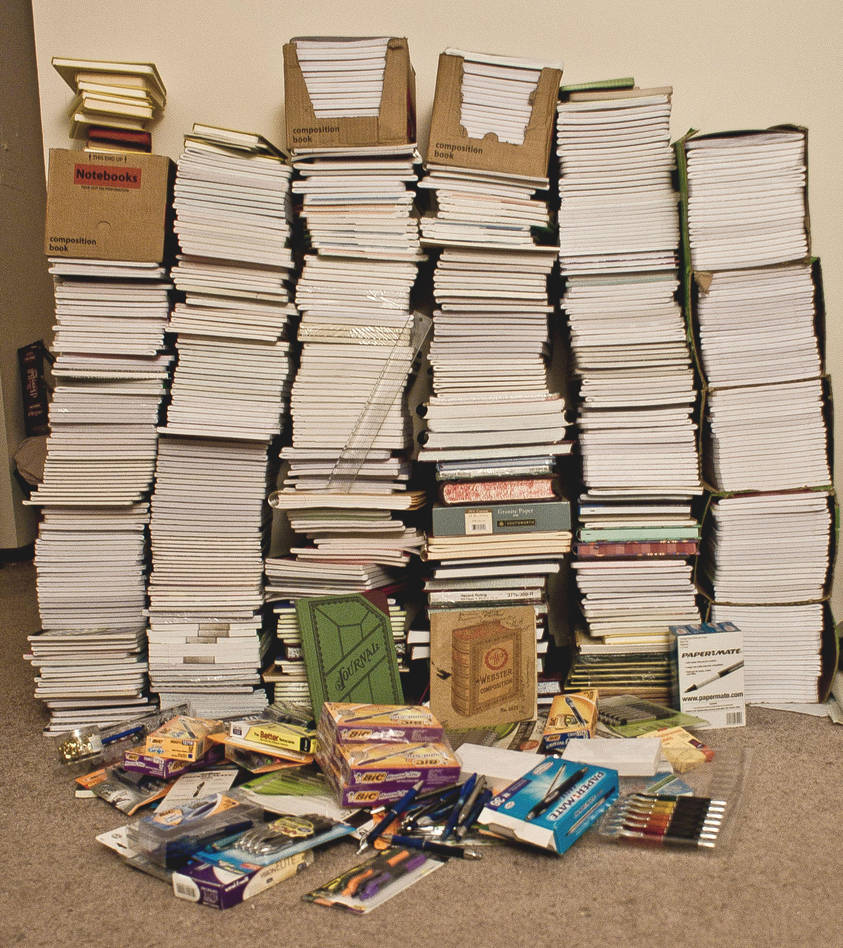 12 Apr 2013
Good grief. What the hell was I thinking. For the artists who do this with more speed and skill... I salute thee!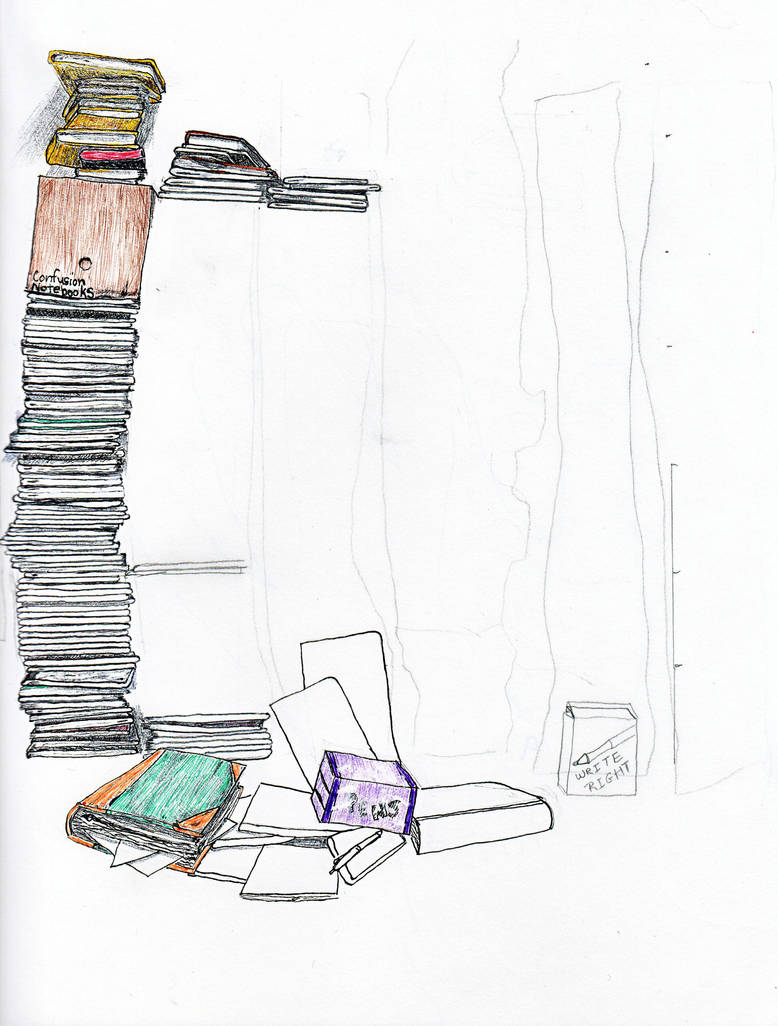 15 April 2013
No way in hell am I going to draw every notebook. The photo I can keep as a remembrance of this stash (before selling most on e-bay, dirt-cheap by the way). As a drawing, though, it's going to look a little stale.
This needs to be more than a story of a woman (moi) who goes loopy at "Back to School" sales...so it needs a little flavah.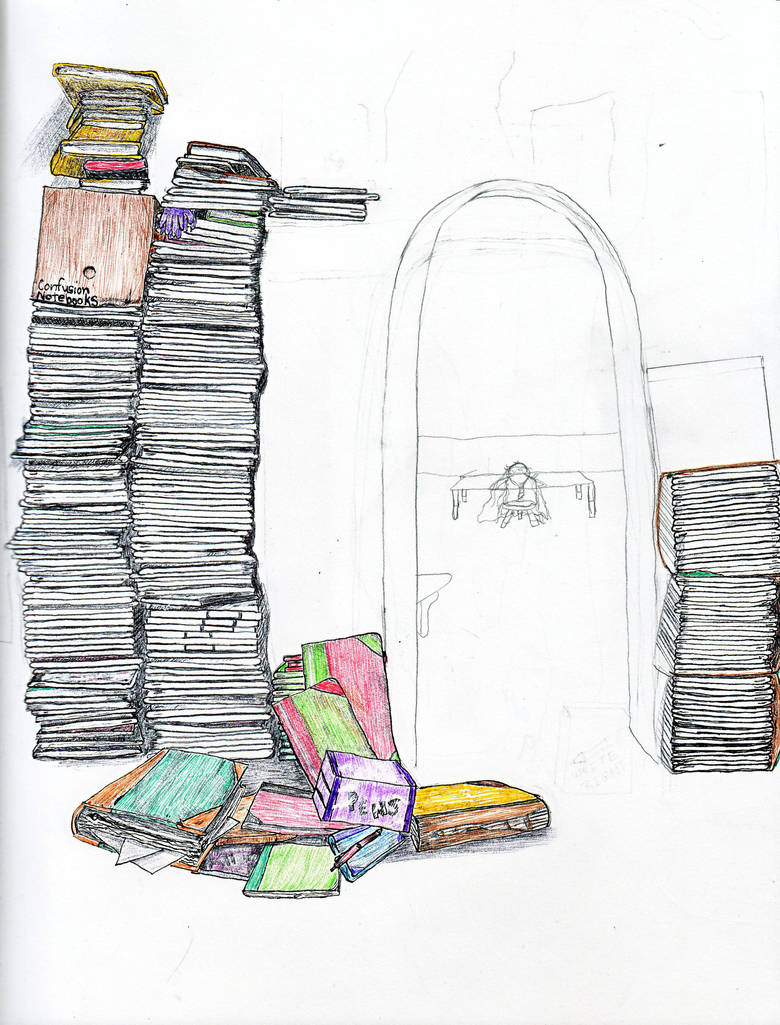 16 April 2013
I'm liking this! Still tedious (but it's not like somebody is holding a gun to my head commanding me to do it) and will continue on.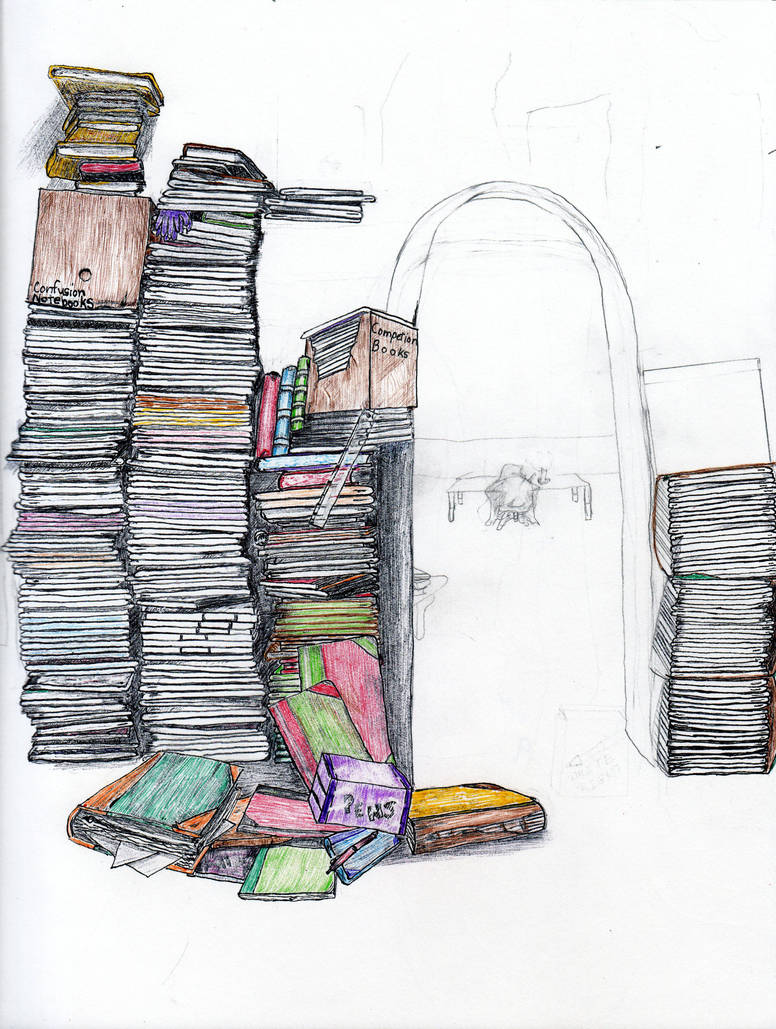 17 April 2013
Satisfied with the table and the person sitting and writing. I can't draw anatomy correctly so, voila! A robe takes care of that!

Still don't about the back wall. More books?
Window? If a window, daytime or night?
Hmmm, I'll let this one simmer.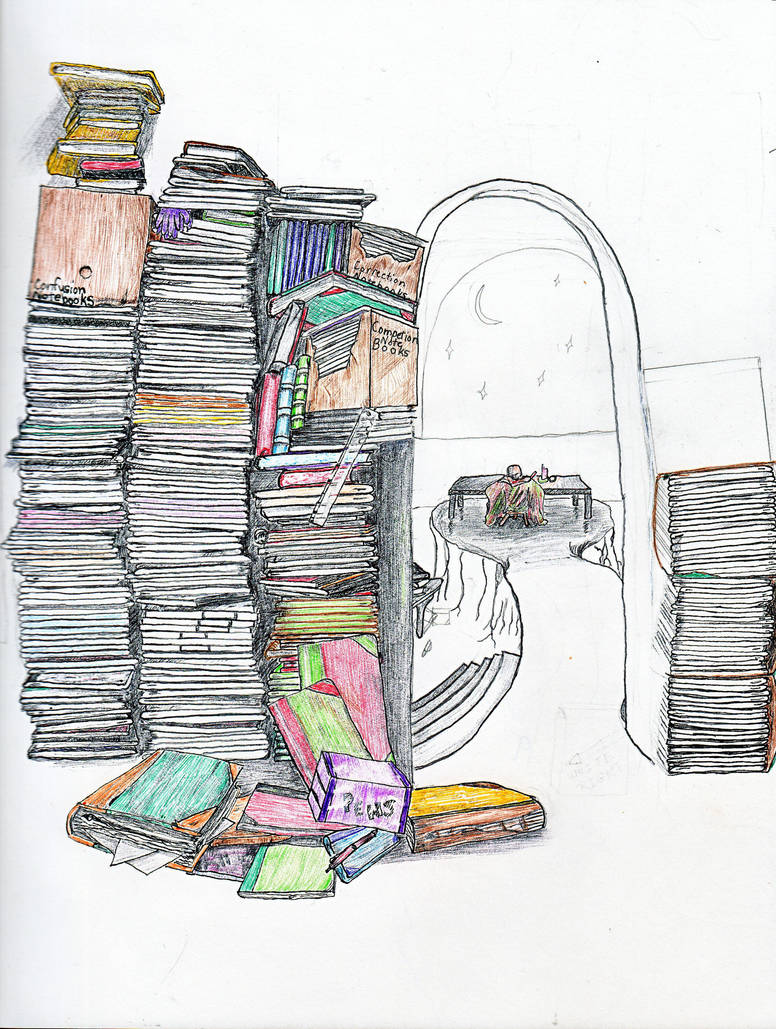 18 Apr 2013
Brain stormed with my daughter. She liked the window idea and suggested having two cats sitting looking out the window. I can't draw cats very well so two silhouetted black cats. I thought a giant moon taking up 2/3 of the window would be awesome. However, while drawing the craters it was becoming more of a diseased bowling ball than an awesome third worldly surreal thingie...so, ditch the
giant-moon-taking-up-most-of-the window
idea. Once I put in the moon sliver, I drew what I hope the viewer will interpret as two cats looking back.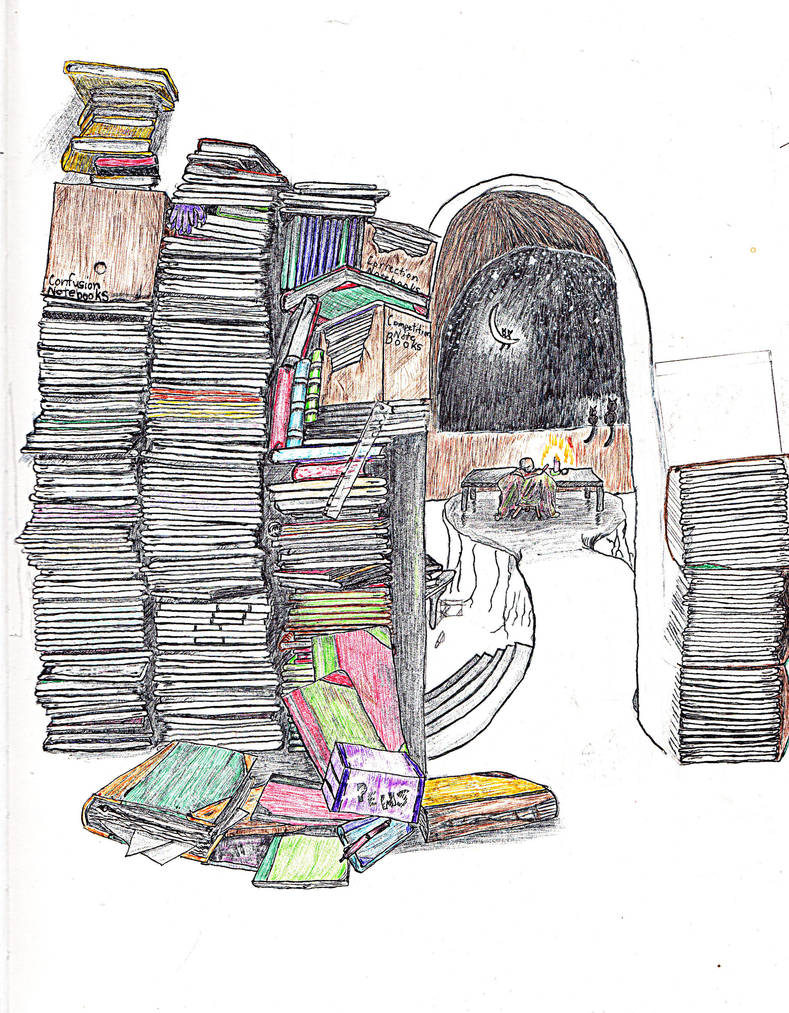 19 April 2013
Woo Hoo! Got the interior room finished except for maybe a few darkening and shading touches. Now it's time to finish the tedious chore of drawing the notebooks, coloring the wall and ...yeah... back to work.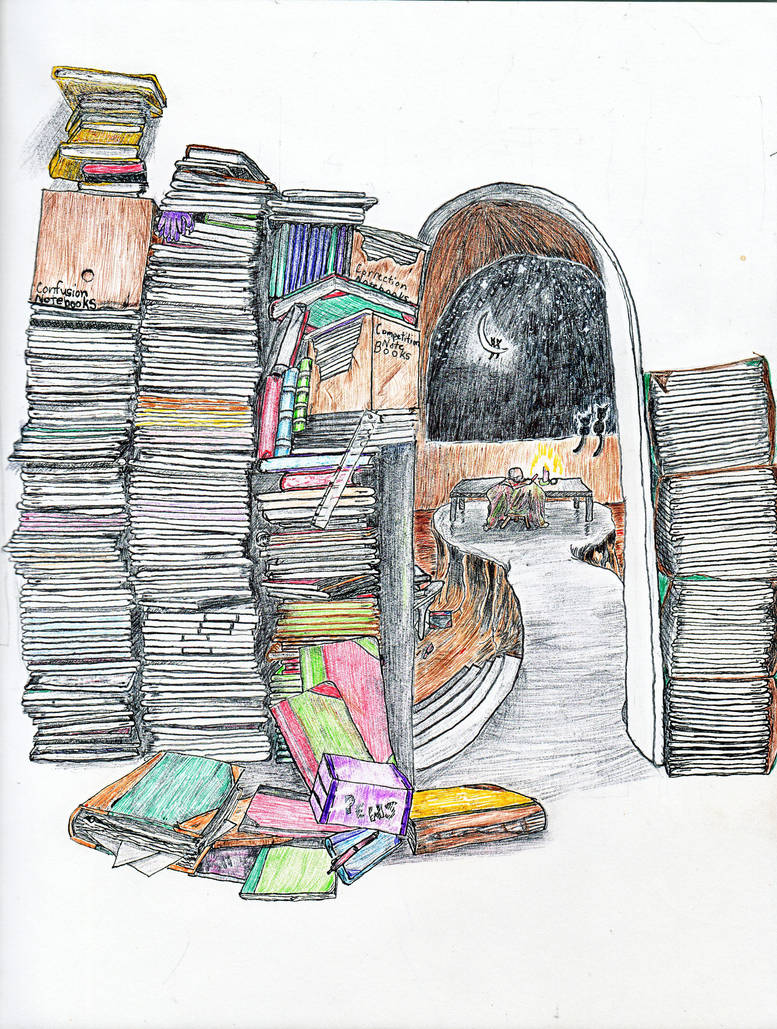 21 Apr 2013
Almost done. What to do with the wall and the floor is the question.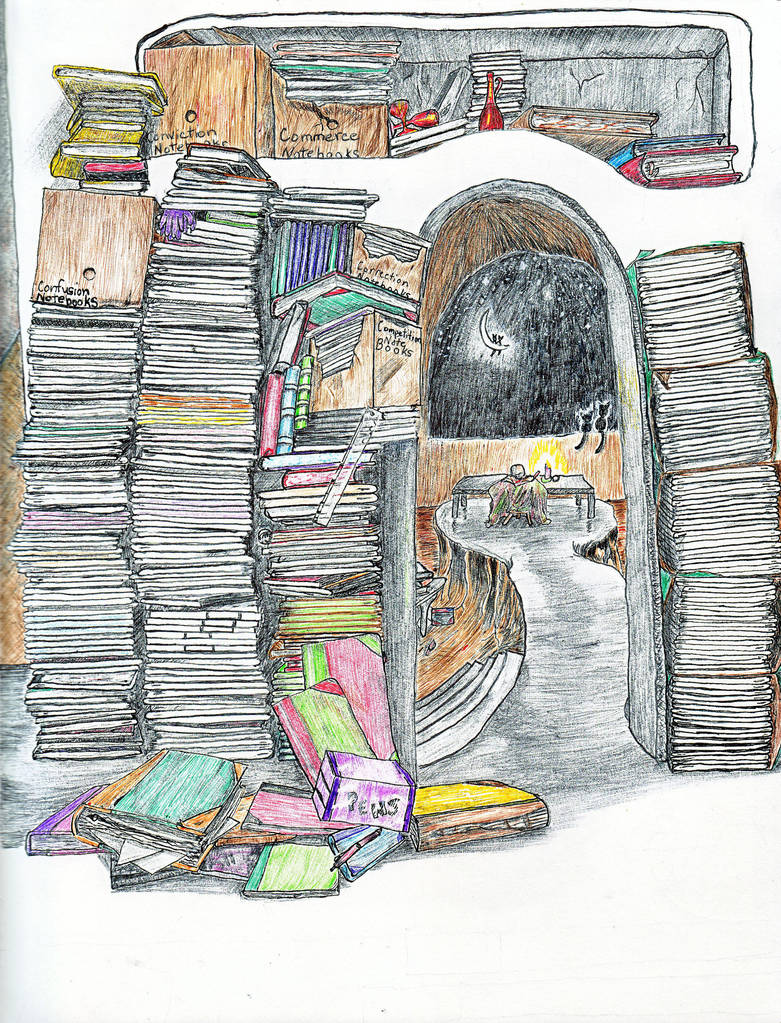 22 April 2013
It is finished!
Check it out!
Welcome
Thank you for looking and reading!