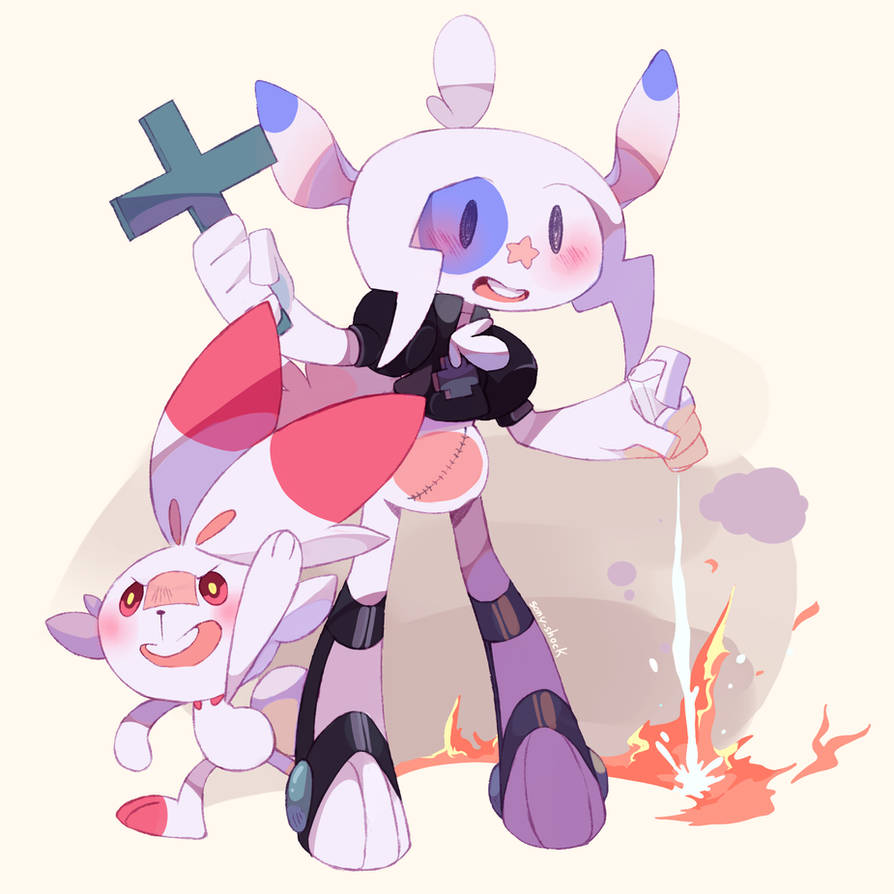 Watch
I am probably picking Scorbunny because he reminds me of my OC Rabbit Rebel, so I drew them both together~

It's very cute! I wish I could draw that good! I like to see art like this so I can learn from it! I'm just starting out with digital art, so I'm glad you draw this kind of stuff!
Reply

Oh my GOD!
it's be a long time I not see this character from you! I though you don't like him anymore!
he get way more cute with you much more well developed art style! I hope see him more!
Reply

Thank yooou!

Oh, I do like him, it's just that he's from a very underdeveloped story, so I don't have much to do with him >v> Actually I rarely get rid of characters, they just go to the 'back vault'... Hehe, Thanks a lot!
Reply

Oh I understand it. Well recently I was thinking in a character from your list that I could drew with one of mine called Pappy. I think they can have a meeting.

Unless he's not so social.
Reply

Of course, be my guest! That'd be cool 'v'

I have a few antisocial characters but if you wonder about Rabbit Rebel... Not at all! He's a kindred spirit. You could even call him a good samaritan. He is not naive, but just believes in being nice to everybody as much as possible. At first I was going to draw him pouring holy water directly on Scorbunny in this pic, but I felt that would have been seen as a little too mean, so I changed to him just looking after the fire trail.
Reply

Oooowwww~
that is so nice! True, you have a plent of antisocial characters XD
hard to make characters be friend with yours this way, heh.

and yes, that would be mean. heheh
Reply

I don't really have that many anti-social characters at all...
There's characters that might be harder to befriend, but just like real people... And even then, there's not a real line between unfriendly and friendly. They're easier or harder to befriend because they're... different? There's characters whose species are naturally aggressive, those who are sociopaths, characters who keep to themselves, characters who are shy... And there is pretty much as many characters who are openly friendly, amiable or sociable...
Reply

Oh I see, pretty much like real life, good know that. make they much more realistic. like based in real people or something.
good touch Sony.
Reply

Oh my and Ooh my! I think i haven't seen this Rabbit Dude or something. Looks definitely new, unique and fabulous! Really love the design of that Rabbit pal. And i see he's also accompanied by Rabbit as well! Sweet drawing-
Reply

He's a character from my bachelor studies days (aka very old!) but I rarely draw him...! Not enough, if you ask me... >v>
Thanks a lot!
Reply