Mecha Omega the Hedgehog
Gender: Male
Age: 27 (real life creator, 15)
Personality: Polite, loner, optimistic, short tempered (sometimes), daring, and full of justice.
Likes: Pancakes and oat meal porridge, his friends, comics, reading, video games, talking to famous sonic fans, being alone, has a soft spot for cute and adorable things, likes to prove he's not weak, sleeping or resting, pumping up.
Dislikes: Immature fanbrats, people who insult him or tell him to shut up, trolls, fan wars, seeing someone being injured, being disturbed, having his berserk button pushed.






















:thumb574937311: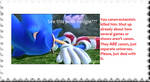 :thumb167353857:




























Favourite Visual Artist
Tracy yardley, Richard elson, , Ben Bates, ThePandamis, NinjaHaku21 (Brittany), Michael Corker, FrostTheHobidon, Jennifer Hernandez, Drawloverlala, Tyson Hesse,
Favourite Movies
Big Hero 6, Sonic OVA, Transformers 1, Wreck it Ralph, Sonic the Hedgehog (2020 Movie), Spider-Man: Into the Spider-verse
Favourite TV Shows
Sonic X, AOSTH, Kirby Right Back at Ya!, Sonic Boom, Transformers, TMNT 2012, Tom and Jerry, CW Arrowverse, Boku no Hero Academia
Favourite Bands / Musical Artists
Skillet, Linkin park, & Crush 40
Favourite Books
Sonic the Comic (STC Fleetway) Sonic the Hedgehog (Archie) Sonic Universe, Mega Man Comics, and TMNT IDW.
Favourite Writers
Ian Flynn,
Favourite Games
Sonic Rush, Mega Man X4, Transformers: Fall of Cybertron, Super Smash Bros 4, Kirby Super Star Ultra,
Favourite Gaming Platform
WII U, 3DS and Xbox 360
Other Interests
Games, Reading, sleeping, and messing aronud on my computer.