Journal Entry:
Sun Nov 2, 2008, 6:00 PM
New Journey look thingy
Yeah, been wanting to try something like this for a while 'cause I felt my DA page looked so dull :[
I mean, just about every picture in my gallery is a black and white pencil drawing, and that doesn't add color at all. So, being distracted from what I should be doing, I did this :3 Tis snazzy : D lol

It's pretty different and has things I've never tried before, so if I make this journal look far beyond its cool design, then sorry XD;; Still learning. Like, I don't know how to put in links yet o3o;;
lol

Especially with all these... Codes and things o.o;
But I'll get it eventually.
So changed may happen a lot.
Side Note
The little box below here is something that I'm having fun playing around with XD So I decided to put a few of some of my favorite pictures or some of my best art featured in there.
Was hard to find some D:
YOU ALL KNOW I'M NOT THAT GOOD D< LOL
XD
========================================
Live Journal:
sonichearts.livejournal.com/
Artist I admire
(no particular order)
















They are so awesome, and inspire me so much to keep trying. I hope to be able to draw as awesome as they do one day.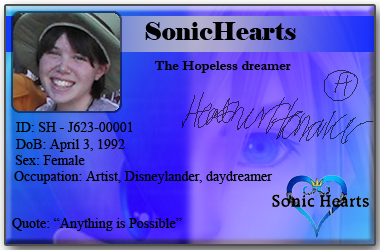 ==============================================
Reading: The Scarlet Letter

Watch