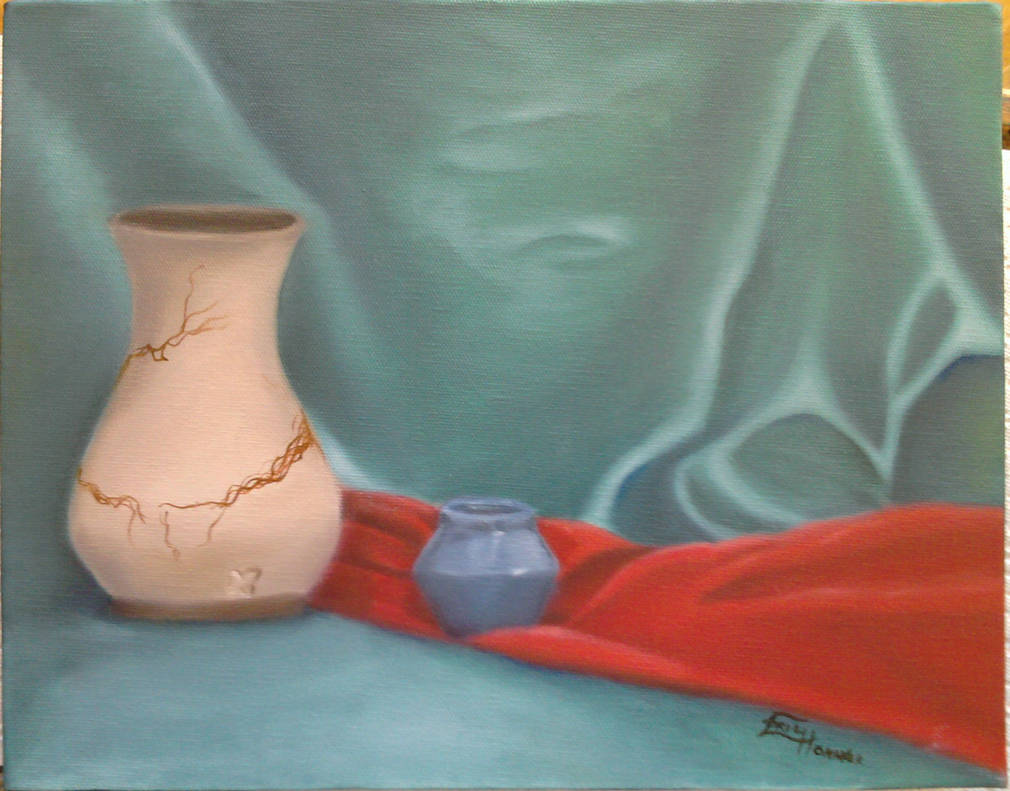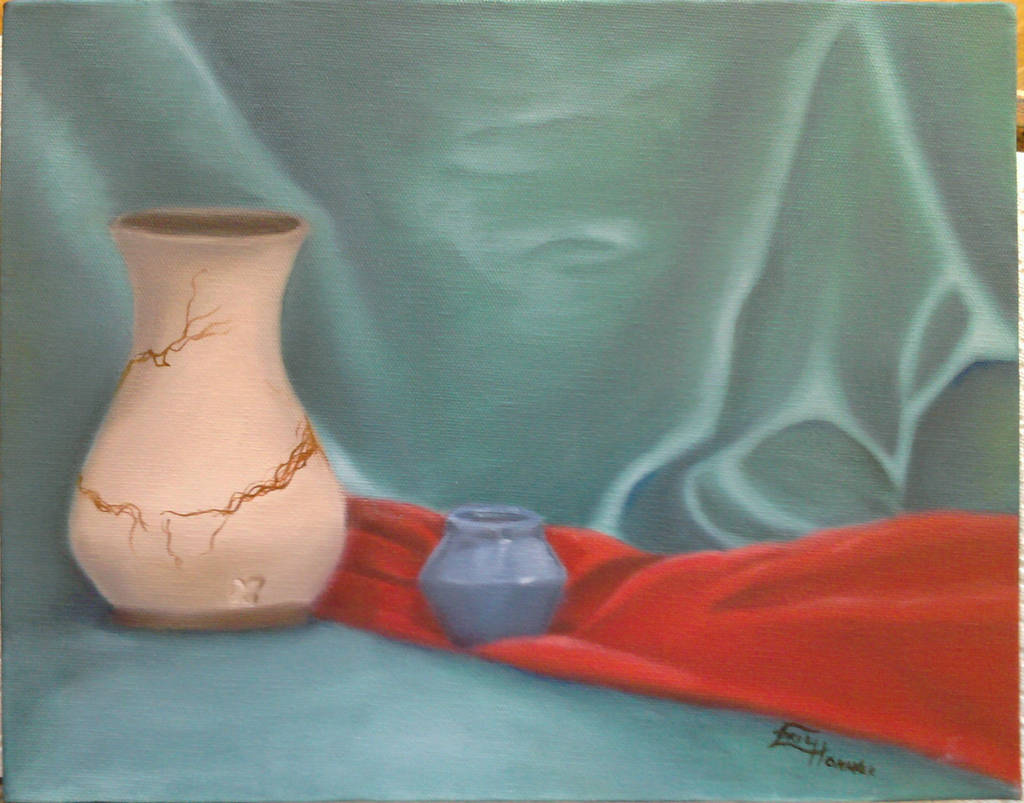 After a great many months, my first still life is complete.

Oil (Winton, M. Graham, Daniel Green) on canvas.

This is my third completed oil painting. I did this in class at a rate of 2 hours/week.

The vase on the left is a horse-hair raku piece. The actual vase had a great many more lines on it, including some areas where so much hair had fallen that it created wide black fields. The vase looks nice, but I (and my instructor) felt it would kill the luminosity of the rest of the painted vase to include so many lines.

Good job! The folds of the fabrics work well and it's a nice touch with the little 'chink' on the lower part of the wase. Overall the structure of oil on canvas produces a very friendly and soft impression that is soothing to the eye and one can see you have a good brush tecnique.

Something I did react on was the somewhat simplistically textured wase (except for the chink and the strands); then I read in your comment that this was intentional. I still think you could have gone with more details on it though, maybe by ad-lib:ing all those extra hairs but by making them almost the same colour as the wase surface - that way you could have broken up the surface into more detail, but still not overpower the composition (is my guess). The reason I say this is because the painting as a whole has so large smooth areas as it is. I think it might have been interesting with at least one area showing much increased complexity. I do know this is not something trivial to get right in oils however, especially since it's time consuming to try out different takes on the effect (which is one of the reasons I don't do oils anymore, I'm way too impatient).

Anyway, you are really showing progress in your painting here!
.
Griatch
Reply

Thanks for the comments.
I definitely see what you mean about the vase. In person (at 11X14) the smooth areas don't seem that large, so I'm pretty happy, I but I also thing you are right that it would be possible to make it a bit more detailed without overwhelming it.
The "chink" in the lower area of the vase is actually my wife's "maker's mark," a butterfly stamp.

Reply

This is just beautiful! I'm very impressed, Eric. Great job!
Reply

Thank you very much. I am really pleased, particularl when compared to the result of Swallowtail in Lily.
Reply

Reply