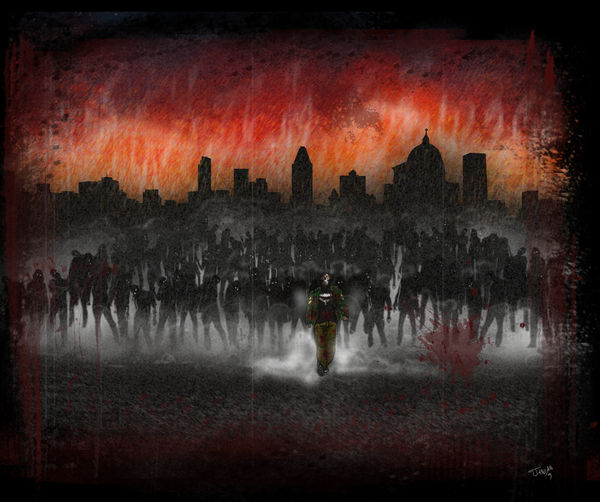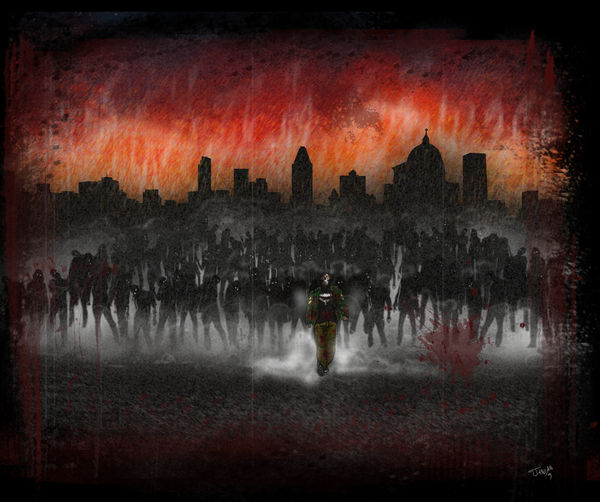 Watch
The man's face was encrusted with dirt, and his eyes were ... oozing. Through his twisted, rotten teeth came a long and wordless moan.
Jack stared, uncomprehending.
Suddenly Dustin's voice burst out, "He's dead."
Jack turned. Dustin stood there, his nose and cheeks torn away. Two giant white eyeballs filled the sockets of his freakishly visible skull. Scraps of flesh hung from his jaw. Jack screamed.
Dustin stumbled over to the wrecked car, to where one of its side view mirrors hung loosely. He tore off the mirror and stared into it. For a long time, he neither moved nor spoke.
Finally he called out, "That man has come back from the dead. Look at him, Jack. He's dead, and so am I."
Jack shuddered and backed away from the man.
Dustin's eyeballs fixed on Jack's stomach. Apprehensive, Jack looked down. He lifted his blood-drenched shirt to expose the ripped and mangled mess beneath.
"And so are you," Dustin said.
David Barr Kirtley, "The Skull-Faced Boy"
========
So, I got the anthology "The Living Dead" about two weeks ago. DEVOURED the book. And this is the one story that really sticks out. I've had this image in my head ever since I read the short story... I don't think I quite did the image justice, but for the most part, I am happy with it nonetheless.
If you are a zombie nut, GO READ THIS STORY. Hell, GO BUY THE BOOK. You will NOT be disappointed.
Detail of the Skull-faced Boy can be found here:
[link]
Stock/brushes Used:



The teeth on the SFB hoodie, is from the site lostzombies.com. Again, if you like zombies....
Art © Me

Loved this story in the book.

Love the art too.
Reply

Thanks! I sent it to the author, and he put it up on his site

Reply