---
---
Victory Sakura The Fox (Caroline) | Girl | 13 years | Eyes: Brown | Brazil
Hello! My name is Caroline, or Victory, Vic, as you prefer to call me ^^
I am an average teenager of octave grade, I am 13 years old and I live in Brazil.
I really like to draw, and that's my biggest hobby! I intend to take a special course on this ..
I really like Animes, so you'll see me drawing this most of the time, I love, especially Saint Seiya, Sailor Moon, Yu-Gi-Oh! (I love Pharaoh !!), Pokémon, among some others. And I really like Sonic, besides Bomberman and Pokémon.
I love listening to music !!! I'm a Directioner and nobody likes One Direction ...
Closing this, I like to make friends, if they have doubts or anything, do not be afraid to ask ^^ I have open commissions
They are cheap check ^^

See you next time ^^
SONALLY OUT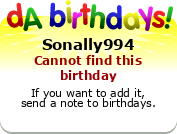 I like most couples.
More my favorites are: Sonally, Sonamy, sometimes Shadamy, Silvaze, Shadonia (ShadowXSonia), Shadula, Scourosy and Taiona (TailsXFiona).
In my stories you will always see Scourge and Fiona on the good side. Usually it's rare for me both on the other way.
My OCs
A bit of PuzzleShpping
Yami / AtemXTéa / Anzu
"
sinh95.deviantart.com/art/Yugi…
">