Holy shit, I haven't been active on here in a MINUTE!
Anybutt...I'm still alive. If you've seen my twitter feed you'd see that but...LOL! I've been quite busy trying to make shit happen. Went through some spiraling depressions, self doubt and all that jazziness. Got myself a
tumblr
, uploaded a new picture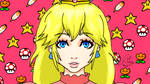 and all that fun shit.

Currently practicing blind contour drawing to help improve my art, as well as help break me out of anime and bad habits and explore other art mediums. Not saying anime is bad, but I can't JUST draw it forever. Also been working on leveling my animation skills as well.

Not sure if I mentioned this either, but I also work on a youtube channel called Hotwired with a British chick named Elsie (for those who don't know). Here's a link to the opening animation:



Other than that...not much else going on. I'm going to try to be more active online in the art world and shit. Hope all is well for everyone else!