Deviation Actions
Daily Deviation
August 25, 2013
[Stock & Resources] Vector Ribbons Vol.1 (PSD) by ~
softarea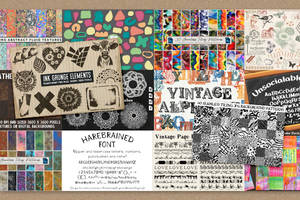 HG Designs Subscriber Area
Lots of high resolution goodies for graphic design including textures, photoshop brushes, seamless patterns and more.
---
Suggested Premium Downloads

Vector Ribbons Vol.1 (PSD)
Description
Hello Friend's, today we release a pack of 20 Vector Ribbons in volume-1. Even as we release it, this is one of our favorite freebies and we expended some good amount of time to create it. The PSD document comprises more than 20 ribbon graphics hand-crafted in full vector forms layers for alleviate of editing. You can use these graphics freely in your websites, goods, portfolio, conceive works, etc., to showcase short crucial text and make some impression. furthermore, we will be issuing the volume-2 of this freebie shortly, so keep checking back!!