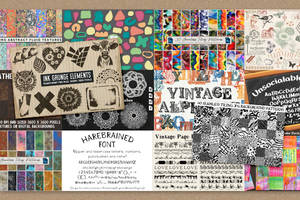 HG Designs Subscriber Area
Lots of high resolution goodies for graphic design including textures, photoshop brushes, seamless patterns and more.
---
Suggested Premium Downloads

Nanda's Real Pencil Brushes for Photoshop
453.6K
Views
1
Collected Privately
Description
It's been a while since I made custom brushes for Photoshop and ended up making a few pencil brushes. I'm quite happy about how they turned out and decided to share them with you.
It's a set of six brushes for Photoshop:
- Mechanical Pencil (HB)
- Colored Pencil
- Cover Pencil
- HB Pencil
- B Pencil
- 2B Pencil
If you've decided to download and use my brushes, I'd love it if you'd share a link to your artwork in the comments. Thanks!
You can find my real pen and marker brushes at:

This is a great set, thank you! I used the colored pencil brush for this sketch page and was really pleased with how it came out: