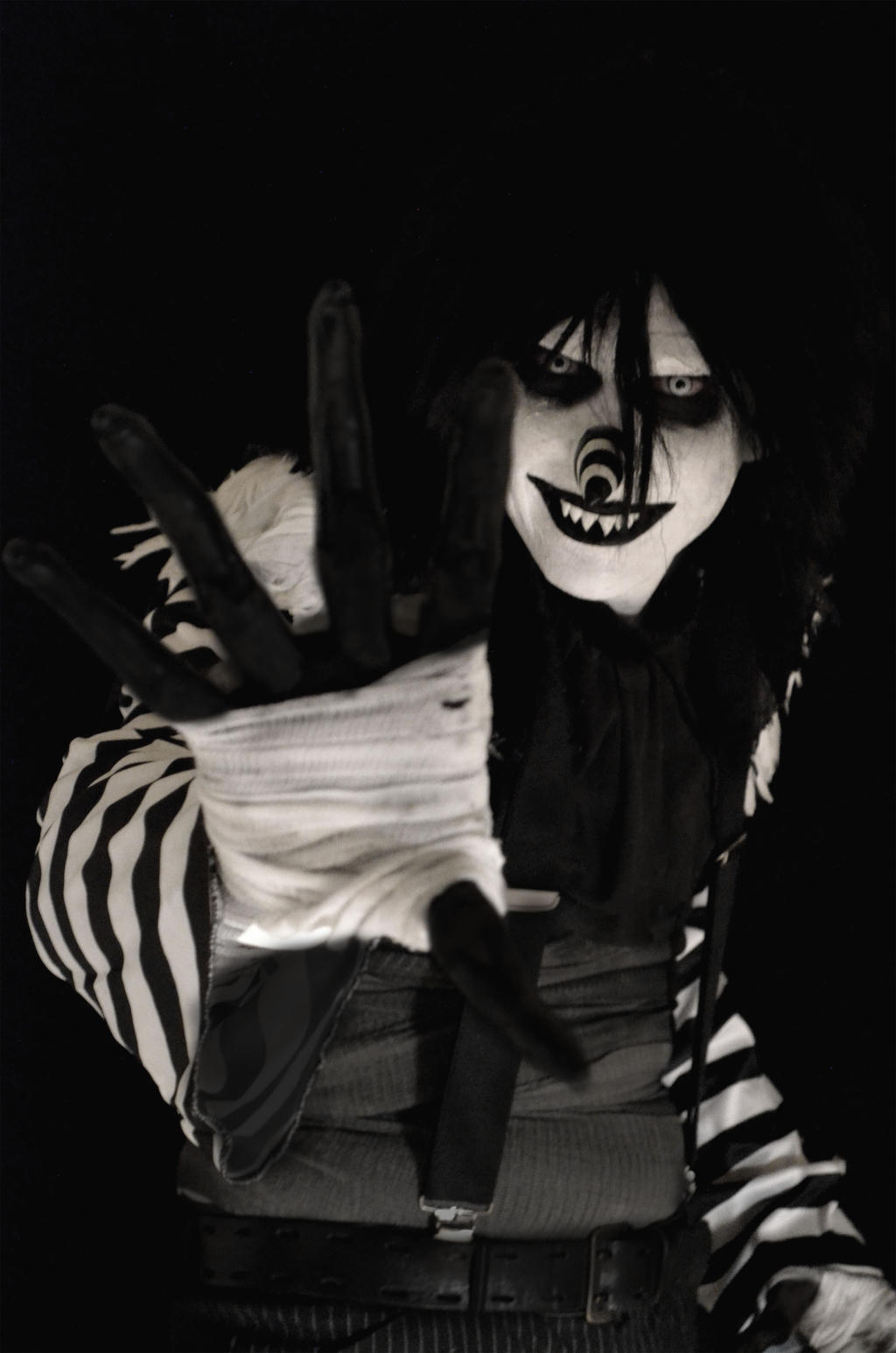 Watch
I must admit I really love when you do a cosplay of Laughing Jack. To be truthful I used to think he was from a movie. But he is amazing character. I really love the clothing you used on him. I mean it isn't any regular clothing you'd find around. I really love the expression on his face showing you that he's insane. The makeup is really brought out and also really well done. I mean I see no flaws what so ever in the makeup or screw ups. It's all so very perfect, SnuffBomb! When you did the cone for his nose it doesn't look like you just put it on. It looks like it is truly on his nose. I find this a common mistake in cosplay but you actually didn't miss it. If you wrap something on the hands. They usually forget the arms. But you went all the way through the arm so it wouldn't look so funny looking. I must say one thing I really believe laughing Jack should be in a movie to be truthful enough. It'd be the most creative story. But great job overall on the makeup the costume. It has an amazing impact on me and the technique used is so creative.

The Artist thought this was FAIR
311 out of 311 deviants thought this was fair.
The stance your in gives you the taller appearance that you need to display as him. The picture does look very slightly blurred but in overall it's good. I have also read the story to this character and at first I thought it was going to be a mediocre clown with way to much blood. The fact that you put no blood on him actually makes me more terrified than if he was covered in blood. I think killers with lots of blood on them just makes them look way too messy, in fact it makes them look unskilled. The teeth on you look quite real, and not just plastic like I have seen a lot of cosplayers have done. The make up is nicely done and I especial appreciate the fact that you went through the time to make that nose piece. Also since you personally made this character I'm happy you stuck to the originally format of his appearance. The only thing that confuses me is that I thought he had these black claw like hands and not black gloves. I could be wrong. Otherwise I have no complaints about how you made the costume.
The Artist thought this was FAIR
128 out of 132 deviants thought this was fair.