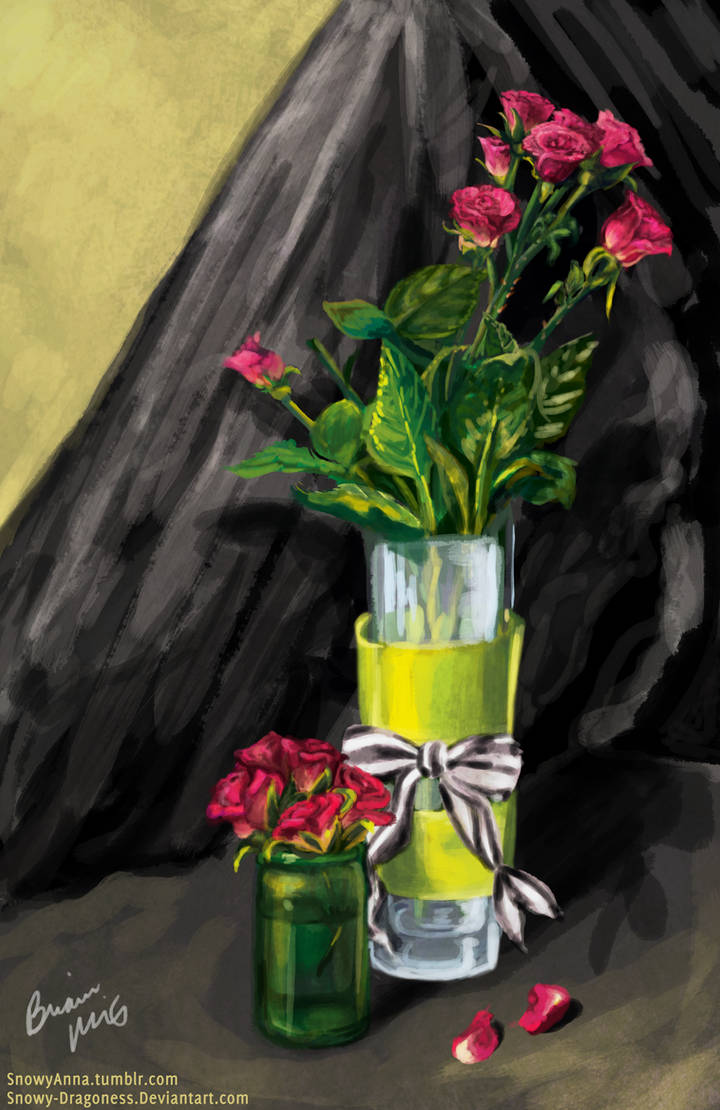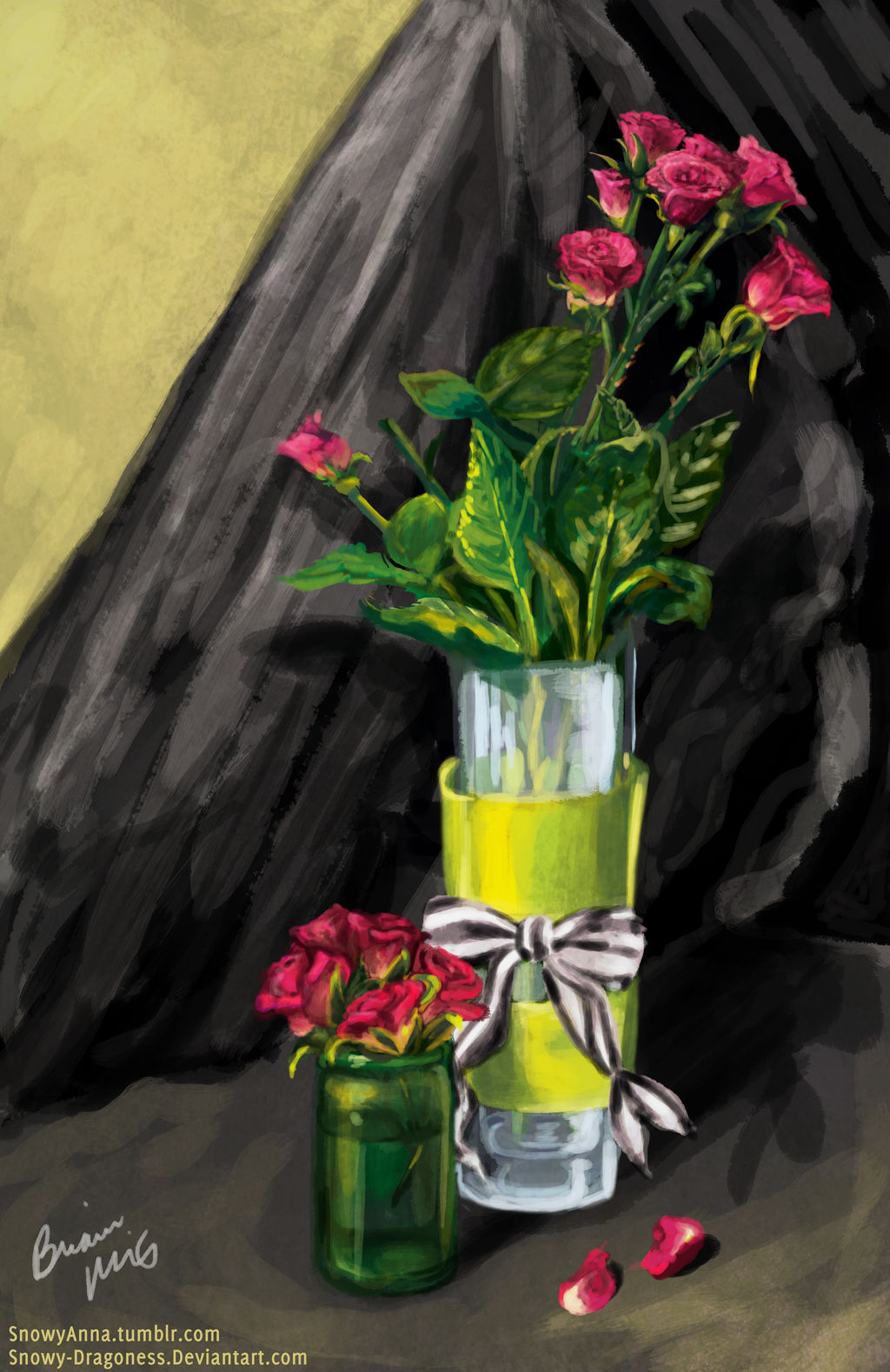 Watch
This took all day, but I think it was worth it in the end. I needed to practice my digital painting. If you want to see this work as it progressed, you can see it at my tumblr.
snowyannaart.tumblr.com/post/9…

Oh wow! I can't get over the details in the flowers! Also way so sure it was traditional! I love how I can see the brushstrokes and the colours are soooo pretty~

Though I like the image as a whole, my favorite parts are the flower heads, followed closely by the leaves, but I have to say, I adore how you did the green glass too!
Still life normally seems rather dull to me, but somehow you managed to make it come to life, it's not just a picture of flowers in glass vases, I feel like I can smell the flowers, and could easily reach out and touch them~ You captured far more feeling then I would think possible with just a few still items~

Reply

Thank you! I learned how to paint first, even before I took drawing classes. And, my class was mostly still-lifes, so that it what I have a lot of practice in. Thanks! I wanted it to look more taditional, so I used a different brush than I usually do. My favorite part is the green glass. I LOVE transparent objects. They're just so interesting to look at.

I think a lot of people feel that way about still-lifes. They're how you learn to paint in a class setting, so they get a bad rap as being purely academic and not an exciting art form. People have been painting florals for years, but flowers are beautiful to paint in that you can paint the same arrangement 3 times and get 3 different paintings. Flowers fade quickly. I actually love painting dead flowers. XD

Thank you again. I love hearing that my art seems so real to you. C':
Reply

Oh that's cool! For me, drawing was the first and only thing I did until I got Corel Painter~ Though I tried to paint in art class I always hated it so much that I just didn't do it~ (almost failed thanks to that~xD) I'm trying to learn to paint now, water colour isn't bad, but I still struggle with painting in acrylics and oil~ The main issue is that although I use the mixer in Painter, so I have learned what I need to mix to get certain colours, I still have trouble with the amount to use in real life~ I also make my colours extra muddy because I forget to clean my brush or don't clean it well enough~ On top of that I seem to have a lot of trouble with brushes fraying and not staying neat, I still have so much to learn~

I always admire people that can paint well traditionally, though I fell just as strongly about digital, because I have trouble with traditional painting, I tend to look up to that more~

(I need to practice more but paint can get so expensive and I prefer to make my own anyway... but I'm lazy and blue is hard to create~xD)
I can agree with you on transparent objects! I absolutely adore taking a glass, putting it in many different lighting conditions and painting it!

My favorite is when I have crazy lighting, like one I did with a combination of blue and orange light, and another covered in condensation in a glowing blue light~

It makes me so happy somehow~

Yeah, I think part of my negative feeling comes from being forced to do it in art class... I despise being told what to do, though I welcome suggestions and help, I really can not Handel having to do something~xD Also, so many people that do them, do them as purely study, so they put no feeling into it.... making it feel dead and uninteresting~ So it's nice when someone can do it and enjoy it, so that it can come to life~

Also agree, dead flowers can be stunning!

Oops, talked your ear off (or I guess eyes in this case~xD)
Reply

I never liked high school art classes, but college art classes were fun.
I learned to mix paint in class. I was taught that you paint with the lest amount of paint possible, in order to keep your brush from getting gunky. And, a little left over color on the brush is fine. Using too many saturated colors doesn't look realistic. Of course, I was painting mostly real things, not painting from the imagination.

Paint is expensive, and you can't make blue. I paint with azrillion crimson, cad blue, ultramarine blue, cad yellow light, cad red light, titanium white, and mars black. You can make every color on the wheel with these colors.

Crazy lighting is fun. Only piece like that I ever did was with Bellatrix and purple lightning. C:

Well, study is what you make of it. Yes, painting still lifes is "study", but you choose what you put up there and how to arrange it. For my first classes, we had to paint fruit and veggies. You had to go and buy it, pick the one you thought would be most interesting, arrange it, light it, and then paint it. Everything you paint has feeling, because everything you make is part of you.

I think learning under tutelage has a bad rap in the art world nowadays, but you must learn the basics before you can truly go off on your own, I feel. I'm better at painting mermaids because I learned how to see the tones of an onion first. C"

And I don't mind long letters. C:
Reply

I've never even thought of collage, partly due to money, but mostly due to disliking being told what to do. if I could take a few day class just about general painting instructions, like how to care for your brushes, how to mix paint to get the colours you want, then I might think about it, but if they tell me what to paint, forget it~xD
Thanks for the tip about using very little paint on your brush, I tend to over fill my brushes~xD
Actually you can make blue~ Water colour is easy, as you can use blue berries with distilled vinegar! (though it takes time to turn blue is dose look blue in the end) For Oil and acrylic, it's just expensive as you have to use Lapis Lazuli~xD However, you can buy the chemicals and make your own blue paint for less, though I dislike dealing with the chemicals myself, so I don't~
Nice to know that best colours to use, thank you~ I believe I have all of them in stock, so I might try doing some colourwheels with them~
It is! I love how your image turned out too! Makes me want to do more with fun colours and light!

Reply

My family is poor, so I went to the local college for free. I got 3 degrees out of it.

I would read books on the subject if you're serious about learning. Books will have things in it like brush care and how to choose brushes and some exercises to try.

Oh, I meant you can't mix blue out of other colors. You have to buy or have some. I know you can make paint, I just wouldn't. Especially not with food. Ugh, the smell if it started to turn. I imagine it would be worse than the turpentine I use to clean my oil brushes.

crimson plus a little cad red is true red, cad red is red orange, cad blue plus a little ultramarine is true blue, crimson plus blue is a deep violet (i add white to make it less dark), and cad blue plus a LITTLE yellow is blue green, true blue plus a LITTLE yellow is green.

Experiment with amounts to make different colors and shades.

Oh, and if you want to make black, mix a color and its opposite on the color wheel. So, red+green, violet+yellow, or blue+orange. I will say this, though. If you are using hues instead of pure colors in your paint, it will never mix right to black.


Thank you! C:
Reply

Ahh, well that's good then, I'm glad their are systems like that out there that can help you~

Our family isn't quite on that line yet, partly thanks to moving to a smaller city, we took a big risk though to do it~xD
Yes, I should do that~

Thanks for you help~

ooooh, I see~

Oh, that's actually why you use something like vinegar and other such things, they don't turn and you can put different home made solutions over the page to make sure they don't as well~ They used to use foods in the past all the time and found many ways to avoid that issue~

Ohhh, so many helpful tips! Thank you so much~

Reply

WOOOOW, This is lovely! OAO
Reply