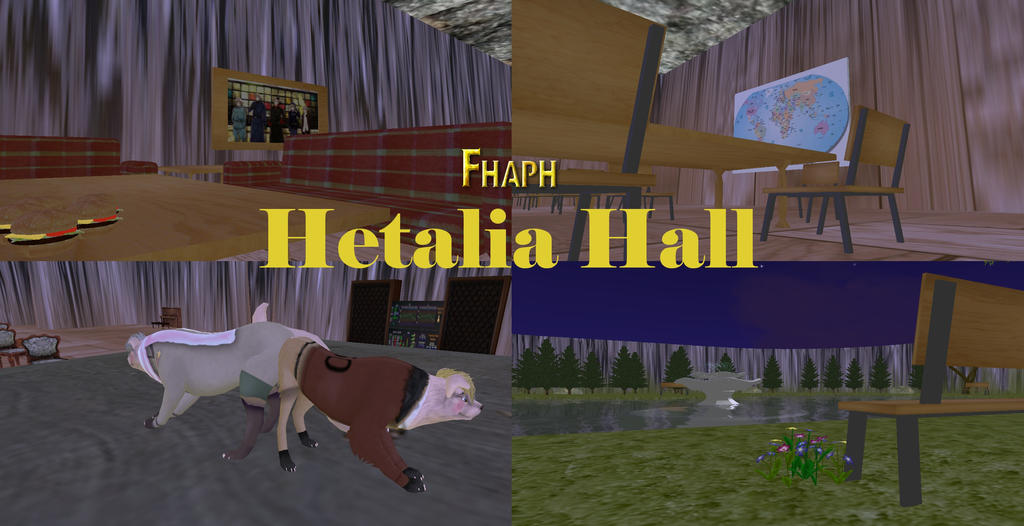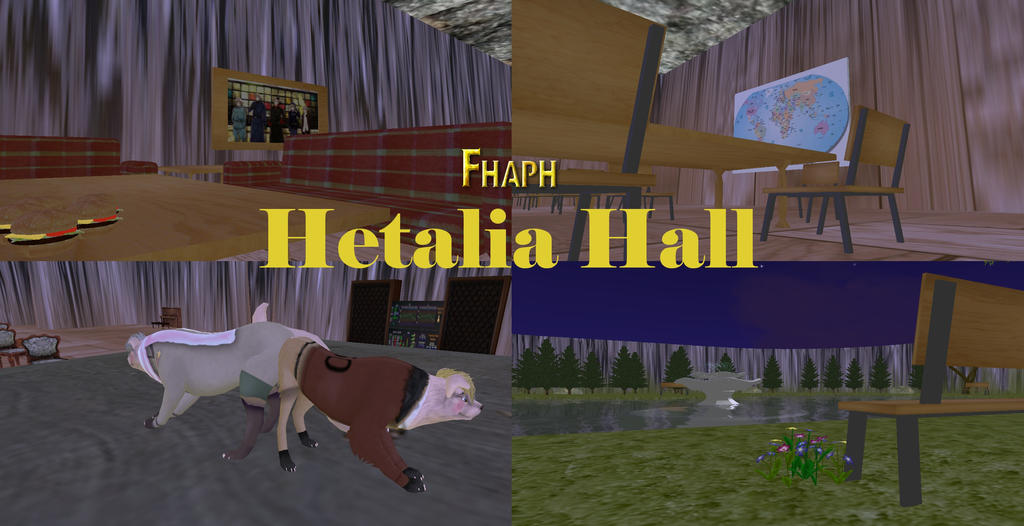 Watch
OKAY, this map is technically out for public use, BUT make sure you go over the rules, as they are important.
My newest map project; Hetalia Hall! It's meant for the use of Hetalia RPers, and is officially apart of FHAPH's (
FHAPH
) group maps, however, this one in particular is open to everyone.
And yes, that is Russia(me) and America(KasukaSeishin) butt-buddy dancing.
RULES:
- PLEASE, PLEASE, PLEASE, if you have a Hetalia group, by all means, feel free to come in, however, in the past my group has done a similar things by letting in other Hetalia groups onto one of our private maps and we eventually had to abandon the map and we basically 'lost all rights' to the map's concept, so please be aware that we have full power over this map and its not to be redone or reowned by anyone else.
- Try your best to keep what's going on in the map Hetalia related, non-Hetalia characters or non-Hetaia OCs are not forbidden from the map, but try and keep the population low.
- Have manners guys, Hetalia is understandably really easy to get mixed up in whether it be a character's personality or historical relationships, and people want to correct each other, so if that is the case, please be reasonably respectful while doing so, and if you're the one to be corrected, be respectful in return.
- Explicit language is allowed in here, so do be wary of that before coming inside, but please, if you're going to have one of your smut RPs, do it in whisper/party/group, we don't need to watch you RP that.
- You cannot claim any area or object in the map what-so-ever, nor can you 'claim a character' that only you can RP in the map, since you must be reminded it is my Hetalia group's map in the first place and we have our own characters we RP as well as other users who may come into the map.
- Cross over RPs are totally okay if they do involve Hetalia.
- Feel free to invite your friends into here, as long as you link them to this page so they can find the rules and credits.
For FHAPH members; there is a portal to United Nations in there, but it will only work for people who have that map.
To everyone else, you shouldn't need to leave the map for any other reason except for rule breaking reasons.
And let me be clear once again, since sometimes people don't ever get it;
This is a Hetalia map, for role players of the anime/manga HETALIA, and not meant for other random role plays.
Mesh/Particle Credits: Thierry (FH), Glave (FH), Galiou/Tetsu (FH), Jayfeather55 (FH), Unleashed89 (dA), Chunkymonkey94 (dA)
The song that plays from the speakers is the 'Hetalia Music Medly'.
If I forgot to credit anyone, please let me know, I don't have a very good memory about it, thank you.
Also, this map is best played with your music volume down or at least low, and your effects volume up.
EDIT: Jeeze, how many times to I have to write that THIS IS A HETALIA MAP? Stop coming in with your random characters unless they're in a Hetalia-related RP. And if you don't know what 'Hetalia' is then there's no point in coming on this map. It's not that hard to understand.
And finally, the download:
NOT AVAILABLE.
Due to some idiots that keep rampaging into the map without reading the rules, and being rather rude when told to, the download is no longer available to the public. If you are interested in downloading the map, please note me about it.
aphhall.fhm and aphhall.fho both go into Feralheart > Exports.
tile.jpg goes into Feralheart > Media > Terrains > Textures.
aphspeakers.mp3 can go into either Feralheart > Exports OR Feralheart > Media > Sounds.
Enjoy! <3
See also: