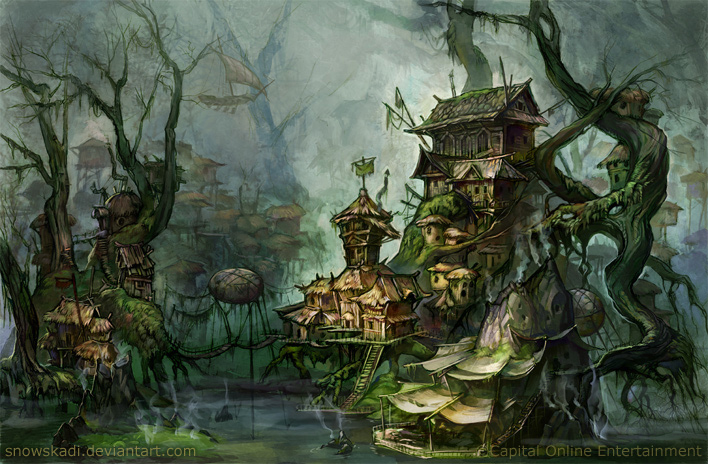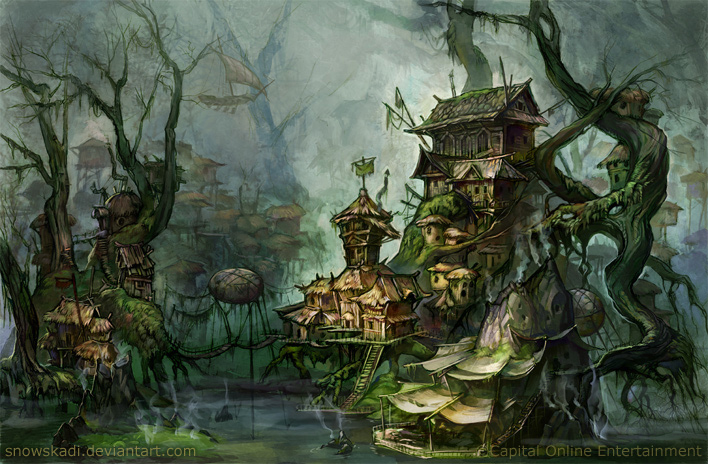 (c)Capital Online Entertainment

Please don't use this picture for any purposes
I really like this piece. The level of detail, and the variety of that detail is what really sells it. The colours and lighting are muted and somber, but there is a good variation in depth and contrast, which leads the eye nicely from building to building. You've made me want to go and explore this odd place and look inside each shack and under each tarp. I have no idea why the boat is flying in the background, but it's a great wink at reality. The only thing I would change is the smoke stacks. They look a little stuck on, so blend them a bit. Keep it coming!
The Artist thought this was FAIR
37 out of 40 deviants thought this was fair.
This is a wonderful image. While it may not be the most mind-blowingly original interpretation of a fantasy swamp village, I give you top marks for Vision because the image is so clearly realized. It's a lovingly detailed environment that makes me wish you'd uploaded a larger version, so I could meander through all those little alleys and staircases.

The palette is perfectly moist and swampy, with all those greens on display, and saturated reds in the shadows, as well as the suggestion of depth implied by those foggy shapes in the far background.

The technique is excellent. The mark-making is delightfully varied, from the build up of mosses and roof details to the smooth texture of the foreground canopies and those scraggly tree trunks. There is also an engaging range of tone, with that warm light pulling us into the foreground while the cool blues and greens dominate the shadows.

If I had to nit-pick anything in this image, I'd say that the trees in the upper left could do a little more, like perhaps bending back into the center instead of straight up, thus pulling the viewer's eye back into the image. But again, that's nit-picking, not a true fault.

In all, I'm fairly well blown away by this piece. It's certainly one of your strongest and one of the best fantasy landscapes I've seen in a while. You rocked it.
The Artist thought this was FAIR
82 out of 82 deviants thought this was fair.
The owner of this deviation has disabled comments.