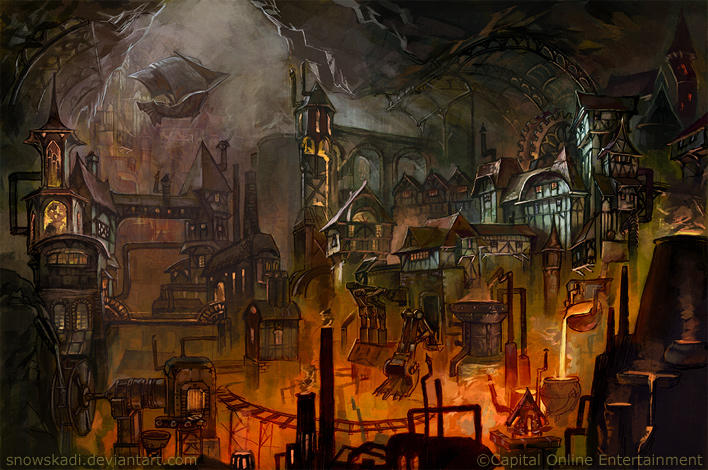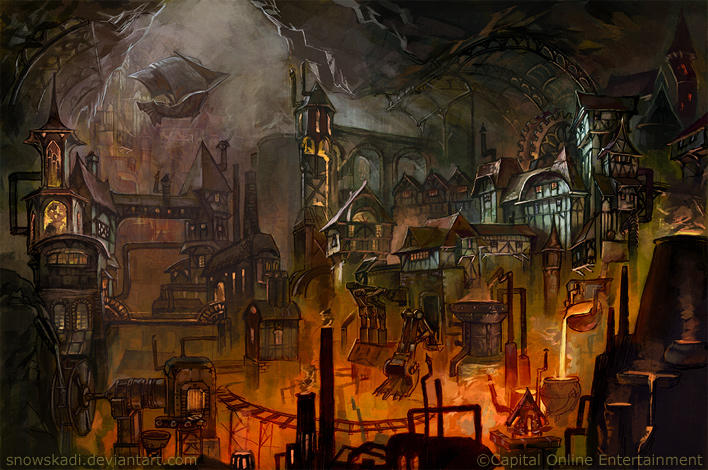 (c)Capital Online Entertainment
Please don't use this picture for any purposes
Последнее из этой серии

Wow! pretty sweet first off

You've nailed a lot of big things in terms of good picture making, your composition is pretty balanced, and you have some visual pay off what with the blimp-like ship in the top left

The color pallet is what is interesting to me, you have chosen some very bright reds and oranges for all the work that is being done below with this more restrained blue housing up top into some cooler blues in the rocks above, creates an interesting contrast.

This is a very interesting image very much like the work seen in trading card games and concept work for fantasy based MMOs, great job overall and very high quality and detailed linework.

Normally I wouldn't write such a dull critique but since you've disabled comments it was the only way I could tell you how much I liked your piece hah
The Artist thought this was FAIR
4 out of 6 deviants thought this was fair.
You're work always inspires me as there is so much depth to it. The colours are always coherent, and even when there is no action involved there is still a huge amount of detail to absorb. I want to throw myself into these worlds and explore more of what can't be seen but is suggested by the detail that can be seen. You are like a visual Tolkien who paints his details in words, which you do in images. I can't say I've ever seen a bad image from you so keep them coming - I want to get in that ship.
The Artist thought this was FAIR
22 out of 23 deviants thought this was fair.
The owner of this deviation has disabled comments.