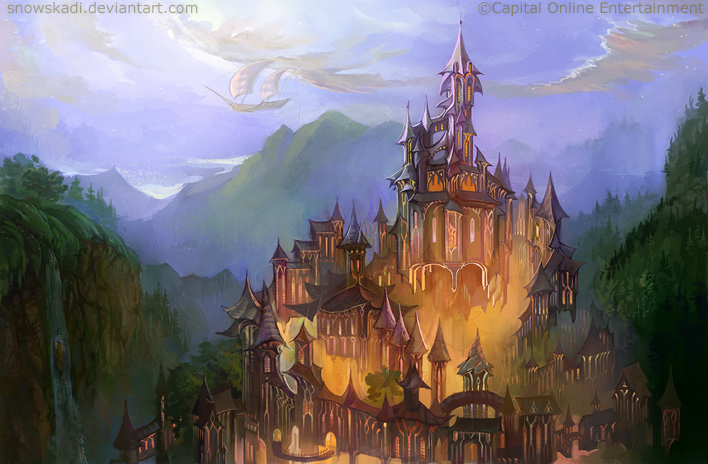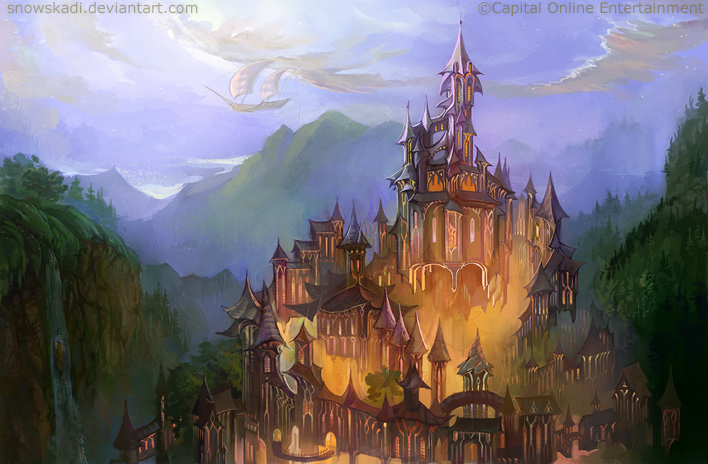 (c)Capital Online Entertainment

Please don't use this picture for any purposes


Тут я уже конкретно подустала от этих штук, что заметно 8(
К тому же, рисовалось по большей части на ноутбуке
Very beautiful work! The play with warmer vs cooler colors directs attention to the focal point quite nicely. There is a great sense of depth, with the background dropping back as it should, while still maintaining connectivity to the foreground.

There is a bit of confusion in depth on the right side. Initially I saw the forest/vegetation as an overhanging cliff in the foreground, but after noticing the buildings underneath, seemingly in front, I'm not sure what to think.

Is it supposed to be in the background, farther away than the structures? If so, I think a slight reduction in chroma would help push it back.

I think it would work better as a foreground object, though--it makes the piece more inviting, as if you've just turned a corner, only to see this majestic castle nestled between two cliffs.

The other thing bothering me is the cropping at the bottom. With the castle's design, my eye keeps being drawn to the bottom and off of the canvas. The bit of light at the very bottom-center grabs too much attention. If you put your finger over it to cover it up, the focal point instantly becomes much stronger. See for yourself.

I really admire your architecture work and look forward to seeing more. Keep it up!
The Artist thought this was FAIR
14 out of 15 deviants thought this was fair.
Beautiful picture - the detail upon the city is fantastic, and the lighting effect of the vivid orange contrasting with the dark surroundings is lovely.
The waterfall to the left is difficult to see (at least on my resolution) because of how dark the surroundings are; I think there would be a small amount of reflected yellow light in the falling water since the citadel is so large.
The upper half and lower half of the image seem to slightly contradict each other; the dark well-lit city would seem a perfect scene for a night-time picture, whereas the sky seems to imply that it is day-time. Some light, "day-light" schemed colours would probably even out the image a bit.
Love the concept, and the play of light on the simple sky ships is lovely; you're a wonderful inspiration for drawing detailed backgrounds.

The Artist thought this was FAIR
26 out of 26 deviants thought this was fair.
The owner of this deviation has disabled comments.