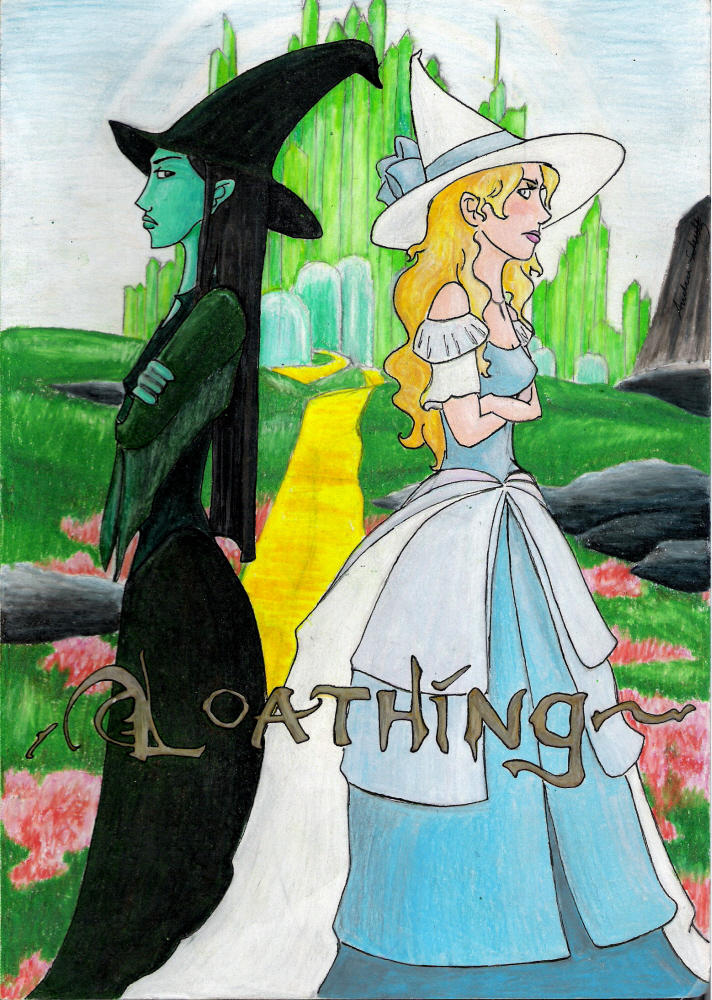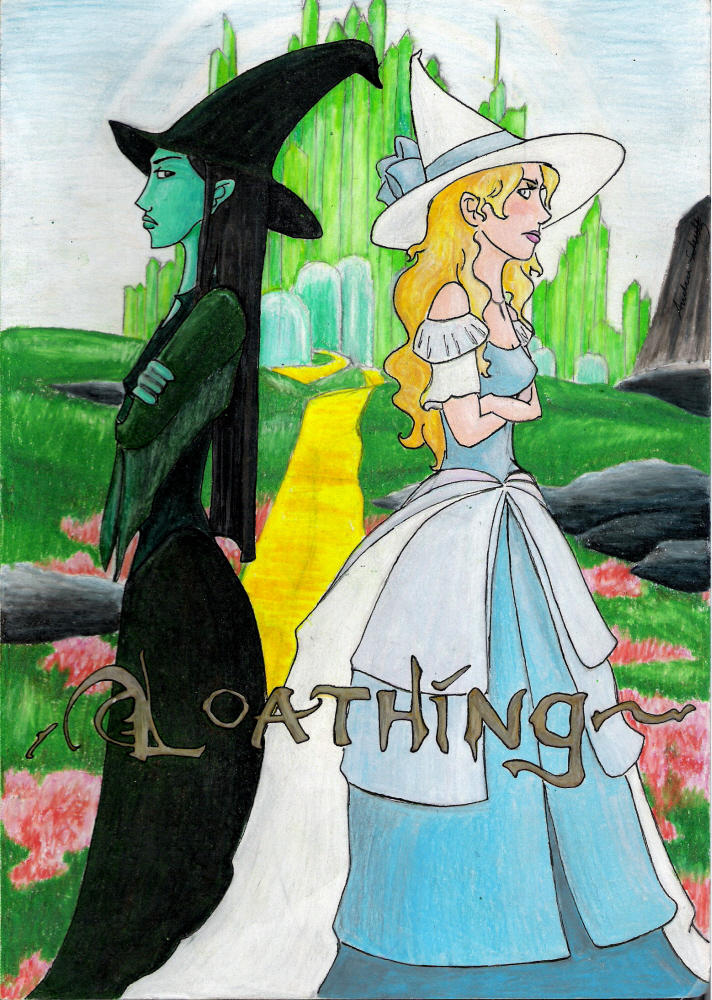 Watch
Dedicated to ~
musicalluna
for obvious reason. For her face, her voice, her clothing. You know what? Let's just say...
I loathe it all.
Cheers to the Smurf! Thanks for everything, and then some

.
Wicked (c) Stephen Schwartz (much thanks to That Spencer Guy for the heads up)

Oh, goodness, this is too fun to look at. Elphie looks fav-worthy by herself and Galinda's (Glinda?) expression is just priceless. And the background! It compliments the entire picture perfectly.

Reply

ZOMG you did a colour version! this is so well done! the facial expressions, the poses, the back ground, the clothing, lets just say i LOVE it all!! must fav this
Reply

Thanks! This is one of my favorite pieces that I've done, and even while I whine about some of the proportions, I'm very proud of it. So again, thank you!
Reply

I *twich* LOVE *twich* WICKED *drops dead from twiching*
Reply

*pulls out paddles* CLEAR! *zzt!* Heart started yet?

Wicked is awesome--I've never actually seenthe play, much to my dismay, but I've listened to the music over...and over...and over...and over...and over...
Reply

Awesome!
WICKED RULZ! *points to username*

Reply

Nice! I was wondering if your username had to do anything with a particularly awesome musical

.
Thanks for the fave!
Reply

LOVELY!!! i looooove Wicked! <3 Elphaba actually looks pretty! Awesome profiles and just awesome in general!
Reply

I had way too much fun drawing this picture (and listening to the music over...and over...and over...). I'm very pleased you like it!
Reply

I've said it before and I will say it again. So totally me and my sister.
Reply

Looks-wise too? That would be a neat thing to see!
Reply

Well, my hair is a lot shorter, but SHE is a little blonde skinny minnie, so yeah XD
Reply

Ha! That's hilarious. I always figured you meant "that's me and my sister" metaphorically. Oops. Shows what I know

.
Reply

OMJ. SERIOUSLY. This is like, seriously, hands down probably my favourite. Well, it might be battling with the Danny-In-A-Locker one, and some others, but it is WAY up there. It's just so freaking AWESOME. I would buy a poster that looked like this in a HEARTBEAT. I mean DAMN. Whatever you were doing when you did this, it rocked the world.

*cackles* I looooooooooooooooooooooooooooooooooooove your icon btw. Srsly. XDDDDDDDDDDDDD
Reply

Andrea.

This is easily my favorite drawing of yours. Holy crap. The background, the composition, the expressions, the clothes, the colors… perfect. It might have a lot to do with the fact that Wicked is just a (err...) fandom of mine while Danny Phantom isn't.

Did I mention that I got to see Wicked at the Paramount in Seattle a couple of weeks ago? It was pretty, well… Wicked. The Glinda who's touring now may be even better than Kristen Chennoweth was.

And… psst! ...The musical was written by Stephen Schwartz, not Sondhiem.
Reply

Urgh...I just realized how unclear "I was hoping you'd like it" from the other comment is. I'm referring to the Loathing picture. I was excited to see how you'd take it. Now I just need to illustrate "Popular" and we're set

.
Reply

Oooh. Yeah, I thought at first you were saying you hoped I liked Danny Phantom.
But I love the drawing. It's amazing. Well freakin' done.


Reply

Ooh! I feel privileged. An elusive favorite!

In all seriousness, thank you very much. It means a lot to hear (read) you say (write) that.
Reply

Hahaha. Danny Phantom isn't a fandom of yours? Really? I was hoping you'd like it

.
I could play all the puns on the word "Wicked" that I want to, but it wouldn't change the fact that I'm ridiculously jealous of you now. I would
love
to see Wicked.
And much thanks for catching my mistake. I should've researched a little more. Guy writes this awesome musical and I don't even give him the proper credit for it. I've fixed it now, so again, muchas gracias

.
Reply