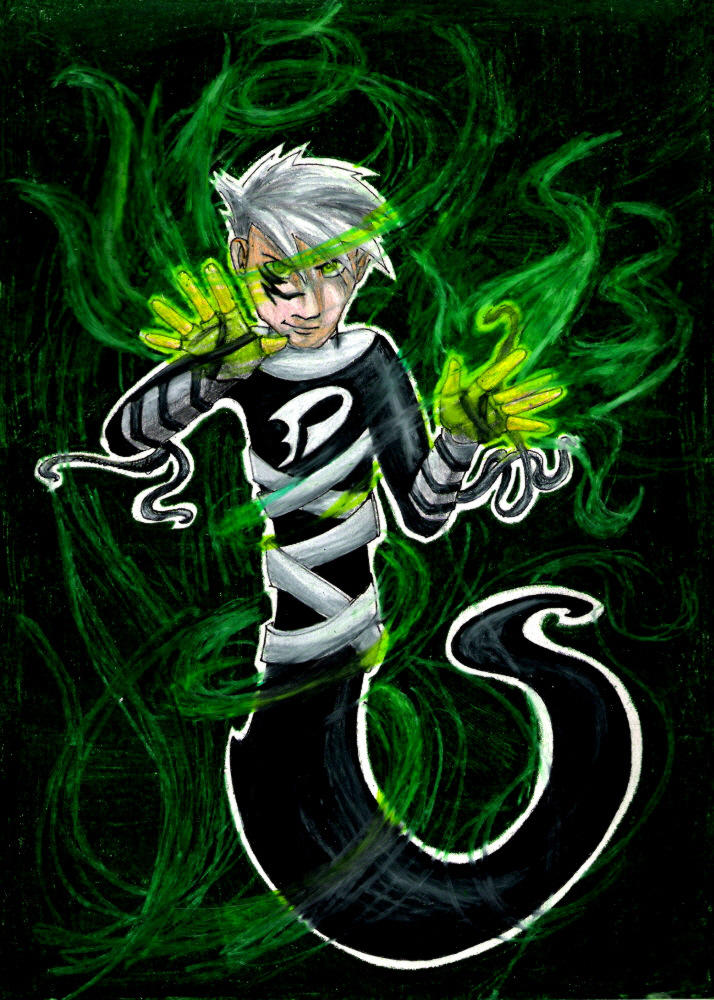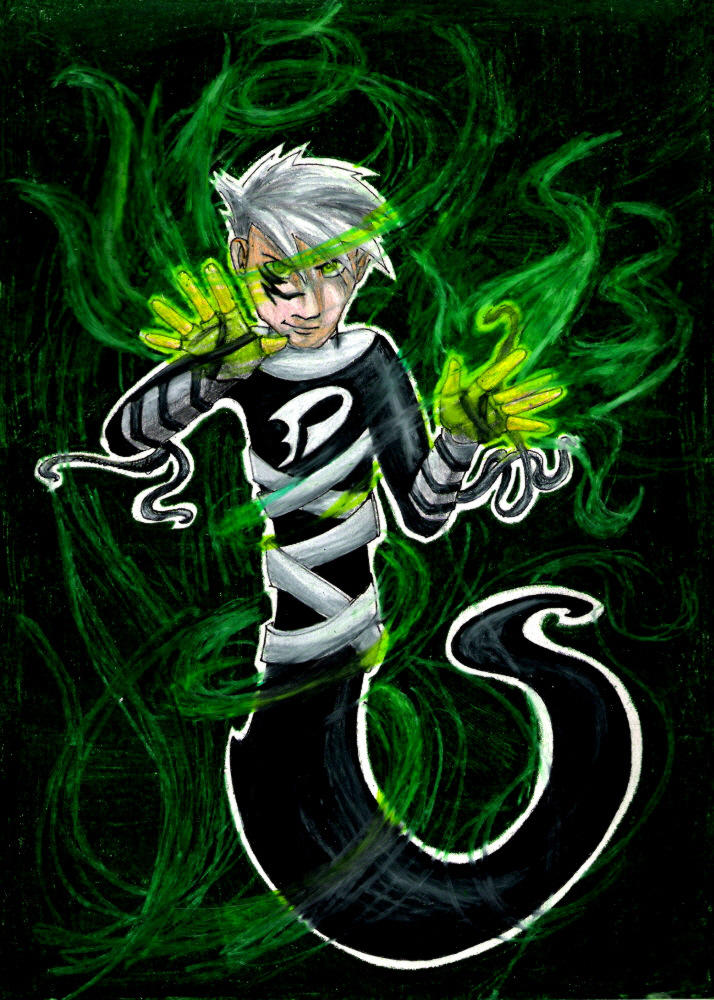 Watch
I swear he doesn't have jaundice. He's creating some funky looking ghost rays (which inadvertantly turned his hands yellow). That's my story and I'm stickin' to it.
That is the last time I color the background of a picture with one single prismacolor pencil. It honestly took me longer to color the background straight green (not including the swirly-doodads, which took about 15 minutes) than to draw and color Danny himself. It looks somewhat black because I was having fun playing with my scanner's settings.
The outfit I cannot explain. I just felt like goofing around with the usual costume and making it a little different. And he gets a tattoo on his face because it's cool. Other than that, I have no excuse

. So I'm begging you, right now, to please ignore his horrible anatomy.
My thumbs are going to fall off with pressing my colored pencils down so hard. And my eyes are going to fall out of my head. It's quite possible that I'm hallucinating at this point, but I'm pretty sure I hear my bed calling my name. That
should
be creeping me out, but really, it has a very pleasant voice. I am officially off.
Danny Phantom (c) Butch Hartman

Reply

That is so freaking awesome! *-* I can't believe you used coloured pencils!

Gotta fave this and add you to my devwatch.
Reply

FREAKING, YES! SOMDJGDOSJIGOd/dklshaposad9r IT"S SO FREAKING COOL. Looky how bright and electric it looks! OMJ. SEIROUEDLSGH;ldask. SI can't even properly communicate how freaking awesome this is. OMJ. SERIOUDSLY. He looks so freaking awesome. And whatever the hell you did to make his ghosty ray power crap look like that is freaking awesome. AND LOOK AT HIS FACE. *dies* THIS IS SO COOL.

*FAV*
Reply

ASLAKLSDJF;ZLJOFDFIJUOASDJFOAMLSKMDLKFMALMBLALKSLFK JALSJDLFJKASHDGL;AJL;DSJF;ASLDJ;LJFA;ASLKDFJWIEUHYRUIASHEDKFHASDKGHASEKHTR

Translation:

Yay!
Reply

OMVDPOSIHGTIORPDJFIEODSFJPSHGIOfds;lure9pwhgt8093q48732
Reply