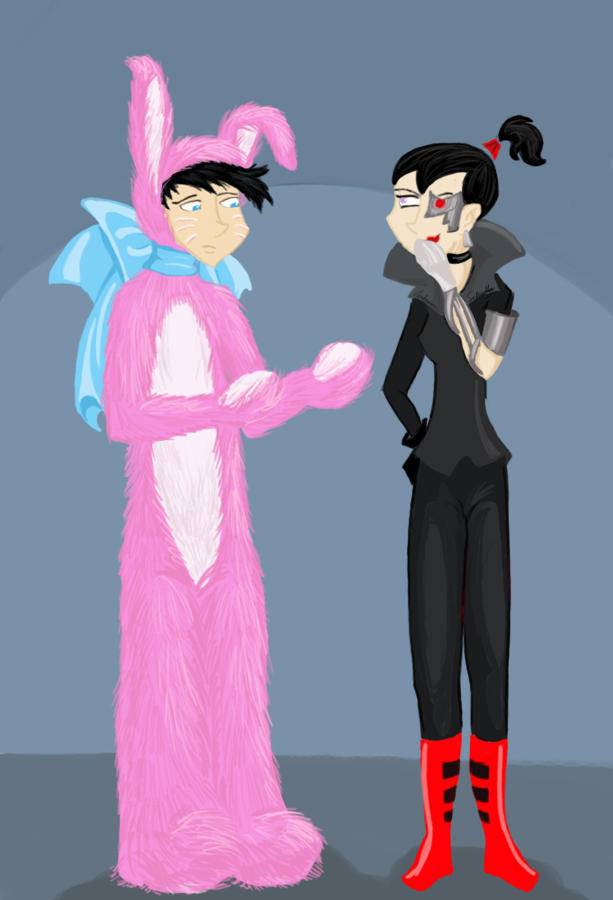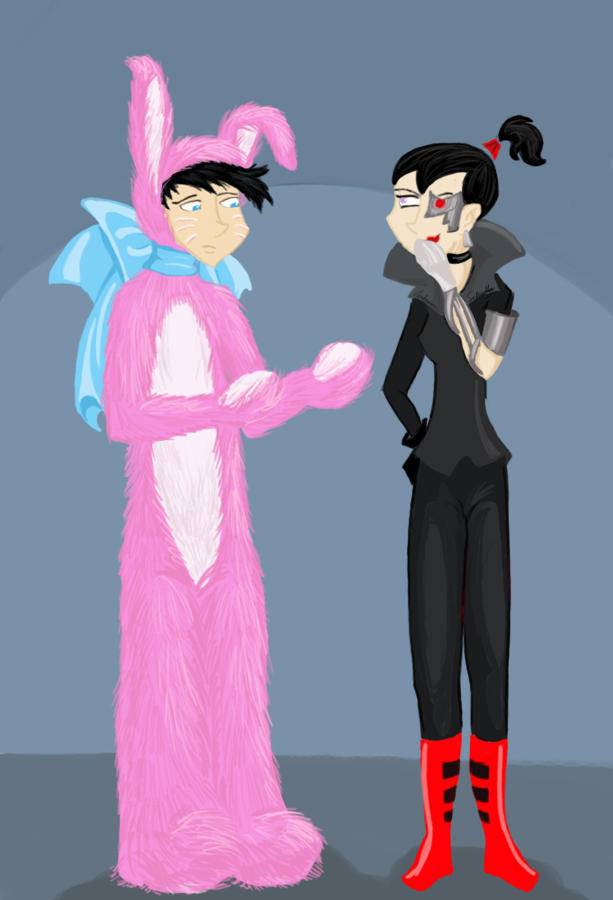 Watch
Gayest. Background. EVER.
That being said, I threw this together at the last minute. I wasn't going to join the contest for the DxS club, then four hours before the deadline, while talking with my roommate, I suddenly got the urge to draw Danny in a bunny suit. Go figure. By all accounts he lost a bet with Tucker who wanted him to dress up as his personal hero: The Energizer Bunny.
Sam's outfit is from the episode Memory Blank. It's one of the characters from her favorite movie, one of the ones that attacks Danny. I figured (actually, this was my roommate's idea as well

) that she would very likely dress in such an outfit.
AA! Time to submit!
Danny Phantom (c) Butch Hartman
EDIT:
Sam is dressed up as Terminatra. Much thanks to Firestar for the heads-up!
And look ma! No line-art!

XDDDDDDDDDDDDDD OMJ I HAVE TO DRAW BUNNY DANNY. HE'S ADORKABLE! XDDD And I <3 Sam's hair. But yeah. Danny bunny is hot. Srsly. XDD
Reply

What the--LARGE bow!

I love the inclusion of the Terminatra design from
Memory Blank
. That movie
did
look hella cool.
Okay, I have to run before someone shows up and kills me for saying "hella".
Reply

Oh! And muchas gracias for the fave!
Reply

Terminatra! Thank you. I knew she had a name. But I ran out of time to figure it out

.
Oh, and I thought you might get a kick out of the fact that the bow was actually copied from a Sailor Moon screencap *looks smug*
Reply

Are you seriously? No wonder it rang an alarm bell in my brain. Oh the bows they had. XD
I
think
that one is Terminatra. The green thing was Femalien, and Nightmerica was the odd Freddy Krueger-esque thing. I loved when I first saw that in
Memory Blank
, since I'm a huge fan of all three of those films (despite the fact that Cameron directed
Terminator
. Excuse me, Ridley Scott rules. XD )
You are most welcomed for the fave.

Reply

Hahaha! Well, I needed a reference for a bow and...well, what else would come to mind?

And that makes sense--she
is
machine, or at least partly, by all accounts.
Reply