It's been a long time since I've had the opportunity to upload anything or to comment or reply to comments on dA, so this one is long overdue.
I was very lucky to get my hands on this beautiful box made by

aldwarke with some hand chiseled indents around the edges of the lid to reveal a beautiful striped pattern from the ply layering.
I've always loved the poster for "The Lion,The Witch and the Wardrobe" and the tooth bites on the edges of the lid made me think of it for this box.
Also this was my first time experimenting with bottled ink on wood. Unlike paint which masks the wood and hides the grain and the burn marks, ink soaks into the wood and enhanced the grain, whilst allowing the burned shading to come through.
Also you get seamless blending of colours as you can see in the background which goes from dark navy to blue to aquamarine to amber.
Anyway I hope you like it.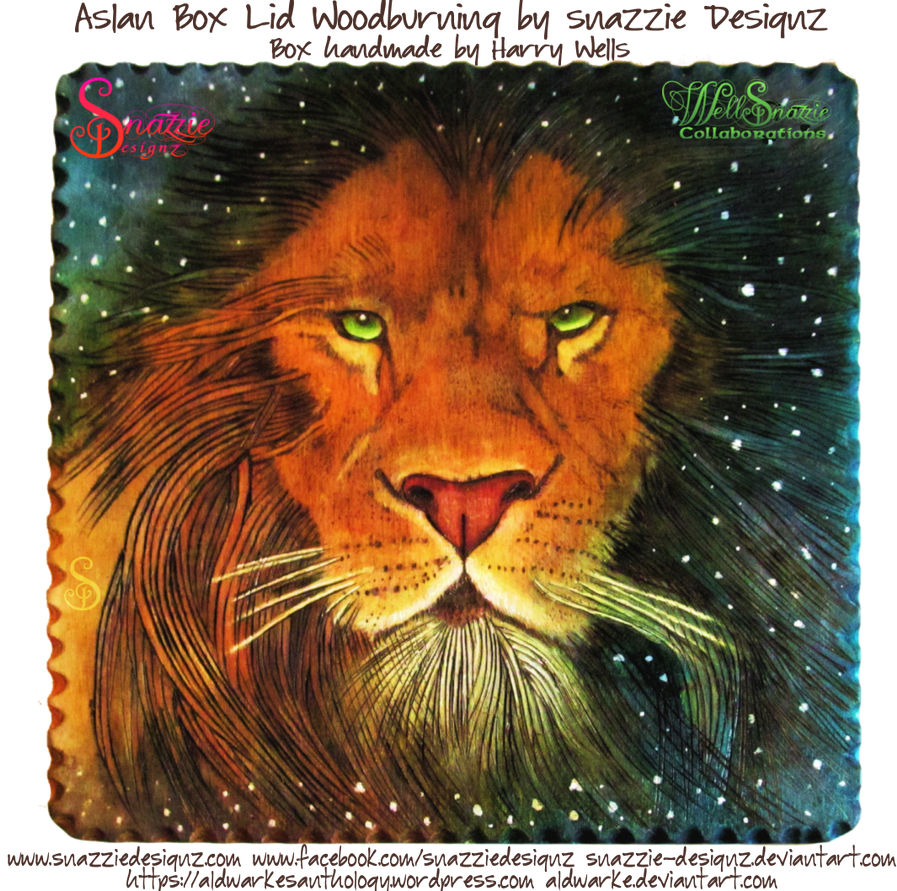 If you'd like to see more of our WellSnazzie collaborations here's a full list of them:
WellSnazzie Collaborations List

Collaborations between :iconAldwarke:

aldwarke

and :iconsnazzie-designz:

snazzie-designz

the most recent first.
WellSnazzie Folder: https://snazzie-designz.deviantart.com/gallery/53364445/WellSnazzie-Collaborations
Please note that the bigger collaboration projects have folders of their own in my gallery, so please scroll down through the folders on the left to find them, or they will be missed.
https://snazzie-designz.deviantart.com/gallery/43663420/Pyrography-Woodburning
Aslan Box and Lid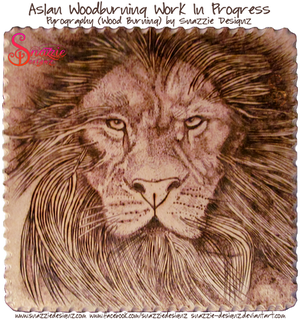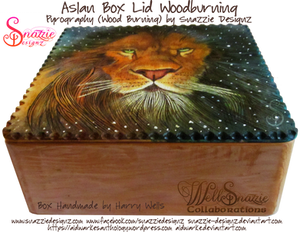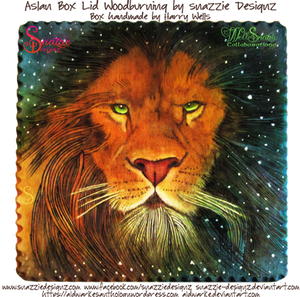 I was very lucky to get my hands on this beautiful box made by :iconaldwarke: with some ingenious hand chiseled indents around the edges of the lid to reveal a beautiful striped pattern from the ply layering.
I've always loved the poster for "The Lion,The Witch and the Wardrobe" and the tooth bites on the edges of the lid made me thin