Samurai Girl Pyrograph on Coptic Journal -WIP
Description
Work in progress picture of a handmade Coptic bound notebook with pyrographed covers inspired by Japanese ukiyo-e woodblock prints.

This is all of the wood burning before colour and finish were added.

The original woodblock print had been assigned the title "Falconer Ukiyo-e - Utagawa Kunisada" however when I looked up "Falconer by Kunisada a different image came up. If anyone knows any details about the original ukiyo-e print I'd be delighted to know more about it.

Front Cover Finished: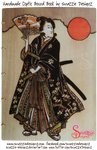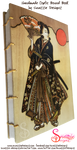 Back cover:
Image size
798x1190px 1023.42 KB