Mature Content
This content is intended for mature audiences.
---
or, enter your birth date.*

Month
Day
Year*
Please enter a valid date format (mm-dd-yyyy)
Please confirm you have reviewed DeviantArt's Terms of Service below.
* We do not retain your date-of-birth information.
"My pretties! Behold the lovely treat I found asleep in yon village. I give her first to you as a token of my undying love. Satiate yourselves before I make her mine forever."
No story to accompany this, but I imagine the vampire having found her asleep clutching one of the roses from this grave of a recently deceased lover. Her pose is meant to show that she is conscious but dominated by the vampire's will.
Daz3D Iray. Minimal post to fix a seam.
Products:
1) The Dweller for G8M by Josh Crockett
2) Grabber Wang by Hawke/Oshikai
3) Saida for G3F by Fred Winkler Art
4) EJ Agata for G3F by EmmaAndJordi
5) Janna & Little Devil Expansion by Fred Winkler Art and Fisty & Darc
6) Augusta Hair for G2F by goldtassel
7) Sultry Hair for G2F by goldtassel
8) Chace Hair for G2F/G3F by AprilYSH
9) New Gens for V7 by 3feetwolf
10) Intimate Hair by Babblebub
11) New Gens for V5 & V6 by 3feetwolf
12) Pubic Hair for New Gens by 3feetwolf
13) FWSA Vanessa HD for Victoria 7 and her Jewelry (Earrings only)
14) Medieval Fantasy Accessories for G2F by Ravenhair
15) Millenium Environment
16) On a Certain Night by LaurieS
17) Parkside Heath by Jack Tomalin (grave)
18) DAZ Rose
19) dForce Essentials (Sheet)
20) Elegant Fabric Iray Shaders by JGreenlees
I will eventually post 5-6 renders from this scene here at DA, but all twelve renders are available over at Patreon, for those who are interested:
www.patreon.com/Snapshotz3D
Previous: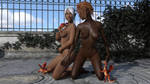 Next: