Mature Content
This content is intended for mature audiences.
---
or, enter your birth date.*

Month
Day
Year*
Please enter a valid date format (mm-dd-yyyy)
Please confirm you have reviewed DeviantArt's Terms of Service below.
* We do not retain your date-of-birth information.
The ever-youthful body of his newest bride satiates the beast's undying needs…for a night…


This was one of my entries to the Renderotica Halloween contest. I'm jumping ahead a bit on my normal posting cycle to get these Halloween images up before Halloween is too far in the past.
Part 2 of this series is XXX and will only be available over at Patreon, starting in a few days: www.patreon.com/Snapshotz3D

Daz3D Iray. No post.

Products:
1) The Dweller for G8M by Josh Crockett
2) Grabber Wang by Hawke/Oshikai
3) EJ Agata for G3F by EmmaAndJordi
4) Sultry Hair for G2F by goldtassel
5) New Gens for V7 by 3feetwolf
6) Intimate Hair by Babblebub
7) Body Chains for G3F by Sshodan
8) Crypt
9) Creepy Tomb (Torch sconces)
10) Mortuorum Sacris (Skulls) by Merlin Studios

Previous: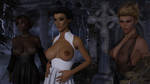 Next: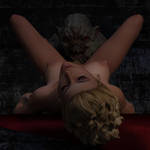 Reply

Reply

Photomanipulation. Face fame actress and manipulation body, hands.....
Reply

Thanks for the reply, and for the interest.
Unfortunately, although I am curious to see what you would have done with this piece, I am not really comfortable having my work combined with images of actual, living people without their explicit consent.
I will therefore have to say no to your request. I hope you understand, and good luck with the rest of your work!

Reply

Wonderful image! Very nice. Thank you.
Reply

Man, this is erotic! She is an awesome vampire bride, gorgeous and sensuous. Wow!

Reply

Lovely erotic image! Very nice work indeed.

Reply

The darn vampires! They always get the hot chicks.
Reply

I wonder if it is his gentle soul? Or sense of humour? Or love of romantic walks on the beach?
Or maybe just his ability to dominate minds?

Reply