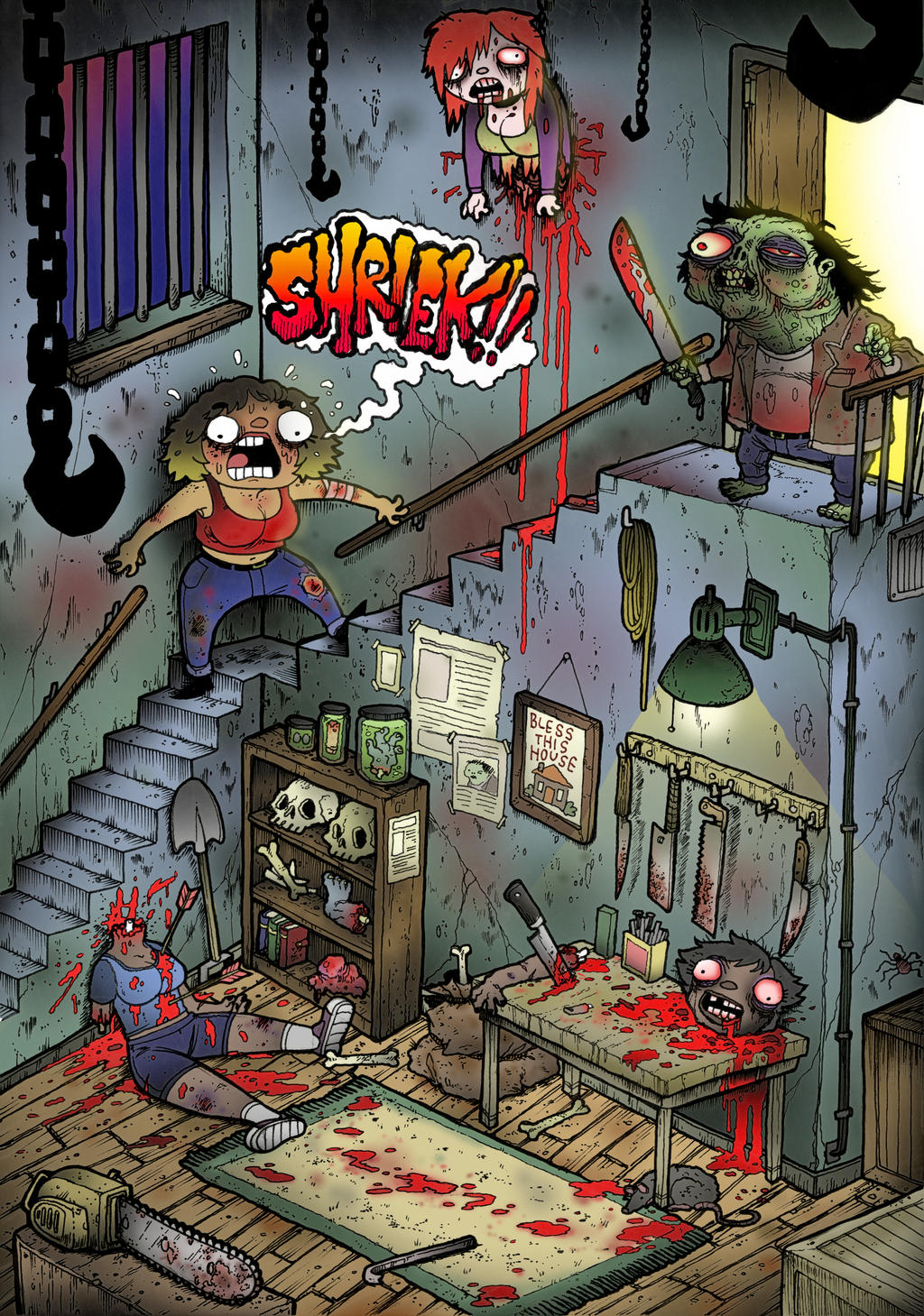 Watch
Isometric illustration for my comic scene class. Really liked making this.

You know, horror and bloodshed are just not my thing any more. I think age makes you peaceful and soft. But that does not stop this piece from being awesomely executed. In particular: the line art portion of this drawing is simply amazing. Some of the shadow values in the coloring -- like in the corners around the bookcase and along the far edge of the staircase -- seem a little bit lazy, but, man... it doesn't matter. This is a cool piece.

Reply

Ah, sorry for the late response here.
Horror and bloodshed is becoming my thing more and more, personally. I find a lot of pop culture and art tends to stray from gruesome topics and images, which is fine, but I will continue to contribute gross shit to the art world 'til I die, haha. But thank you! And yeah, coloring tends to suffer on my end when I'm under a deadline.
Reply

I feel like there's a line between monsters and ghosts and aliens and the stuff true crime (and war and greed and disease for that matter) is made of. Younger me was a fan of "Silence of the Lambs," and "Se7en," but I want no part of that stuff now -- eventually a character like Lecter will show up on the news, and that's more than enough. I'll still take a good (inhuman) monster story, though; monsters aren't usually torturing anyone, they're just "making their way the only way they know how." That's a quote from Waylon Jennings.

Reply

This is a fair viewpoint, and one I can definitely understand. I just think that it's important for art to continue to push the boundaries of what we're comfortable with, as well as occasionally depict the darker aspects of life. Crime and murder are definitely very real, so why sugarcoat everything we make, y'know?
Reply

Just because I happen to be reading his new book ("What the Hell Did I Just Read?") -- I'm thinking you need to read David Wong if you don't already. His writing is classified as "horror," and although I can understand why, it still strikes me as being somewhat off, as classifications go. Still, "This Book Is Full of Spiders," is probably the most entertaining thing I ever read. Not the "best" thing, but the most entertaining; every paragraph is interesting, and most writers are probably lucky to have a book with just two or three interesting paragraphs.
Reply

I've been looking for some new literature to dive into, and you're not the first to recommend David Wong to me! Will definitely try to check it out soon.
Reply