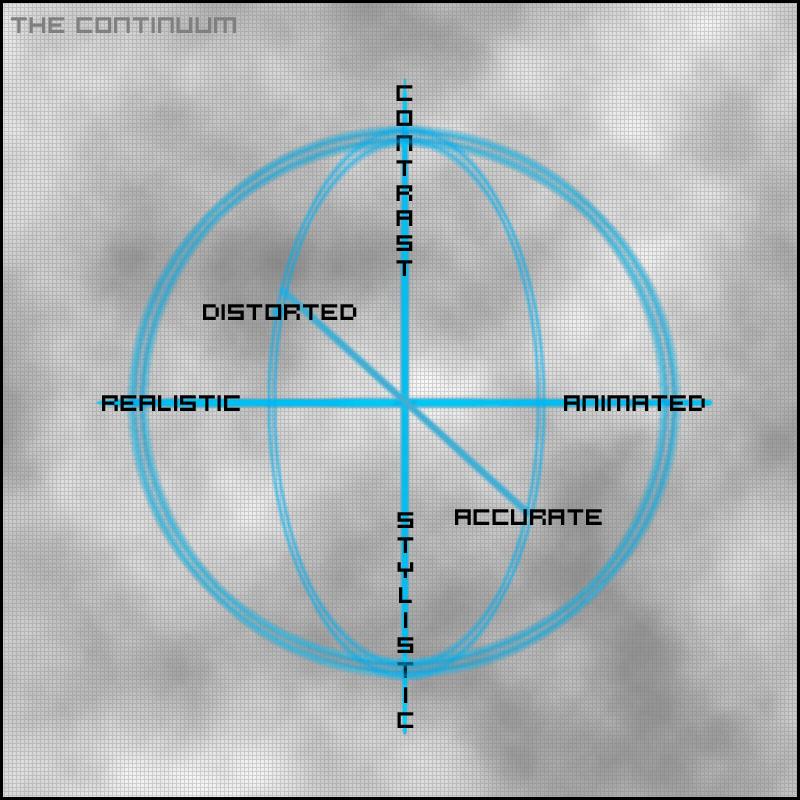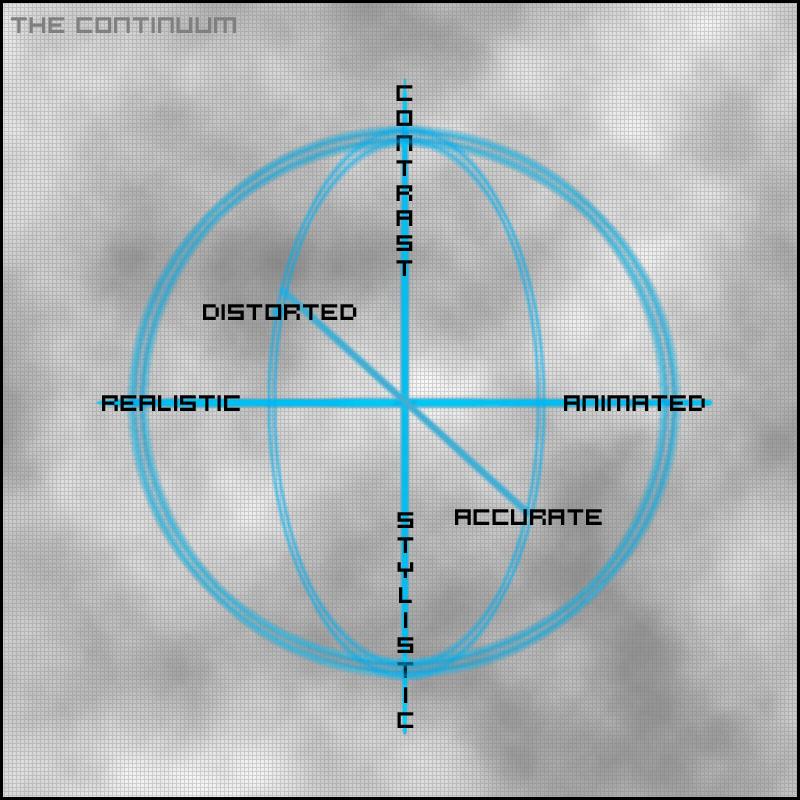 Watch
This can be used for three things
One Help an artist plan a project that requires a certain style
Two Map an Artists Range
Three Map An artists Favoured "Style"
This is more about the Technique behind a drawing.
For the design and idea behind a drawing, read my thoughts here:
[link]
Quick Guide
Realistic/Animated - Realistic is trying to capture what reality looks like (Anatomy, objects, buildings etc) and probably highly detailed in the work, Animated is simplifying Reality (the act of cartooning!) I called it animated, rather then cartooning as some artists like Mike Wieringo can draw the same character in multiple places/positions within a single frame, indicating a form of motion and passage of time.
Examples of the extremes
Realistic Artists - Alex Ross / Greg Land / Frank Quietly
Animated/Cartooned - Mike Weiringo/ Khary Randolph (I'm told there's much better examples for this field, however I haven't seen enough of their work to comment) I'll make the point that someone like Mike Weiringo adds stuff like stars and lettering to aid get their message across.
High Contrast/Low Contrast - High Contrast is literally black against white, Low contrast is gradients done through feathers, hatches, stippling and lineweights etc which cause the impression of grey tones and the start of shadows.
High Contrast - Jae Lee and Mike Mignola
Low Contrast - Scott Williams inking Jim Lee is a good example as he uses core shadow, form shadow, halftones, reflected light etc in his inking. Likely he keeps an awareness of how colour will add the midtones and highlights too.
Accurate/Distorted - Accurate is if it is of realistic size, proportion, and looks like a real object, Distorted is literally everything else that you mind can think of.
Accurate - Alex Ross/Greg Land
Distorted - Humberto Ramos and Chris Bachalo. Sam Kieth To an ultra extreme
[link]
before finally moving into the area of Semiography.
THIS IS A MODEL. A SIMPLIFICATION OF REALITY. IT IS NOT 100% THE END ALL OF ART. THERE ARE MANY EXOGENOUS VARIABLES IN THE CREATION OF ART, AND FOR ME TO IGNORE THAT WOULD BE STUPID, HOWEVER THIS FUFILLS THE ROLES I HAVE WRITTEN ABOVE.
A good example of an exogenous variable from this model is creativity. This model focuses on the technique side of drawing.
Another one might be time. I myself draw to a 'Deadline' style. I set a time limit and draw. Whatever comes out in that specified time is my style. Not everyone is necessarily picking these factors intentionally. Creating a style first applied to their drawing. Just drawing can create the style.
Finally, some accidents are "happy accidents." Or to put it a better way some mistakes are intentional/become intentional. Either because someone chooses to consistently draw a mistake, they consistently draw a mistake because of artistic deficiency, or they make a mistake, like it the result (regardless of whether they know its right/wrong) and they leave it. Its like Glenn Fabry or David Finch say. If it looks cool or 'right' even when its not, it can better than being accurate and looking weird.
---------------------------------------------------------------------------
If you found this interest, Pro Comics genius Scott McCloud has something called the Big Triangle. I didn't know about it when I made this, but it has it's own unique manner in handling these issues.