Yes, it really does. Nice to hear about that new model, I'm planning on ordering that Macross 30 game for my PS3 soon for my birthday in a few days. Actually, E-122 Psi apologized for the ROM hack being buggy when I told him so that may be the reason why, oh well. Bit of a shame about the Denuvo in Mania Plus, otherwise I would have bought straight up but I did get a cracked version of the original and I'm hoping a more developed mod for her is made eventually since it really showed up what became of "Project Needlemouse" that was also revealed 9 years ago, crazy!
Who knows, maybe Sega might bring back a new forum, although the big sites like Facebook and Twitter have made specialized forums and imageboards a bit obsolete and Aaron's really taken to the Sonic accounts there. I also miss the blogs that had really interesting information such as M2 behind the 3DS ports of older games, some of which have thankfully been archived. Not -everyone- feels the same way, though.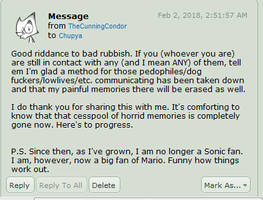 Pity. But other than that, it's always nice to get in touch with old peeps. Here's to a bright future going forward.