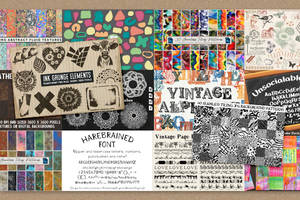 HG Designs Subscriber Area
Lots of high resolution goodies for graphic design including textures, photoshop brushes, seamless patterns and more.
---

Description
Scratch marks that i have created.....
They can be used to give a photo an old/aged effect, or cobweb effect, Example:
[link]
Rules For Use

Credit me if you use - Simply link back to me on your deviation.

Leave a comment under the resource you have used with a link to your deviation.
I'd love to see what you have done with them


You may use them in your DeviantART prints - no permission is required.

You may not use them for commercial purposes outside of DeviantART.

You may use them for personal projects, skins, backgrounds, themes for blog pages etc, but again not if you're making money out of it.
If you're unsure here, feel free to note me to ask.

Have fun! I hope you find a good use for them

If I want to use that for commercial, how can I do?! I want to pay some money to you about using that brush.